Before we dive into weekend concert previews, here's a new news post for your Wednesday afternoon! This mostly concerns our long awaited coverage of a major concert last week, but we'll lead off with a LOCAL CONCERT ALERT, so here's what you should know!
Saskatchewan trash-punk duo
The Faps
will make their fifth local concert appearance when they headline at
The New American Pub
on Monday, April 23rd! Last seen at LopLops in October, this will be their first New A appearance since headlining there in 2017, and as far as I can tell, their first local gig that's not in the fall season. It's always welcome to see Skyler & Blair's experimental and grunge-tinged brand of minimalistic punk back in the Soo, and hopefully The Faps deliver another explosive set in just under three weeks' time! Local openers will include new local rock quartet
Dusty Hazelwood
(interesting name), whose lineup unites Dynowaves bandmates Jefferson Childs & Brenton Ellis with AlgomA's Jamie Vincent on guitar and ex-Fever Tops drummer Mitchell Harris. While punk is an advertised sub-genre on
their Bandcamp page
, their two songs so far lean more to softer pop rock, but I'm curious to hear more from Dusty Hazelwood, they have a lot of talent!
The aforementioned Brent Ellis (of Detroit, Lion Ride, and Maximum RNR fame) will lead off on the 23rd with his online page-less solo project Slumshine, which we haven't covered on the site since he opened for Dany Laj & The Looks in November 2017. It's very good to see him bring Slumshine back after a quiet 2018! Promoted by Jamie's own
Six, Two, Oh.
, this 19+ show has a $5 cover charge and a 9:00 PM start time. Despite it's Monday scheduling, this stop on The Faps' No Name/No Fame Tour should provide a diverse blast of alt-rock, so visit
the Facebook event page
for more details!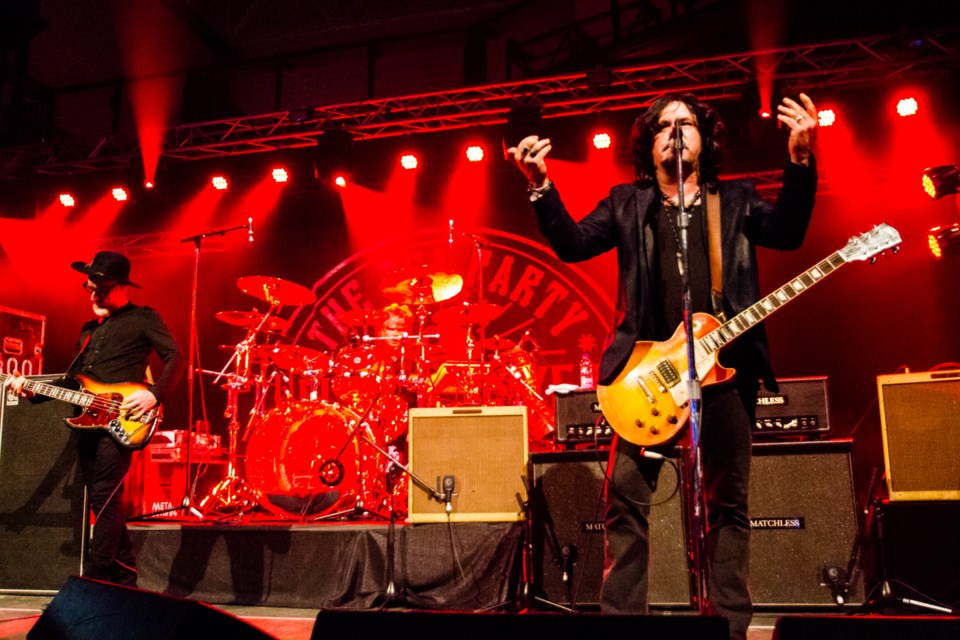 Let's continue today's post with the long awaited fallout from last week's
Tea Party
concert at
The Machine Shop
, and I apologize for the delay in this regard, I was waiting to try and get enough content for a full post (we fell a little short.) Starting with local news coverage,
SooToday
's Donna Hopper was on hand to cover the show for
this article
, where she noted that the Windsor hard rock trio "sounds as tight and fresh as it did in it's mid-90s prime" in this brief article. She posted 17 colour photos from the concert there, including 13 of the headliners and 4 of Winnipeg southern rock band
The Proud Sons
' opening set, and they look fantastic as usual, so give them a look above! We missed this at the time, but
The Sault Star
's Jeffrey Ougler interviewed Tea Party frontman Jeff Burrows in
this article
on March 22nd, where he discussed the band's lineup stability, the current state of music distribution, and more related topics, albeit not overly focused on the local date in the interview proper.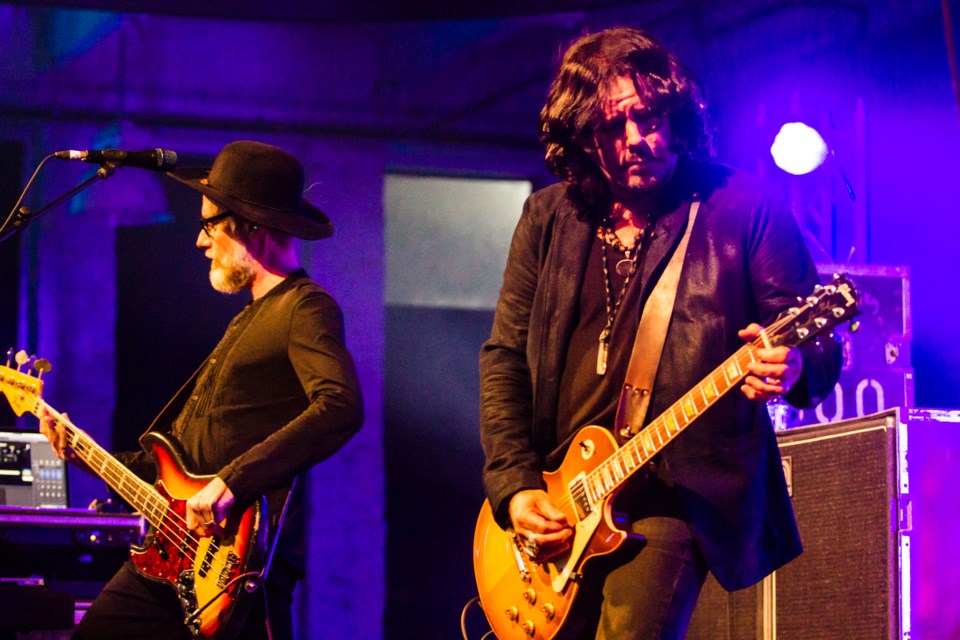 Solid interview that goes in-depth on it's topic subjects, and Jeff is well-versed here, so definitely give it a look at the above links! Moving to videos, we'll start with a lot of videos from
Christopher Paci's excellent YouTube channel
, as he shot 10 videos at The Machine Shop on this night, including 9 of The Tea Party!
One video
is of The Proud Sons playing a song I can't immediately title, and it's worth listening if you like country rock with a folksy bent! As for The Tea Party, Chris got a handful of videos that feature multiple songs and cover segments, so keep that in mind regarding the linked performances. Chris filmed
"The River"
,
"The Bazaar"
,
"Save Me"
,
"Heaven Coming Down"
(with U2 cover interlude),
"Black River"
,
"Temptation"
,
"Sister Awake"
, and
that song continued
plus Rolling Stones & David Bowie cover breaks. Embedded below is a three song medley of their live exclusive "Zahira/Rakim", which leads into "The Halcyon Days".
Strong video and audio quality throughout these clips, with Chris having a good vantage point of the bands while still capturing the nicely sized crowd throughout, and Jeff Burrows' stage presence and deep voice are ever present. Videos filmed here capture their hard and alternative rock sides as well as their world music influences, so you may prefer certain songs to others, but there's enough to go around from what Chris filmed, so give these 10 videos a look above & below!
The other known YouTube videos from the local Tea Party concert come from Wawa author
Duane Roy
(of "Castle Stories" & "Soo Stories" fame), who filmed two videos for
his YouTube channel
as part of his occasional uploads from local concerts there. Alongside a fragment of their
"Paint It Black"
interlude during "Sister Awake", Duane also filmed "Heaven Coming Down" (+ "With Or Without You) last week, and both videos benefit from him being in the front row, though they primarily focus on Jeff Burrows compared to his bandmates. Very nice quality to boot, so give Duane's footage a look too!
That's all for today, but stay tuned for weekend concert previews on the site next! Thanks everyone!