Here's a new news post to check out on this Monday night, which is divided between two topics: New videos from a recent death metal concert, and a big LOCAL CONCERT ALERT for this summer that should get punk fans very excited, so here's what you should know!
Toronto hardcore punk legends
Random Killing
will return to Sault Ste. Marie when they hit
The Rockstar Bar
on Friday, July 5th! Fans packed the same venue back in September 2014 when Random Killing (led by Sault native Andrew "Drool" Kiteley) headlined the Hardcore Homecoming concert, and another huge night of fan favourite originals should be in store for this opening stop on their 35th anniversary tour. After an almost 5 year wait, it's awesome to welcome Random Killing back to town, and this should be another can't miss concert for punk fans of any stripe! Local support will include two bands who opened Hardcore Homecoming, including punk/metal quintet
Jack Spades
, who are joining Random Killing for the entire tour in July, including their annual stop in
Spiderfest
in Meyersburg, so keep that in mind if you attend that festival! As well, hardcore punk veterans
Destroilet
will play their second show of the year, and they're a perfect fit at a show of this magnitude, so don't miss them either!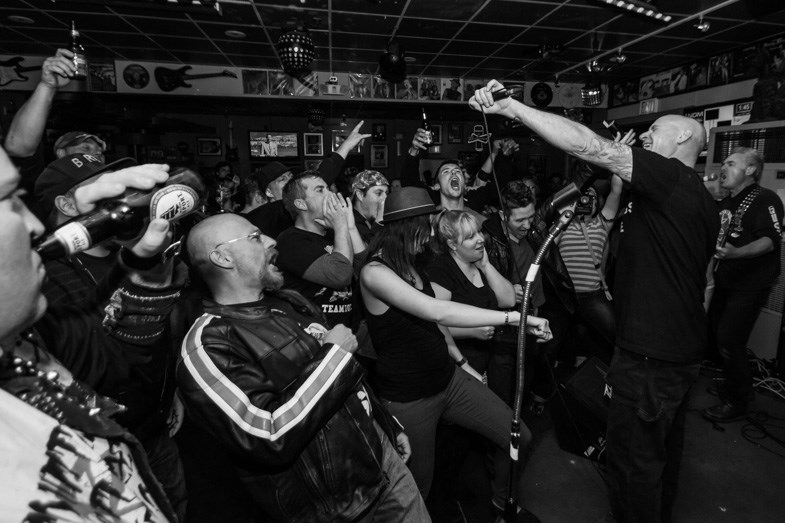 A local band named "The Filthy Dadicals" are also advertised as opening, who will reportedly feature Bankshot alum Lucas "Sal Velinus" Schmiedendorf in their lineup, but is this a new (one-off?) band, or are they a reworking of his late 2017 punk supergroup The HTs? We'll let you know if anything comes out! Note that the above poster credits reunited Toronto hardcore punk rockers
Armed & Hammered
as also playing on this tour, but they are
not
part of the Northern Ontario leg. Also,
the Facebook event page
did briefly list Sudbury groove metal quintet
Archelon
as opening earlier today in their local return, but they have quietly been removed since then. Admission for this 19+ concert is $15 via advance tickets which go on sale
this Friday,
while admission at the door jumps to $20, and one would assume that a 9:00 PM start time is in effect. This should be one of the summer concert season highlights locally in the punk scene, so visit the above links for much more details!
We'll close tonight's post with some videos from Wednesday's
West of Hell
-headlined concert at The New American Pub, courtesy of live streams from promoters
Six, Two, Oh.'s Facebook page
that same night! There's
more videos to come
from this show, including of the local openers, so stay tuned for them this week. Surprisingly the first Facebook videos from Six, Two, Oh. since their live in-studio series from
2016
, the guys filmed five videos of the touring Vancouver death metal bands, albeit all on the vertical cell phone camera angle, and only one exceeding a minute in length. I'm not having a lot of luck of identifying these songs from the fragments filmed, but Six, Two, Oh. filmed two of West of Hell's songs, one embedded below, and
one linked here
. Showcasing some nice dramatic clean singing throughout, the mosh pit looks active and lively on the former, and the overall audio quality holds up! Give these West of Hell snippets a look above & below!
Finally, Six, Two, Oh. also filmed three videos of thrash metal quintet
Expain
's supporting set, including clips linked
here
&
here
, and the 1:45-long video embedded below. Capturing a faster and more ferocious portion of the night on these uploads, Expain look like they won over lots of fans, even if the pit wasn't as active yet, and hopefully their technical intensity will resurface out here! Give their videos a look, and stay tuned for more video footage from this concert in the coming days!
That's all for today, but stay tuned for more news and updates on the site soon! Thanks everyone!