I'm close to clearing out old news stories, I can feel it! I only have a handful left after this post, thankfully, so we can focus more attention on the GarageBand Profile Mini-Series, and of course, our 3rd Anniversary which is on SUNDAY!! I have three things to unveil, so you'll wanna be around for that, I'll bet! But for today, let's get to five local metal stories/videos that you guys should be aware of!
Firstly, let's discuss
R
otaryfest Second Stage
headliners
Garden of Bedlam
, who are still in studio recording their first full length album! In the last few days of backlogged news, I haven't been keeping you guys up to date on how the recording's going, so here's lots of updates on that front! Producer Miguel Gauthier has been keeping everyone up to date from the sessions at
Stereo Soul Studios
on
his Facebook page
, and here's some highlights! The guitar recordings with Josh Belleau were nearing completion as of Wednesday, and were apparently so heavy that the high distortion was making the speakers chirp like birds! On June 21st, Miguel was comparing Josh's guitar tones to a "chainsaw ripping through your dental work." Good sign! And, Miguel gave Garden of Bedlam credit for starting that earthquake that we felt locally too! Once guitars are finished (if they're not already), Buzz hits the studio to lay down vocals, and I promise to keep on top of that for updates on the SMS now that I'm not so piled with news! Remember, follow
Miguel on Facebook
for studio updates as they come in!
Next up, as
Woods of Ypres
continue their North American tour, a couple of reviews from one of their shows out west have started to pop up online! Two separate reviews from Woods of Ypres' show at The Biltmore in Vancouver are now online on a pair of metal websites, and here's what you should know!
Hellbound.ca
's Kyle Harcott glowingly praised Woods of Ypres, despite a relatively short set, even saying that it was the "best show of the year"! The photos aren't of great quality, but he details the experience of the show well, and even notes that the band played a NEW SONG as their encore! Apparently, it was an instrumental, but I'd love to hear it!
Click here
for Kyle's complete review! Also at the show for review purposes was Mule Hughes from
Difficult Music
, who evened out his review to talk a bit more about the openers than Kyle did and spent a bit less time on Woods. He enjoyed the concert though, and I found it amusing that David Gold admitted on stage that they were the least heavy band of the night! Also a good read,
click here
to check it out! Stay tuned for more updates from Woods of Ypres' current tour!
Thirdly today, some updates to local internet radio station
Energy Rock Radio
! Ryan McQueen and company have been making more changes lately, including a brand new page design (again) and the addition of new genre streams for classic rock and urban music, so now, if you don't want wall to wall metal, you have options! However, the thing that caught my attention the most was a post on
Energy Rock Radio's Twitter page
from June 28th, which says, and I quote, "
We
have made the final decision of 2010. In that being strictly "Creative Commons" tunes(unsigned) on our server, as well as talk radio. bCm

".
Posts on
Ryan's personal Facebook page
indicate that this is a "new direction" and was plugging that we should tune in to "support unsigned bands and material from all around our world." There's no official word beyond that, but it's interesting that Energy Rock Radio is going this route. Was there outside pressure to not play material from signed bands, is this the safe route in case that happens, or is Energy Rock Radio just championing unsigned bands more out of good will? No matter what, it's still a great station, and it will give you an excuse to discover new bands by listening!
Click here
for more on this station, I'll have more updates as I hear them!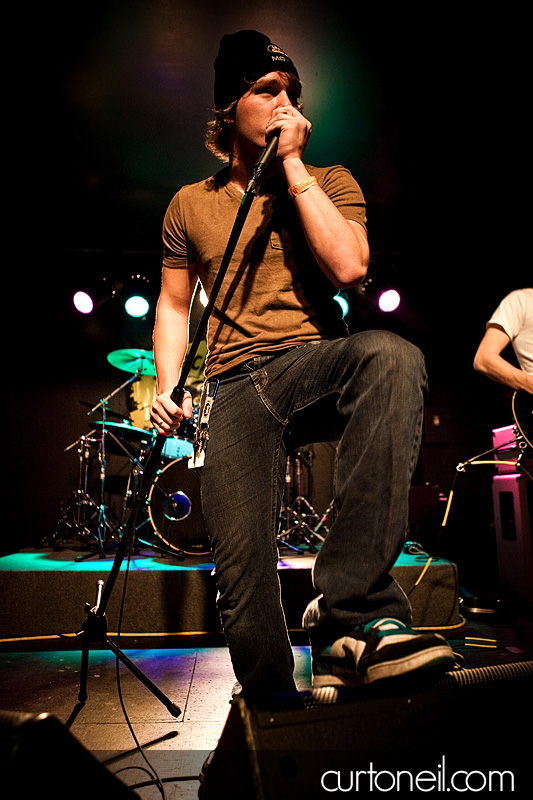 Closing this post are two new local metal-relevant videos! And first, we have a new performance clip from
Nixxon Dixxon
frontman Brandon Carr. Just Brandon alone in this one, and I'll explain why. YouTube user
rubbs001
uploaded a video onto their channel of Brandon covering Shinedown's version of the Lynyrd Skynyrd classic "Simple Man" at
The International Idol Vocal Competition Series
that was held on June 6th at
The Soo Theater
in Sault Michigan! Presumably, he entered in the 14-and-over class of this competition to find talented local singers. A local musician named
Kellan Perron
won for that class, taking home $600, studio time, and opportunities to perform live in concert and stage productions! Nice work, congratulations to Kellan! It'd have been cool to see Brandon win though, I've always liked his singing, and he compensated for his range by adding grit and heaviness to "Simple Man" that didn't ruin the song at all! Check out the 89 second clip below, and more Nixxon Dixxon/Brandon Carr videos at
this location
, including one of Brandon as the dentist in a live production of Little Shop of Horrors!
Finally, I'd like to share a video I uploaded the other day. Remember
The Sexual Vigilantes
, the Toronto-based comedy metal band featuring locals Curtis Faux and Brenton Ellis from
Detroit
? Well, I noticed the other day that their lone video on YouTube, and many classic Lion Ride videos from their "glam" days, were suddenly made private for unexplained reasons by the uploader. I'm not gonna throw that person under the bus by singling them out, there must have been some reason for making them private, but it left the general audience without any Sexual Vigilantes videos! The video in question was a live performance by the band (with Mikey Hawdon and Mark Rand as guests) playing "Motorbike The Song" at Foggy Notions in December 2007, and to at least partially make up for it's unavailability to the general YouTube user, I've uploaded the studio version of that song to
The Sault Metal Scene's YouTube channel
! Catchy goofy little hard rock number, it shows their sense of humour and talents in equal amounts! Check it out below, and here's hoping Curt and Brent bring the band home for a show some day!
That's actually probably all for today! My news cache is almost cleared out, so unless some huge story comes out later, I don't think I'll have a new news post until tomorrow! But before that, stay tuned around midnight for my next installment of our GarageBand Profile Mini-Series, where we take a look at Lee Maines' solo projects! Stay tuned for that, my Phatstick concert review (I'll see you at Foggy's tonight or tomorrow!) and much more real soon!