I hope everyone out there had an awesome Christmas! We're back to the normal swing of things on this snowy Boxing Day, and that includes information on a new and in-progress CD from a local hard rock solo project, a preview of a holiday concert TONIGHT in Sault Ontario, and leading things off, news and information relating to our newest band addition on the SMS! Without any further adieu, here's what you need to know!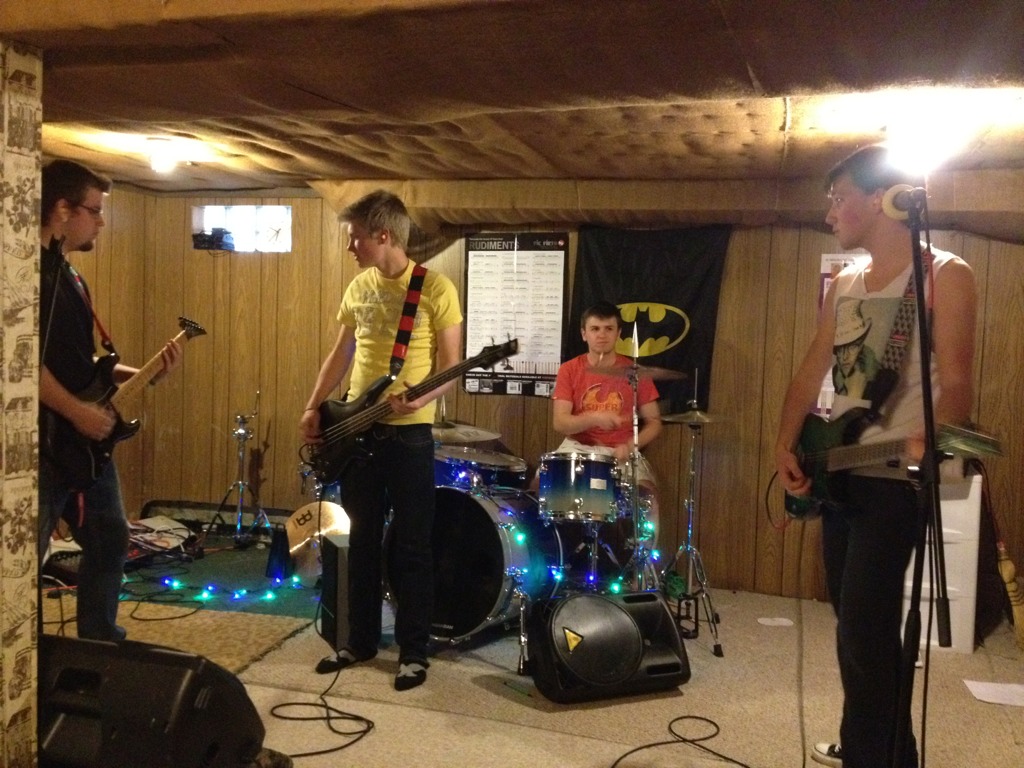 We have a new-ish band to add to our local metal band links, and they are Sault Michigan hard rock/metal quartet
The Highest of Fives
! We actually touched on them on the site last summer following their participation in last year's
Sugar Island Music Festival
, but I only just heard about their recent activity and online information this week. As it turns out, they are indeed heavier in sound, and their disappearance following their gigs last summer was part of what's described as a 6 month hiatus on
their new official Twitter page
. Fully returning to activity in March, the band (who are presumably named after a reference from "How I Met Your Mother") still features
Hoist the Sails
bassist Mitch Goetz on vocals alongside
415E
's Jack Slater on bass & Devin Anderson on drums, while they added Mitch's Hoist the Sails bandmate Marcel Grengs on guitar earlier this year. Note that it looks like Devin switched to drums to replace ex-
Free Refill
bandmate Mike Pascoe in the band, and though his departure hasn't publically been addressed, I understand that he is attending college out of town currently.
With their return, The Highest of Fives are actually working on a debut EP entitled "Bang!", so what should you know about it? I can't say much yet, but on Saturday, they did post a video onto
Devin's YouTube channel
previewing it. Enclosed are a number of short clips (many from a cell phone camera) of the band members tracking instruments and/or having fun, along with some other random asides (including cameos from Marcel's alter ego), and it somehow shows us a lot without telling us much. The music we do hear has promise and some clear heaviness, but hopefully we won't have to wait too long to get some longer "Bang!" samples! Check the above links for more details, and huge thanks to Devin for alerting me to these and other updates concerning his local bands, including a correction I should mention. In his other active band 415E, Devin's actually the drummer, not "Sonny Menard", who I had credited in the role last month. Sonny is actually 415E singer Dave Menard's nickname, but both names are credited separately on
their Facebook page
, so that (plus only knowing of Devin as a guitarist & not a drummer) added to the confusion on my end.
My sincere apologies to the guys in 415E for the mix-up, and thanks again to Devin for the news! Of course, stay tuned to the SMS for updates on the quartet 415E as they come in, but for now, check out The Highest of Fives' new video below, and they're now in our active Sault Michigan band links!
Next up, here's a preview for a special Boxing Day concert going down TONIGHT at
The Canadian Nightclub
in Sault Ontario, where two recently prominent rock bands will return to the stage, including new local hard rock quartet
The Suicide Kings
and local rock veterans
Stiffler's Mom
! This is only the latest in The Suicide Kings' frequent concert schedule, but this will be Stiffler's Mom's first concert since Toystock last month, an event that The Suicide Kings also played at. Aside from the seasonal aspect of it all, there isn't a huge amount of differences with this show compared to either band's usual gigs, but I can confirm that the bands will alternate sets through the night, with The Suicide Kings playing first & Stiffler's Mom playing last overall (thanks to Suicide Kings guitarist Steven Flint for the info!) The pairing is fitting beyond the Toystock connection, with Stiffler's Mom drummer Greg Simpson being an ardent supporter of the new alternative hard rock band, and Stiffler's Mom are known to throw down some heavy metal covers here and there live, so you won't wanna miss this show!
Admission should be in the $5 range for this 19+ concert, and a 10:00 PM start time is listed. For more details, visit
the official Facebook event page
! This should be an entertaining concert full of rock covers and originals from two very talented bands, so don't miss out on the Boxing Day action TONIGHT! For a preview, here's Stiffler's Mom embracing their metal side with an Ozzy Osbourne cover at Toystock!
Finally for today, here's the latest from
Haggith
drummer
Mike Haggith's solo project
! Following the release of his newest solo album "Neighbourhood Watch" last month, he's been working on new original material for future release, and that includes his planned 46th album "The Present Din"! Planned to be recorded and released through his solo label Galactic Records (though potentially with some work through the Haggith band's label
PaperClip Productions
), Mike has said that this album will be lighter than his last album, with many slower "piano-based jams" and occasional heaviness. A 2013 release is likely for "The Present Din" (cover on the left), but a timeframe is not out yet, and like Mike's last album, this is all subject to change. However, he did post two instrumental demos of planned songs for the album onto
his solo Facebook page
(where we got the rest of these updates) last week, including tracks named
"Careless Space"
and
"Her Song"
, so click each link to hear them! As Facebook video uploads, I can't share them here, but there is some softer promise in the songs, so keep an eye out for more "Present Din" updates, and hopefully we'll see this album's release quicker than "Neighbourhood Watch"!
That's all for today, but stay tuned for this month's Saultites In Out Of Town Bands Profile TOMORROW! Thanks everyone!