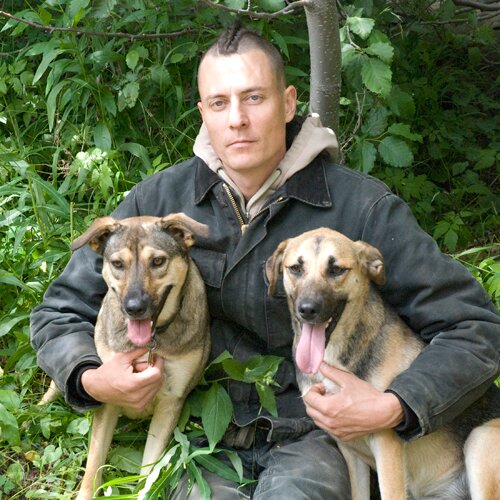 Before we get into today's battle preview, I wanted to offer our deepest condolences to the family & friends of
Rebel Spell
frontman Todd "Serious" Jenkins, who suddenly passed away on Saturday in a rock climbing accident in Nevada, at the age of 41. Fans may recognize Vancouver's The Rebel Spell from their politically charged punk albums that have absolutely received a positive reception since their debut, and Todd fronted the band during all six of their local concert appearances dating back to May 2005. Local fans may recognize them from sharing the stage with Propagandhi & Ten Second Epic in the mid-2000s along with later headlining gigs in the 2010s, most recently at The Moose Lodge last October. I was lucky to have seen The Rebel Spell live, and Todd Serious was a strong, aggressive frontman that helped drive their sound over the past decade plus, while remaining committed to the causes that mattered, but at least he was doing what he loved when he passed. R.I.P. Todd, you will be missed!
With night #1 now in the books for this month's
VM Radio Battle of the Bands
, we'll now preview TOMORROW'S second night of this month-long battle of the bands at
The Canadian Nightclub
! Last week saw
The Bear Hunters
defeat
Honest Job
& Infamous to claim the first of four slots in the finals on March 25th, but we have full rosters of 4 competing bands for the remaining weeks of this battle. Like last week, this week's competitors will have 35 minute sets to rock out for judges Dustin Jones (
Tidal Records
), Rob Speers (
VM Radio
), and myself, plus fans in attendance, with judges scoring them out of 100 each on criteria ranging from musicianship and stage presence to audience reception and professionalism. Performance order will once again be randomly determined tomorrow night before bands take the stage, and in the event of a tied score, bands will play an extra 10 minutes and be re-scored. There's a stacked lineup of local rock talent in store for tomorrow night, so here's some info on this week's competing bands in alphabetical order!
The Danger Cats
:
This all-female hard rock/punk quartet have made quite a name for themselves since their 2013 debut, playing at numerous major concerts and unveiling their own well-recieved original material in the process, but this will be their first battle of the bands appearance. Teasing some surprised in relation to their battle appearance, will the finals get a dose of girl power after tomorrow night?
Haggith
:
Tomorrow's only band that has competed at a prior battle, local alternative/hard rock quartet Haggith finished in second place at April 2013's Rockstar Bar Battle, notably after advancing to the finals as one of two tied wild card bands, though this time around, they'll be featuring Jordan Leach on bass rather than the departed Caleb Cachagee. Can they pick up where they left off almost 2 years ago with another finals run?
Mannapool
:
Though active since 2012, this local progressive/jazz rock quartet have only been seen sporadically at local concerts, most recently at last fall's Rock For Dimes and Toystock. Recently working on their debut album to be released, Mannapool have gained a number of fans in recent months, but can they make a similar impression on judges and attendees in their first local battle appearance?
Stereo North
:
Another of this month's arguable wild cards, new local pop punk quartet Stereo North have only played one public concert to date (at the Bon Soo Marquee), though they're also opening for Exes For Eyes at The Canadian this weekend. Featuring former Starlit Sins guitarist Andrew Pucci and T-Rex Manning's Bill Bennett on bass, can Stereo North make their own splash tomorrow and move to the finals?
Like last week, the winner of night #2 will join The Bear Hunters in the finals on March 25th, while second place may be in the running for the wild card finals slot, though the top scoring runner up won't be confirmed until next week. Plenty of prizes await winning bands, including $1,000 guaranteed for first place, and there's many other prizes awaiting the podium finishers, individual artists, and more, so be sure to check out
the official Facebook event page
and/or
the SooToday press release
for complete current info on them! As was the case last week, admission will be $5 for tomorrow's semifinal, unless you already have a $15 pass for the entire month's battle. This is definitely an ALL AGES event, and tomorrow's action begins at 8:00 PM. Also, remember that March 18th's last semifinal will feature
The Apocalypse Afterparty
, Speak Easy battle winners
Gnaeus
, and
Mike Haggith and The Din
&
Project 421
, who both also feature Haggith members in their lineups.
After a successful opening night of the VM Radio Battle, tomorrow's second semifinal is promising more great local music, and hopefully there's another solid turnout! Can The Danger Cats conquer the men to advance to the 25th? Will Haggith move on to their second local battle finals? Can Mannapool's prog-rock attack carry them to tomorrow's top spot? Or can Stereo North make a big early impression in their second live concert set? We'll find out TOMORROW, and I hope to see you all there! Thanks everyone, and good luck to all 4 of tomorrow's bands!