One year ago today, the first annual VM Radio Battle of the Bands commenced at The Canadian, so in that spirit, here's the return of our Battle of the Bands Rewind Profile series! I'd debated waiting until the 25th (one year from the finals), but I thought it'd be best to get this up now as we continue the lead-up for this year's VM Radio Battle (which begins
this coming Wednesday
), and we'll have much more on that soon as well. As in our past battle profiles, this is strictly an informative feature with no reviews or criticism of the competing bands, either from the event or their activity since. Hopefully this brings back some fun memories, so here's our first of two straight battle of the bands profiles from last year!
----------------------------------------------------------------------------------------
The 2015 VM Radio Battle of the Bands (March 4th-25th, 2015)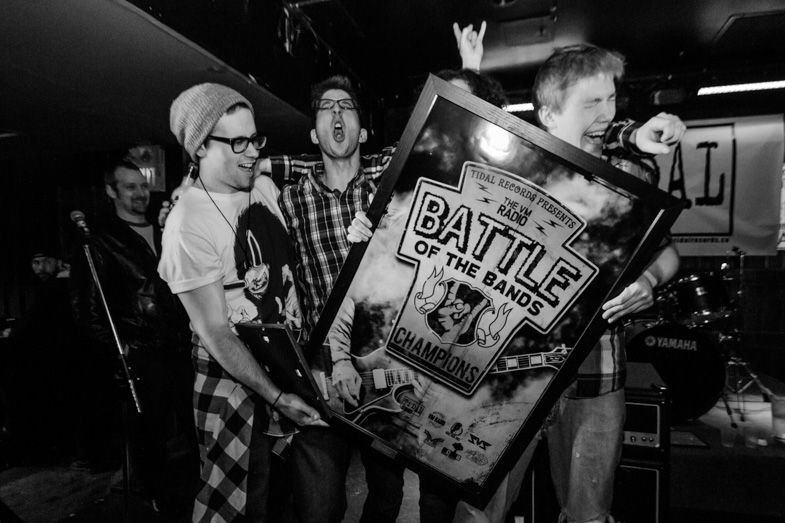 Background:
A spiritual sequel to 2013's Rockstar Bar Battle of the Bands, local concert promoter J.D. Pearce partnered with then-new local digital radio network
VM Radio
(and their parent company
Village Media
),
Tidal Records
, and sponsors
Case's Music
,
Maxx Graphics
, and The Sault Metal Scene to host the first annual VM Radio Battle of the Bands on every Wednesday in March 2015 at
The Canadian Nightclub
. 11 bands (up from 9 in 2013) competed for numerous prizes in a staggered weekly competition, with three semifinals taking place on March 4th, 11th, and 18th, and each night's winner (plus the highest scoring runner-up band as a wild card) re-convening at The Canadian for the finals on March 25th. Like in 2013, judges scored the bands on aspects of their musical ability, chemistry, stage presence, and crowd engagement (among other factors) for a total score out of 300 each night, or 100 points a judge, while individual awards were scored on varying criteria depending on the award's type.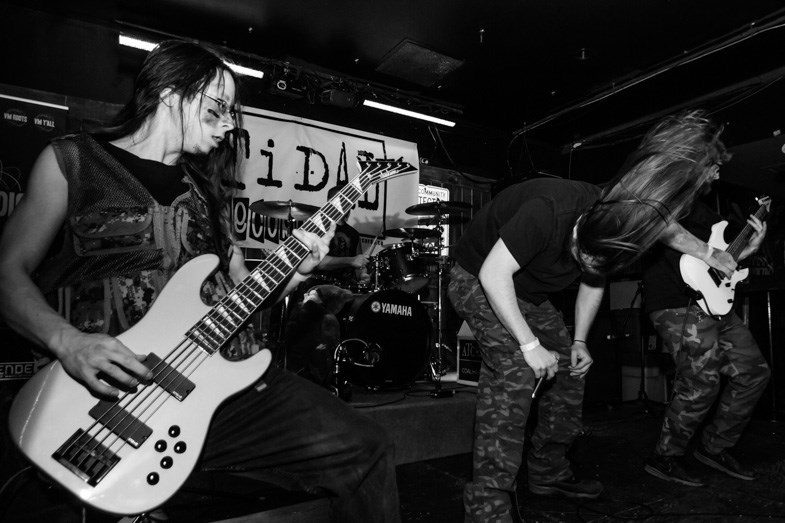 Prizes:
The first place band would receive $1,000, a professionally produced electronic press kit & video from VM Radio, and a large framed plaque for their victory. In lieu of prizes for the runner-up bands, individual awards were instead offered for finalists & semifinalists alike, including Case's Music gear packages for the Best Guitar Player & Bass Player, a new microphone from
Right Hook Mics
for Best Vocal Performance, a custom drum skin from
Maxx Graphix
for Best Drummer, recording time with Tidal Records for Best Original Song, a Budweiser/Marshall amplifier beer fridge for the Fan Favourite Band, a case of
Bomb Energy Drinks
& a Bomb t-shirt for the Most Energetic Band, and a $100
Rad Zone
gift certificate for the Most Enthusiastic Fan.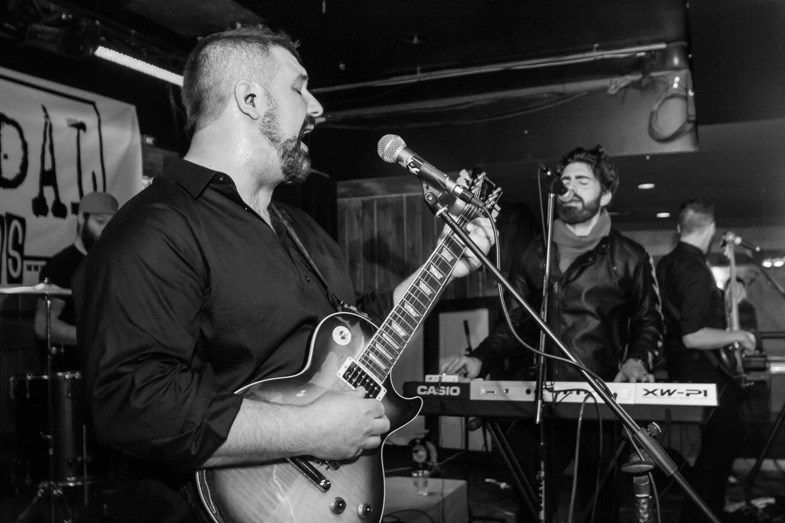 Competitors:
The semifinal on March 4th featured three competing bands, including local death metal veterans (and reigning Viva La Battle winners)
The Bear Hunters
, indie/folk rock quintet
Honest Job
, and newer metal trio Infamous, with alternative/grunge trio
The Pixo Control
filling out that night's lineup as a guest performer out of competition. The March 11th semifinal featured all female hard rock quartet
The Danger Cats
, grunge/metal standouts
Haggith
, progressive rock quartet
Mannapool
, and new pop punk group
Stereo North
, while March 18th's semifinal featured rap/metal project
The Apocalypse Afterparty
, post-punk/garage quartet
Gnaeus
, alternative/hard rock trio
Mike Haggith & The Din
, and classic metal quartet
Project 421
.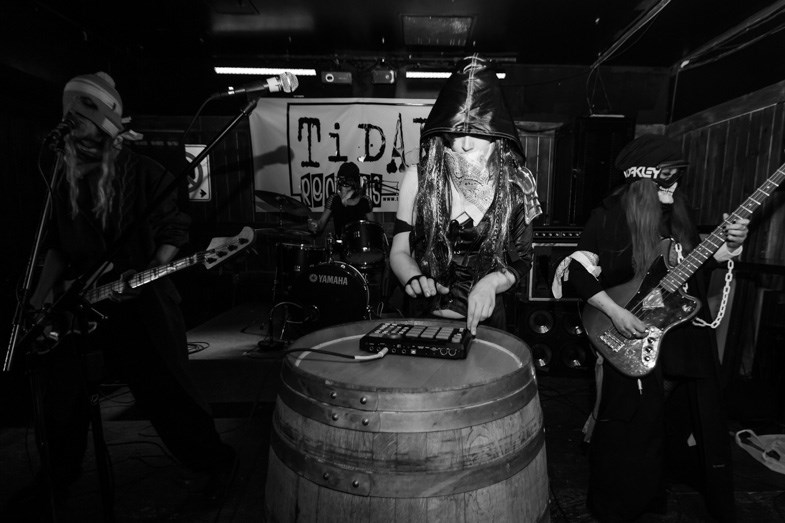 Results:
The winners of each week's semifinals were The Bear Hunters, Mannapool (as part of a close
8.5 points
spread
between that night's four bands), and The Apocalypse Afterparty, while Gnaeus claimed the wild card slot for the finals. The other night's runner-up bands were Honest Job & Haggith, and Infamous finished in third on the 4th, but no other nightly or overall results were announced for non-finalists. In the March 25th finals, Gnaeus overcame their wild card status to edge The Bear Hunters by
two points
to claim their second battle of the bands title in 20 days time, with Mannapool & The Apocalypse Afterparty finishing in third and fourth place. Among individual prizes, Bear Hunters members Mitch Sirie & Johnny Belanger each won the Best Guitar Player & Drummer prizes, while Haggith frontman Curtis McKenzie won Best Vocal Performance, Honest Job bassist Jared Fridy claimed the Best Bass Player title, and Gnaeus won Best Original Song for their track "Circles".
As well, The Apocalypse Afterparty were the Most Energetic Band, Project 421 won the crowd-voted Fan Favourite Band award, and Danger Cats drummer "Calico" Katie Maskell was chosen by organizers as the Most Enthusiastic Fan.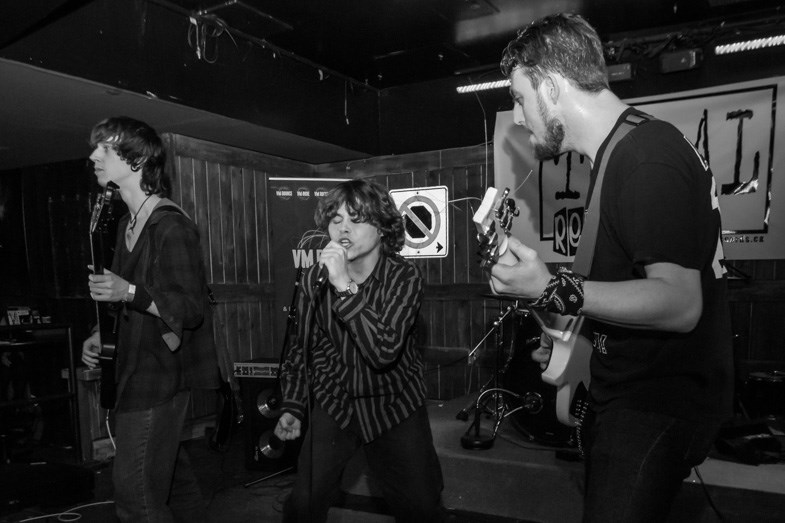 Aftermath:

Gnaeus continued to play major concerts throughout 2015, and have recently been busy recording their debut album "Loomings", while The Bear Hunters have enjoyed a similar trajectory, with their sophomore effort "The Dead Testament" now in production. Mannapool have largely been working in studio since this battle, releasing their album "Full Hearts, Half Hearted" in December, while The Apocalypse Afterparty have not played live since, with their "Bufflesnort" EP and a new lineup currently in the works. Honest Job & Infamous have both been fairly quiet since mid-2015, while both The Danger Cats & Haggith disbanded that same summer, albeit after both conducting studio recording sessions, with Haggith putting out two final albums. Finally, Mike Haggith & The Din (now simply The Din), Project 421, and Stereo North remain active and frequent sights at local concerts, often playing together in the process.

Some Notable Performers' Newer Bands

(Metal/hard rock in

italics

, ex-members noted with an *): Chronic Demonic (Nik Deubel from The Bear Hunters) Eclipse (Curtis McKenzie & Daniel Horton from Haggith)

Faceityoureametalband

(Steve Mozarowski from The Apocalypse Afterparty) Heavy Head (Daniel Horton from Haggith and Johnny Belanger from The Bear Hunters) Jack Spades (Justin Lam & Johnny Belanger from The Bear Hunters) Pillory (Jordan Leach from Haggith) The Suicide Kings (Mitch Sirie from The Bear Hunters) Them (Anthony Boudreau from Infamous)

Trivia:
Local doom/punk trio The Revolution were scheduled to play this battle on the first night, but they surprisingly broke up for the first time in February 2015, while a mid-2015 reunion didn't lead to much publically. They were replaced on a month's notice by Mike Haggith & The Din, who had just added Revolution drummer Brandan Glew to their lineup, though they switched places with planned night #3 guest performers The Pixo Control due to scheduling conflicts. As well, Revolution bassist Jordan Leach (who would have made his debut with the band at the battle) still competed anyway as Haggith's bassist on March 11th.
The judges for the duration of The VM Radio Battle of the Bands included Tidal Records owner & Rising Tide frontman Dustin Jones (who had brushes with competing & playing at local battles in 2009), Elements frontman & Village Media repesentative Rob Speers, and Sault Metal Scene owner Rob Figures (the only returning judge from 2013's Rockstar Bar Battle.) For this battle, promoter J.D. Pearce handled the MC duties in lieu of a judge.
Gnaeus' narrow victory in the VM Radio Battle of the Bands made them the first local band to win two battles of the bands since defunct death metal quintet Bring The Fallen won three of these events from 2009-2010, as well as the first non-metal band to do so since folk rockers Blackwater won the Sault College/Scotties Tournament of Hearts Battle in February 2010.
The Bear Hunters' appearances in this battle occurred without rhythm guitarist Josh Stephney, as he currently lives out of town and only plays select gigs as a result. The band pulled out extra stops for their finals set with an increased usage of camouflage attire, the debut of their new song "The Dying Den", and a mass slaughter of teddy bears during their set, with some of the bears being claimed by fans as souvenirs.
The Apocalypse Afterparty's semifinal appearance on March 18th marked their first live concert appearance as a quartet, now with Sara Biedermann (as "x") on bass and Amanda Brown (as "z") on the MPC electronic sampling instrument. However, their finals set marked their last concert appearance with drummer Steve Mozarowski (a.k.a. "X") due to his departure from the band later that year, and his replacement has yet to be publically unveiled.
Honest Job's semifinal set on March 4th saw the live debut of their new bassist Jared Fridy, whose performance netted him the Best Bass Performance award during the finals. However, he wasn't in attendance that night, so bandmates accepted on his behalf.
Haggith made their final live concert appearance with founding guitarist Daniel Horton (and only one with his short haircut) during the March 11th semifinal. He departed the band shortly afterward, and he was replaced by original bassist Caleb Cachagee until their breakup that summer. However, he would reunite with singer Curtis McKenzie later that year when Curt rejoined Project 421, after his prior stint on lead vocals in early 2014.
Both of Daniel Horton's then-bands (Haggith & Project 421) unveiled new originals during their semifinal sets, with Haggith's being "Silver Bullet", and Project 421's being "Into The Darkness". The former song was only played the one time before Daniel left Haggith, but the latter is still frequently played during Project 421 concerts.
The Pixo Control's involvement as a guest performer rather than as competitors was due to their signing to sponsors Tidal Records, avoiding a potential conflict of interest concern. The Pixo Control's set was well received, and while they replaced bassist Steve Edwards with Dustin Goodall last fall, they've since released their debut CD "Probably Not" in December, played a handful of out of town concerts, and continue to play live often in the area.
To fans uninitiated with The Apocalypse Afterparty from their duo concert appearances, the band made a lot of waves from their masked attire, creative hybrid sound with two bassists & no guitarists, a half-female lineup, the sale of bandanas during the finals, and use of false British accents on stage. However, fans of members' prior work with The Fury and RedD Monkey no doubt enjoyed the presence of familiar songs like "Rebel Scum" & "Fo' Dozen Cookies" during their sets.
Along with their sponsorship involvement in the battle, local news/video website Local2 gave in-depth promotion and coverage of each night of the battle with four episodes of their music webseries Tuned with Donna Hopper, with Donna also being a nightly fixture to cover and photograph the bands for SooToday. These Tuned episodes featured remarks from judges, band introductions, performance footage, and nightly results, but Donna was unable to host the finals episode due to illness, so VM Radio's Derek Turner (himself a battle winner with Garden of Bedlam) filled in for her.
The scheduling of the VM Radio Battle of the Bands prompted local live sound company Twin City Sound & Entertainment to indefinitely postpone a battle of the bands that they were to host at The Rednecks Saloon on February 20th, 2015, due to it's proximity to this larger battle that would start 12 days later. Were it to take place, it would have been a one night event with up to 10 bands playing 25 minute sets each, with Mourning Wood frontman Terry Eaton, Midway frontman Paul Leclair, and the aforementioned Rob Figures serving as judges.
Despite the cancellation of the Twin City Sound Battle, Algoma University hosted the first annual Speak Easy Battle of the Bands on March 5th, 2015, just one day after night #1 of the VM Radio Battle. The fan voted event (which was co-promoted by Haggith bassist Jordan Leach) was also won by Gnaeus, who picked up $400 for their win, while The Bear Hunters won $100 for third place (hard rock quartet Long Shot finished in second.) VM Radio Battle competitors Mike Haggith & The Din and Project 421 also competed in The Speak Easy Battle, but did not place in that event.
VM Radio Battle judge Rob Speers took a stab at competing in a local battle of the bands when his funk/hard rock band The Elements headed out to Spanish to compete in the annual Rock N' Roar Battle of the Bands the following month, with Bear Hunters drummer Johnny Belanger filling in for Alex Hagerman, who couldn't make the trip. However, The Elements did not place in that event, with winning bands added to the Rock N' Roar Festival lineup that August.
Videos:
Tuned with Donna Hopper episodes on the battle from Local2
Five videos from Mike Haggith & The Din's semifinal set
The Sault Metal Scene's videos of each band's opening songs
Sources/More Info:
Official Facebook event page
Pre-event coverage from SooToday
SooToday's coverage & photos from the March 4th semifinal
SooToday's coverage & photos from
the March 11th semifinal
SooToday's coverage & photos from
the March 18th semifinal
SooToday's coverage & photos from
the March 25th finals
----------------------------------------------------------------------------------------
I hope you guys liked this latest Battle of the Bands Rewind Profile! As last year also had two battles of the bands in consecutive days, we'll be back with our profile of last year's Speak Easy Battle of the Bands TOMORROW, so watch for that then, and for more news soon! Thanks everyone!