As promised, here is our second Battle of the Bands Rewind Profile in as many days, as it's exactly one year ago today that a second fan-voted battle of the bands took place in the midst of the VM Radio Battle! Like in yesterday's profile of that battle, we're looking at the events, results, aftermath, and trivia from this first-year competition, and as in our past profiles of local battles of the bands, this is strictly an informative feature with no reviews, criticism, or opinions of the involved artists. With the second installment of this annual battle just five days away, read on below for a look back at last year's event!
----------------------------------------------------------------------------------------
The 2015 Speak Easy Battle of the Bands (March 5th, 2015)
Background:
After a 5+ year hiatus from hosting this kind of event,
Algoma University
held the first annual Speak Easy Battle of the Bands at their campus bar/venue
The Speak Easy
on March 5th, 2015. Originally scheduled for February 4th before being postponed a month, the battle was co-promoted by the
Algoma University Students Union
and representative Meghan Rix alongside local musicians Sam Decter (Boxes of Boom) and Jordan Leach (Haggith). The seven competing acts played short sets of 15 minutes each, while unlike the late-2000s battles at The Speak Easy, this was a fan-voted event with no judges.
Prizes:
Cash prizes awaited the top 3 finishers, with the first place band winning $400, second place picking up $200, and third place receiving $100.
Competitors:
The seven competing acts included local death metal standouts (and reigning Viva La Battle champions)
The Bear Hunters
, post-punk/garage rock quartet
Gnaeus
, debtuing alternative/hard rock duo
Infinity Grinder
, indie rock solo musician
Jesse Merineau
, classic/hard rock quartet
Long Shot
, alternative rock trio
Mike Haggith & The Din
, and classic metal quartet
Project 421
.
Results:
Attending fans chose Gnaeus as the $400 winners of the 2015 Speak Easy Battle, marking their first of two battle victories in under three weeks. Long Shot won the $200 prize for second place, while The Bear Hunters enjoyed their second straight podium finish at a battle of the bands by picking up $100 for third place.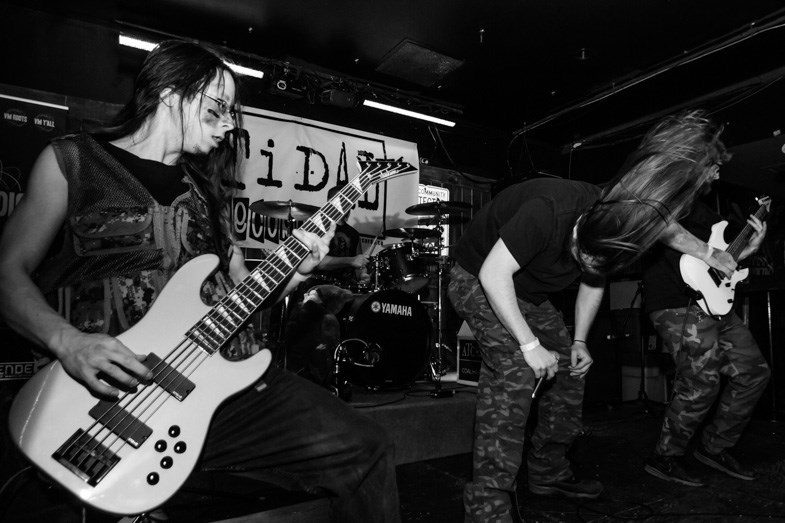 Aftermath:
Gnaeus went on to win the multi-night VM Radio Battle of the Bands later that month, winning $1,000 more and other big prizes as they continue their local ascent, with more shows and recording sessions for their debut CD "Loomings" following. Long Shot have been an increasingly familiar presence at local concerts since, and have also began work on their own debut EP. The Bear Hunters have played a few major concerts since and are recording their next album "The Dead Testament", while both Mike Haggith & The Din (now simply The Din) and Project 421 remain very active locally with numerous concerts, often sharing the same bill. Jesse Merineau continues to play occasionally in the Soo and in Toronto, and has been working on his own debut solo album, while Infinity Grinder have largely been inactive since last summer.
Some Notable Performers' Newer Bands

(Metal/hard rock in

italics

, ex-members noted with an *):
Chronic Demonic (Nik Deubel from The Bear Hunters)
Eclipse (Curtis McKenzie from Mike Haggoth & The Din & Daniel Horton from Project 421)
Heavy Head (Daniel Horton from Project 421 and Johnny Belanger from The Bear Hunters)
Jack Spades (Justin Lam & Johnny Belanger from The Bear Hunters)
The Suicide Kings (Mitch Sirie from The Bear Hunters)
Trivia:
This event fell just one day after the larger VM Radio Battle of the Bands' opening semifinal on March 4th, 2015, which was a 4 night event that featured a panel of judges to tabulate winners. The events shared 4 bands, with The Bear Hunters competing at The Canadian Nightclub-held battle the previous night, and Gnaeus, Mike Haggith & The Din, and Project 421 all competing on the last semifinal on March 18th. The Bear Hunters and Gnaeus (as wild cards) both advanced to the finals, where Gnaeus edged The Bear Hunters by two points to win their second battle of the bands.
Uniquely among the performers at this battle was solo musician Jesse Merineau, marking the first solo act to play at a battle of the bands in recent memory, though he enlisted Caroline Divine as a backing band for his 2016 Speak Easy Battle set. Jesse's set was advertised as his last local concert before moving to Toronto, but he has came back home for concerts since.
Once again, The Bear Hunters' played this battle as a quartet without rhythm guitarist Josh Stephney, as he lives out of town and only plays at select concerts. He was also absent from 2014's Viva La Battle and that month's VM Radio Battle of the Bands.
The identity of competitors Infinity Grinder remained a public secret until showtime on March 5th, when it was revealed that they were a new alt-hard rock duo from former No Arrow bassist Brad Griffith and then-Northern Tragedy drummer Terrence Gomes, harbouring musical resemblances to Brad's earlier two-man-band Sounds From The Green Room.
Mike Haggith & The Din made their first concert appearance since Revolution alum Brandan Glew replaced Daniel Horton on drums that night. The Din also unveiled their new sound at this battle, dropping their acid/jam style and fluid performer rotation for a more mainstream alternative sound with a firm three-man lineup. Guitarist Curtis McKenzie later rejoined Project 421 as their singer that summer, after previously singing with them in early 2014.
Event posters for this battle advertised a "Scan To Win" contest, which was part of the ongoing promotion where Algoma University students could scan cards to potentially win an iPad at semester's end, and wasn't otherwise tied to the battle.
Sault Online's Mike Caruso was on hand for this battle, filming each band for the local news site and covering the event in this article. Mike interviewed co-promoter Meghan Rix there and in this video as well, where she talked about the battle's inspiration and success.
Bear Hunters drummer Johnny Belanger filled in for Alex Hagerman as a guest drummer for funk/hard rock quartet The Elements when they travelled to Spanish to compete in the annual Rock N' Roar Battle of the Bands the following month, where they competed for a spot on the Rock N' Roar Festival lineup proper that August. However, The Elements did not place in that event.
The success of the Speak Easy Battle of the Bands led to a second battle from the same promoters being scheduled for November 19th, 2015, but it was postponed to March 10th, 2016 due to unspecified "sponsorship issues", placing it one day after night #1 of the VM Radio Battle of the Bands once again. Now solely being publically promoted by Algoma University representatives, the second Speak Easy Battle has an increased lineup of 8 bands, including the returning Din & Jesse Merineau and 6 new acts, but otherwise has a similar structure.
Videos:
Videos of each band from Sault Online's Mike Caruso
Sources/More Info:
Official Facebook event page
Sault Online's coverage of the battle
----------------------------------------------------------------------------------------
I hope you guys liked this Battle of the Bands Rewind Profile, and yes, our VM Radio Battle of the Bands Profile from yesterday! This series will return next year when we profile the battles ahead this month, with both of last year's battles returning for an encore
this Wednesday & Thursday
, so stay tuned for continued previews and coverage of both events! Thanks everyone!