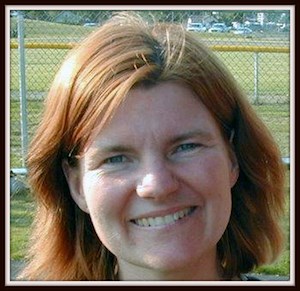 Before we begin this post, I wanted to send our deepest condolences out to the family & friends of longtime
White Pines Collegiate
drama teacher and
Shot in the Dark Productions
founder Susan Barber, who passed away on Saturday in her 56th year after a battle with cancer. You can read her full obituary at
this link
. A veteran presence in Sault Ste. Marie's theatre community as a director, instructor, and actor, Sue also left a major impact on numerous White Pines students over her decade teaching at that school. Recently, Sue directed the well received live stage production of The Who's Tommy at
The Machine Shop
last fall, featuring local classic/hard rock cover veterans
That's Chester
as the house band, as well as the Cabaret production in the spring, and Shot in the Dark have pledged to continue with their upcoming season of live shows as planned in her memory. Sue is survived by her husband, That's Chester bassist Aubrey Falls, as well as her sister, various nephews & nieces, as well as her cats & dogs. In accordance with her wishes, there was no funeral, but there will be a celebration of life at a date to be announced, and the family would appreciate donations to
The Sault Ste. Marie Humane Society
.
Though I went to Bawating, I can absolutely appreciate Sue's contributions to aspiring drama students, with White Pines graduates in my circle sharing nothing but glowing praise for her as a teacher and role model. She has definitely left her mark over decades of varying roles in local theater, as the response for her recent stage productions tells us, and her love of animals can't be ignored either. It's just a shame that cancer took another good person far too soon, and our best wishes go out to Aubrey & everyone affected by her loss. R.I.P. Sue, you will be missed!
Now, today's news post covers concert previews on a very quiet weekend to cap off the month of August, plus a new video from the Sault Michigan area, so let's begin with a SHORT NOTICE LOCAL CONCERT ALERT, as local acoustic hard rock singer/guitarist
Tym Morrison
will return to
The Roadhouse Bar & Grill
on Trunk Road TOMORROW NIGHT! Apologies for the short notice, the show was only announced via
it's official Facebook event page
on Monday. Joining his previously announced
Gliss Steak & Seafood
matinees TONIGHT, TOMORROW, and SATURDAY, his Roadhouse show TOMORROW will be his first at the east end venue in just three weeks, which is a short turnaround compared to his recent non-Gliss concerts. If you want to see Tym at a more typical concert time and venue, head to The Roadhouse TOMORROW for his unplugged hard rock action! Of course, keep his regular weekly Gliss shows in mind for the coming three nights, and yes, we'll add his likely September shows there to our listings when confirmed publically.
You can take in Tym's acoustic action at The Quality Inn's house restaurant at 6:00 PM over the next three evenings, and while they have no age limits or cover charges, remember where they're being held. Meanwhile, TOMORROW'S Roadhouse show is a 10:00 PM affair with no announced cover and a 19+ age limit, but note that the event page says that he's only playing for 2 hours (no word on if that's correct or not.) For more details, visit the above links and
the event page
for the Gliss shows, and here's Tym live!
Also this weekend, Sault Michigan classic/hard rock cover quartet
Highway 63
are advertised to return to The Northern Pines Lounge at
the St. Ignace Kewadin Casino
TOMORROW & SATURDAY NIGHT! Though not newly plugged on
Highway 63's Facebook page
, the Monkey's Uncle successors confirmed the shows there earlier this year, as did
Kewadin's entertainment page
, so don't worry about a thing1 This skilled band of local hard rock veterans should have another entertaining weekend in store as they continue their monthly run of St. Ignace weekends, so head down to their Kewadin Casino for all of the action tomorrow and/or Saturday! However, if you're hoping to see them in the Soo, watch out for them in two weeks. As usual for their Kewadin stops, these are 9:00 PM shows with no announced cover charges and 21+ age limits. For more details, visit the above links, and here's a new Highway 63 video find from last month!
Filmed by fan Leann Ross and shared to the band's Facebook page late last month, this is a cover of Alice In Chains' "Man in the Box" at The Northern Pines Lounge, notably from the same exact show from the above photo! Though Leann's choice to film much of the 86 second video sideways isn't optimal for viewing, this is a well done cover of this grunge classic, but I don't think Henry Switzer's vocal tone compliments this song as well as others that they've done. Kudos to Leann for the video, so give it a look below, and don't miss Highway 63 back in St. Ignace this weekend!
Finally for today, here's a new video from
Theatre of Night
keyboardist
Craig Harrison's YouTube channel
, his first there in six months! Though credited to the local symphonic metal project, this is uniquely a song featuring himself on lead vocals, rather than an outside studio artist or no singer at all. Entitled "I'll Be Left Behind",the sepia-tone video features Craig rocking out & singing into a handheld camera, as set to a symphonic rock original number. This song (which he wrote for a friend) sort of reminds me of Bon Jovi, and may be a leftover from his old 1980s metal-influenced band Dust 'N Bones, so fans of that project should take to this slower ballad a little extra! Give it a look below, and stay tuned for more from Theatre of Night!
That's all for today, but stay tuned for this month's YouTube Channel Profile next! Thanks everyone!