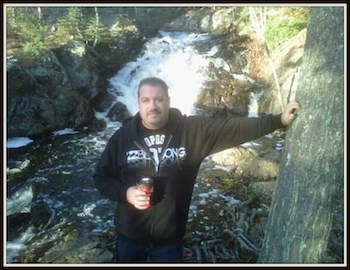 Before we begin this second weekend concert preview post, I wanted to alert readers that
Canadian Nightclub
DJ and former local concert promoter Jay Perron's obituary is now up
on SooToday
. Therein, it confirms that his final services will be held at
the Arthur Funeral Home
at 492 Wellington Street East on Sunday at 2:00 PM (no presiding reverend indicated), with the celebration of life fittingly continuing at The Canadian at 5:00 PM. In lieu of flowers, the family is requesting donations in his name be made to
The Heart & Stroke Foundation
's local branch and/or
The Animal Assistance Group
. Jay is survived by his wife Helen, his five children, his mother, his sister, and his extended family, and he will be dearly missed by his many friends and colleagues in the local music community.
Whether you're familiar with him as "DJ Reverend J" or as a fixture at Canadian Nightclub concerts, Jay's loss is still very sad and shocking, so definitely consider going to his services on Sunday to pay your respects, and our continued thoughts are with all affected. R.I.P. Jay!
Now, let's get to our concert previews, all being SHORT NOTICE LOCAL CONCERT ALERTS, starting with the marathon to end all marathons for local classic/hard rock cover quartet
Mourning Wood
, who are scheduled to rock Reggie's Place on Queen Street East TONIGHT, TOMORROW NIGHT, SUNDAY NIGHT, MONDAY NIGHT,
AND
TUESDAY NIGHT, and they played there
last night
too! Apologies for the short notice (and for missing last night's show), we only heard about them via drummer Glen Thomas' personal Facebook page last night, which was too late to rush this post for. You'd think a
SIX NIGHT
run of concerts would get advance notice, but alas, the band almost never publically promotes stops at the downtown Reggie's, and this weekend was no exception. Obviously, Reggie's is going all out for live entertainment over the Halloween weekend, and I'd assume costumes would be encouraged at least on MONDAY, so keep that in mind too!
You have
five more
options to see Mourning Wood's often heavy and requests-laden sets over the weekend, and start times of 10:00 PM, 19+ age limits, and no covers can be expected TONIGHT, TOMORROW, SUNDAY, MONDAY, and TUESDAY, and it'll be interesting to hear how this marathon goes, in case it recurs there or elsewhere! Apologies again for missing yesterday's show, we'd have plugged it had we had advance word, but keep this Mourn-a-thon in mind through November 1st, and here they are live!
Next up, Sault Michigan classic/hard rock cover quartet
Highway 63
will return to
The American Legion
for a third straight Halloween weekend concert TOMORROW NIGHT! Apologies again for the short notice, the band only just announced this show via
their Facebook page
on Thursday. A very rare concert appearance for the Monkey's Uncle successors that
isn't
at a Kewadin Casino branch, this continues what's becoming an annual tradition for this talented veteran outfit, so if you're looking for a hard rock show in the E.U.P. over the Halloween weekend, head to 3 Legion Drive (off East Water Street) TOMORROW NIGHT! A costume party (with a $75 top prize) and pig raffle are also in effect for this publically-attendable concert, which is a 21+ event at 8:00 PM with no announced cover charges. Despite the extremely late notice, Highway 63 should be at their usual entertaining for this Halloween party, so keep it in mind in Sault Michigan for TOMORROW!
For a preview, here's a new video of Highway 63 from their weekend at The Northern Pines Lounge at
the St. Ignace Kewadin Casino
earlier this month! Filmed by by fan Leann Ross and posted to their Facebook page on Sunday, this 30 second clip is of Highway 63 covering Journey's "Don't Stop Believin'", with a band member (presumably frontman Henry Switzer) adding that this was "my favourite song we do." Powerful voice on the intro here, and while the instrumentation sounds good, we don't hear enough of the song to really make a judgment. Check out this new video below, and don't miss Highway 63 TOMORROW at The American Legion!
Also, Sault Ontario classic/hard rock cover quartet
The 3 Day Millionaires
will debut their new lineup TOMORROW NIGHT at
The Rockstar Bar
, and will then return for a Halloween night concert THIS MONDAY! Once again, apologies for the short notice, the shows were only announced via
the official Facebook event page
earlier this week. TOMORROW'S show will be The 3 Day Millionaires' first live appearance since replacing guitarist Travis Sharpe with Sneaky Pete alum Bill Brouillard, so how will Bill fit in with the Millionaires? You have two chances this holiday weekend, as this veteran quartet will also provide Halloween entertainment on MONDAY, and after having Sunday to rest, they should be ready to conjure up some spooky good times! I do imagine costumes are expected for Halloween's show, but I can't confirm if the venue has a costume contest or anything like that planned. Both TOMORROW & MONDAY'S shows have 10:30 PM start times, no announced cover charges, and 19+ age limits in effect.
For reference, The Millionaires are not playing tonight due to
a previously announced concert
by The Boatload Killers' new spinoff country rock band The Barn Board Trio. While The 3 Day Millionaires have been mum on Travis' departure, Bill's a strong guitarist who was a key member of Sneaky Pete during their local run, and he should fit in well with Steve, Jeremey, and Scott going forward! Welcome him to the fold at one/both of this weekend's shows, see above for more details, and here's The 3 Day Millionaires live!
Finally, four local bands will hit
The Rednecks Saloon
for their own Halloween night concert THIS MONDAY! One more time, apologies for the short notice, the show was only announced via
it's own Facebook event page
earlier this week. Entitled
"Halloween Nightmare"
, this
PaperClip Productions
show features a varied but mostly heavy lineup of bands, and while the lineup order isn't consistently stated, we'll go by the poster here. Classic metal quartet
Project 421
are advertised there as the headliners, just over three weeks removed from a solo gig at the former Nicolet, and they'll be joined by funk/hard rock quartet
The Elements
and 421's modern hard rock sister band
Eclipse
, with both bands fresh off of their
Halloween Party
set at The Algonquin Pub on Saturday. They aren't advertised to reprise their tribute band themes from that show, but just in case, keep an eye out! The opening band is the live debut of new indie rock trio
The Autumn Roots
, featuring former March Into Regression bandmates Jeremy Hannah and Travis St. Amour (ex-Bring The Fallen) alongside bassist Greg Carscadden.
Despite the presence of local extreme metal alums, The Autumn Roots appear to be spiritual successors to Jeremy's old indie projects like The North Shore (formerly Like Father Like Son) and Ocean View. This new band should be interesting to see debut on MONDAY NIGHT, even if they're not as heavy as what's to come, so check them out early! "Halloween Nightmare" has NO COVER CHARGE and a 19+ age limit, and will start at 10:00 PM. Sounds like a fun and heavy way to cap off Halloween, so don't miss out on MONDAY, and here's Project 421 live playing "Am I Evil", fittingly for the season!
That's all for today, but stay tuned for more news and notes later today, plus this month's CD review! Thanks everyone!