Let's get back into the swing of things with the first of this weekend's concert previews, including SHORT NOTICE LOCAL CONCERT ALERTS, including a big returning event! Sault Michigan previews and any even-later notice concerts will come in out next post, either tonight or tomorrow, so don't worry, they are coming! Now, here's what you need to know!
Local classic/hard rock cover quartet
Mourning Wood
will return to
The Rednecks Saloon
for one night only TOMORROW NIGHT! Apologies for the short notice, the band only announced the show via
their official Facebook event page
earlier this week. Playing at the former Nicolet Tavern for the first time since last month's Garth Brooks tribute afterparty, Mourning Wood has indicated that "the full band" will be back for TOMORROW'S show, implying that their last few gigs there were shorthanded (though I thought all 4 members played last month.) No word on why this is a one-night-only concert though, which is reasonably unusual for them, though if it's due to a Saturday night booking elsewhere, it hasn't been publically announced. You can take in Mourning Wood's varied and often heavy blend of covers TOMORROW at 10:00 PM, there's no announced cover charge, and you must be 19 or older to attend. See above for more details, and here's Mourning Wood live!
Next up, the musical contingent for this year's
Soo Zombie Walk
afterparty has
finally
been announced, as local alternative punk/blues veterans
Sykotyk Rampage
, Northwest guitarist
Greg Callaghan
, and
Stereo North
frontman Andrew Pucci will be rocking out at
The Canadian Bushplane Heritage Center
THIS SATURDAY prior to the walk! Apologies again for the short notice, organizers didn't publically confirm any performers until Tuesday on
the Facebook event page
, much later than usual. For this eighth annual local Zombie Walk (and fourth straight at the Bushplane Museum), local zombies of ALL AGES will patrol downtown for brains and to combat the resistance, so
click here
for full details on events in regard to the walk proper and how to get involved! This year's music lineup will be familiar as well, with Sykotyk Rampage and Greg making their sixth & fourth straight appearances at the annual Halloween season event, with Sykotyk Rampage's involvement being especially notable as this will be their first public local concert since
last year's
Zombie Walk! Only Andrew is new, and if you're familiar with Stereo North, you'll know his vocal & guitar talent!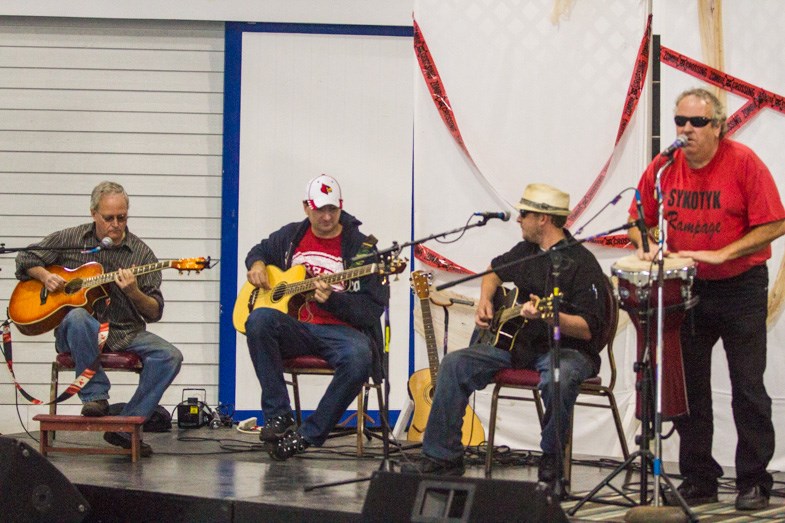 It's been way too long to see Sykotyk Rampage back on a local stage, so if you've missed them in 2016, be at the zombie walk on Saturday for their crash music! No word though on if their set will be acoustic again or not. Also, there are no online references to an afterparty for this year's Zombie Walk, and if there is no afterparty, it would mark the first walk without one since the inaugural event in 2009. For reference, last year's afterparty took place at Coch's Corner, which also hosted 2010 & 2013's afterparties, and it featured the same music lineup as the pre-walk festivities had. If anything is confirmed regarding an afterparty, we'll let you know! Sykotyk Rampage are on last on SATURDAY at 5:00 PM, with Greg and Andrew playing at 4:30 & 4:00 PM respectively, and their sets sandwich children's and adult's brain eating contests. After orientation and rules, the walk itself will take place from 6:00-7:00 PM, with award presentations following upon return to the museum.
Admission to this year's Soo Zombie Walk is $3 with a canned good donation (kids under 10 only need a canned good), while
click here
for full details on waiver and registration forms, particularly if you're underage. While the music announcements are on short notice and with some lingering questions (re: the afterparty), there's a fun lineup in store, including the long awaited local concert return of Sykotyk Rampage, so whether you're hungry for brains or just want to enjoy some live punk music, be at The Bushplane Museum on Saturday! For a preview, here's Sykotyk Rampage live!
Finally, we'll close with prolific local hard rock singer/guitarist
Tym Morrison
's previously announced concerts, as he is scheduled to return to
Gliss Steak & Seafood
for three more acoustic solo concerts TONIGHT, TOMORROW, and SATURDAY! With the month of October winding along, Tym's three-peat of weekly concerts at The Quality Inn's restaurant should be another reliable and reserved attraction for fans this weekend, so keep Tym's latest unplugged shows in mind for some acoustic hard rock cover action! Remember, he is playing at Gliss next weekend, in case you want some Halloween weekend plans. As usual for Tym's long-term arrangement at Gliss, tonight, tomorrow, and Saturday's shows are 6:00 PM matinee events with no announced cover charges or age limits, but remember where these are being held. Visit
the official Facebook event page
for more details, and here's Tym Morrison live a few years back!
That's all for today, but stay tuned for Sault Michigan weekend concert previews and more next! Thanks everyone!