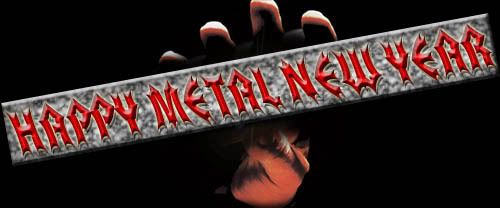 Once again, Happy New Year to each and every one of you guys! 2013's already shaping up to be a big year in the local metal/hard rock scene, so like the past few years, this post is designed to look ahead to the year at large, as to what has been announced, what could be coming, and what I'd expect to hear, so what do we know so far for local metal in 2013?
For concerts, not a lot has been officially and/or publically announced as of today, but Sault Michigan will welcome three hard rock packages to The Dreammaker's Theater at
Kewadin Casino
in just the next two months, including the original
Queensryche
on January 12th (one week from Saturday), ex-Skid Row frontman/Swearnet co-star
Sebastian Bach
on January 20th, and a classic hard rock three for all featuring
April Wine
, the Steve Priest-led version of
Sweet
, and
Head East
on February 9th! Hopefully this is just the start of a big year for both metal & hard rock shows in Sault Michigan, but I have yet to definitively hear of any others. Keep an eye out for announcements from Kewadin Casino for heavier bands at the bars at their Soo and Hessel casinos, and of course, watch for last year's regular gigging hard rock bands and venues to announce new shows (and in the case of ones who barely/don't update online pages, don't lose track!)
Major concerts to look forward to across the river include the third installment of
LemmaFest
in June, the Sugar Island Music Festival in August, a possible return of the Sault Riverview Music Festival this fall, likely some more modern hard rock Kewadin Casino events from
Allstar Promotions
, and hopefully much more! In Sault Ontario however, the only definitively announced heavier concerts in 2013 so far belong to
The Suicide Kings
, who'll bring their hard rocking originals and covers to
Docks Riverfront Grill
for a weekend each over the next three months starting next weekend, but I imagine they have more in the works! Anything else has either not been announced, or has yet to receive a public confirmation (you could partly blame that on the news downturn recently), but what could be coming? Of course, metal and hard rock have been known to take place at local summer festivals like
Hempfest
,
Rotaryfest
, and
The Searchmont Music Festival
, while many metalheads are likely holding out for the return of the
Roosevelt Hotel
metal nights, and bookers like J.D. Pearce are bound to have some cool things up their sleeves for this calendar year! Personally, I think it'd be awesome if there was an Andres Duchesne tribute show at some point, but that's just speculation.
Keep an eye out to the SMS and local metal band pages and concert venue sites for updates on future concerts, be they from the young original metal bands or some of the more seasoned cover acts! As for local metal albums that we could expect, there are a number that are potentially on the horizon for this year! As documented in our "Where Are The New Albums?" series (which returns tomorrow), Sault Ontario metal/hard rock acts
As It Stands
,
The Bear Hunters
,
Gates of Winter
,
Haggith
,
Shit Liver
,
Sykotyk Rampage
,
Tym Morrison
, and
Winkstinger
all have planned albums in progress or completed, so might we see at least some of their work released in 2013? Sault Michigan has a few albums of their own that we might see this year, including planned/announced albums from
415E
,
Drayton Fever
,
Half A Man
,
The Highest of Fives
,
Hoist the Sails
,
Life's Eclipse
, and
Swampghas
, so follow each of those bands as well as we await hopeful CDs this year! And of course, don't forget about
the Woods of Ypres tribute album
and
Theatre of Night
's next reissue of "Christmas Night", those should also be worth the wait!
A lot of 2013 is unknown so far, but that's the fun of experiencing it, and hopefully this year builds on the big and notable events, shows, and bands of 2012! That's all for today, but stay tuned tomorrow for this month's "Where Are The New Albums?" post, and much more news soon! Thanks everyone!