It's now time to close down last month's poll on the SMS and launch our newest poll, and today also marks the final closure of our "favourite _____ of 2015" polls! This month, we're posing this question to you guys:
"What was your favourite local metal, hard rock, or punk concert of 2015?"
Sadly, we only received 12 votes in this culmination of our half-year 2015 polls, but the turnout is actually up from the month prior, so thanks to everyone who did vote, and here are the final tallies!
SNFU & Jack Spades at The Rockstar Bar on July 24th (5 votes, 42%)
Anvil & Jack Spades at The Rockstar Bar on April 1st (3 votes, 25%)
Benighted & Bookakee at The Oddfellows Hall on March 7th (2 votes, 17%)
The VM Radio Battle Of The Bands from March 4th-25th (1 vote, 8%)
Project 421 & Haggith at The Rockstar Bar on January 23rd (1 vote, 8%)
Swampstravaganza V at The Canadian on May 9th (0 votes)
Caym & Jack Spades at The Algonquin Pub on May 15th (0 votes)
The Archaics at The New American Pub on June 1st (0 votes)
The Rockstar Bar's Summer Bash on June 26th (0 votes)
The Golers & Shit Liver at The New A on August 9th (0 votes)
Diemonds at The Rednecks Saloon on August 21st (0 votes)
Fuck The Facts at The Oddfellows Hall on Sept. 20th (0 votes)
Other (0 votes)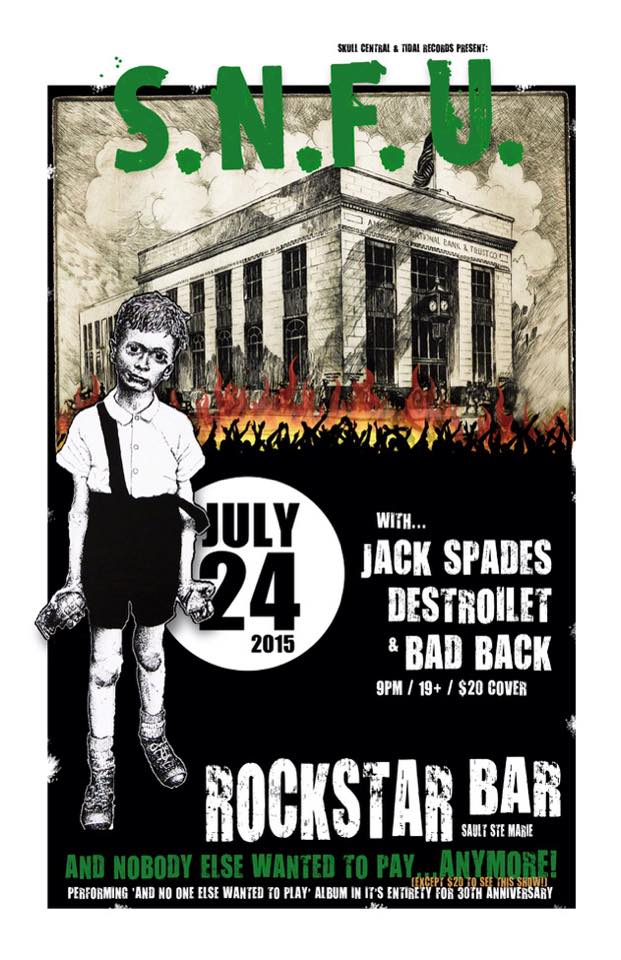 What do you guys think? The vote turnout is disappointing, especially considering that these shows are the only ones to get votes in our half year polls on your favourite concerts of 2015, and the Fuck the Facts is most disappoitning of all given that it won the late 2015 poll that concluded last month. It's all in who votes! In an upset, last July's SNFU-headlined concert at The Rockstar Bar came in first place for the end-year poll, after finishing in second place last month, more than doubling it's vote total from then, so kudos to all bands involved in that well-recieved concert in terms of winning the ultimate poll! The remaining vote-getters were all from early-2015 concerts, with Rockstar Bar shows picking up half of the total votes. Interesting results all around, and with three of the top 4 choices going to J.D. Pearce-promoted concerts, it's a good sign for the popularity and success of his local concerts! Thanks to everyone who voted!
As for this month's poll, let's transition back into some more general topics, starting with one that reflects a recent trend from a few local albums and concerts. The question we are posing this month is:
"What is your opinion on local concerts & albums that are offered on "pay what you can/want" models?"
This is by no means the norm, but in recent years, the idea of offering albums or concert admission via donation or a fluid, consumer-determined amount has been gaining traction with some artists.
The Gore Street Cafe
hosts many of their concerts (and even some of their food menus) on a "pay what you can" model, while a handful of other events have followed suit, like the recent Metal Massacre house shows. The idea has persisted longer locally with album releases, as a bunch of local bands have released albums through
Bandcamp
on "name your price" models, with bands like Jack Spades, Haggith, Downshift, RedD Monkey, and The Northern Tragedy among the roster giving this option, which allows for free downloads if the consumer chooses.
Is the "name your price/pay what you want" model something you support? It has it's pluses and minuses, so we've picked five choices that you can pick from regarding your opinions on this model, so read on below for details!
They're a great option that's accessible to everyone!:
Do you wholeheartedly support bands and/or concerts that allow fans to pick their payment amount? Do you find that it allows more fans to attend shows or buy albums, or at least open the door to a wider audience with such options available? If you 100% support shows and albums of this kind, this is your choice!
It depends on the album or show:
Maybe you find that a "pay what you can" scenario fits certain bands, promoters, and/or venues more than others, as not all of them are equal or cater to the same clientele. Maybe you'd be more apt to pay a variable amount for one band over another, or if you find that it'll be more beneficial to that venue? If your opinion's as fluid as the concept, vote here!
They should only be for special occasions or deals:
Locally speaking, a "name your price" model for albums or shows is a regular occurrence when it comes to local acts on Bandcamp, or the promoters that put on said shows. That said, there may be some of you who find the concept to be best utilized in small doses, perhaps for special events, venue deals and campaigns, or perhaps tied into existing charity events where a donation is expected. If you'd want such shows to be more of a special attraction, pick this option!
I don't like them, they should have a flat fee:
On the flip side, there is a reason why most local concerts have a flat admission fee. A "pay what you can" model is unpredictable, as you can't predict how generous and/or stingy customers will be, while a flat admission can be easier to manage, and more reliable for paying bands and covering costs of putting a show on or recording/releasing a CD. Customers may prefer paying a set price, knowing they're supporting the artists' full work, but do you agree with the above?
Indifferent/no opinion:
Do you have no real view on the benefits and/or drawbacks of "pay what you want" albums and concerts? Do you just attend shows and buy albums, without regard to the admission fee? When a variable, consumer-set price comes up, do you just pay the general amount for a comparable event and not think about it again? Do you just avert this model of admission or purchasing altogether? If you have no side otherwise on this topic, here's the choice for you!
VOTE TODAY!!
You have until June 18th to cast your votes, so do so A.S.A.P., and while the vote turnout is to be established, it'll be interesting to see what most people have to say! See above for more details, and stay tuned for weekend concert previews and more to come! Thanks everyone!