We have a lot of stories to clear out on the site this week, so let's get that rolling with a new news post on this Monday morning, including some new videos related to this past weekend's concerts, overdue notes on a local band's recent SooToday coverage, and first, a LOCAL CONCERT ALERT for later this month!
Sault Michigan blues/hard rock cover quartet
Project 906
will return to
The Strongs Motel & Tavern
in nearby Eckerman for their second show there on Saturday, May 28th! Marking their first announced concert since last night's Bay Mills Bands Together fundraiser in Brimley, this show comes a little over a month after their debut at The Strongs Tavern (at
28952 M-28)
, which the band heavily praised post-show, so hopefully the good vibes and hard hitting tunes continue there next weekend! Like last month, Project 906 will be rocking out at 9:00 PM next Saturday, you must be 21 years of age or older to attend, and there's no announced cover charge. For more details, visit
the official Facebook event page
, and stay tuned for more from the Ten Kings successors when announced!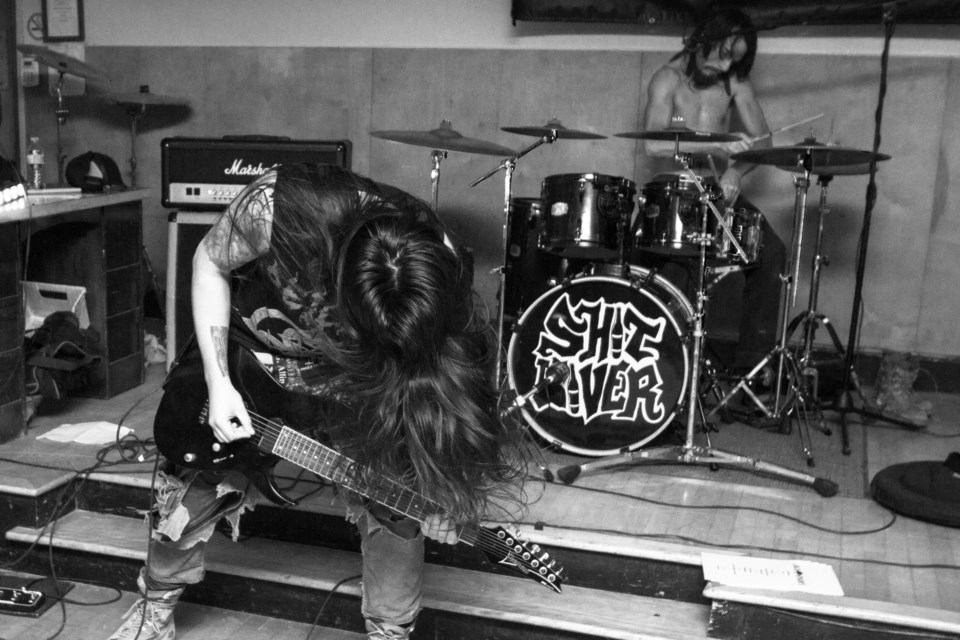 Next up, here's the latest from Sault Ontario/St. Catharine's grindcore trio
Shit Liver
, who were profiled in
this SooToday article
on May 2nd by Donna Hopper (apologies for the delay), so what should you know within? Largely taken from the band's opening set at
The Motherfuckers
-headlined concert at The Oddfellows Hall on April 30th, the article features interview remarks from all three band members, where they discuss the benefits of their move down south, their love & passion for their music, and their bluegrass side-project
Dirtfight
, which features the guys alongside fiddler Matt Alvarez, who is a singer & guitarist in the St. Catharine's experimental punk collective
Life Problems
.You may have seen Dirtfight at The Gore Street Cafe on May 2nd, as well as at an open mic night during that stretch of Shit Liver's tour. Dirtfight are an interesting band for bluegrass fans, and they're solid in that genre, so give them a look for Josh, Mike, and Matt's other musical side!
Note that the article credits Shit Liver's formation as 2006 (presumably referencing their predecessor punk band
OBCD
's debut), but it's a solid article on a deserving band, and Donna got some more great photos at the show! Nine of Shit Liver, and six each of The Motherfuckers and fellow openers
Jack Spades
are included, and while they're all in black & white (and don't feature any shots of Winkstinger or Rotopsy), Donna got excellent clips as always, so give them and the full article a look at
this link
and/or above, and good luck to Shit Liver as their Canadian tour marches further west!
We'll close today with new videos, including a new Facebook video of local classic metal quintet
Project 421
's headlining show at
The Rockstar Bar
on Friday! Filmed by frontman Curtis McKenzie's girlfriend April Bryant, and shared from her personal Facebook page to
the band's Facebook page
on Saturday, this is of Project 421's debuting cover of Metallica's "Welcome Home (Sanitarium)" from their first set that night. A subsequent share by guitarist Blair Burch notes that there's "only one real screw-up", but he'd take it, and for a first playing, it sounds good! The video clarity isn't perfect, and Curt is hard to hear vocally, but it's a solid clip, so give it a look below!
Finally, here's a video that is admittedly late (my apologies!), but with the recent backlog on the site, we couldn't get it on here in time. Posted on Friday afternoon to
their Facebook page
, this is a preview video for local alternative hard rock trio
The Din
's
LopLops Lounge
debut on Saturday (where they opened for Sudbury's
Sulfur City.
) Shot at the venue on Friday, frontman Mike Haggith announced that their LopLops set would be all-original, before declaring that they were writing a new song (with guitarist Tammy Hill on piano), but I'll let you watch to determine what the "new song" is. Lighthearted promotion for what appears to have been a successful concert, so give the video a look below!
That's all for now, but stay tuned for more news and notes this week, as we continue to clear out our news cache! Thanks everyone!