Here's a new news post for your Saturday morning, and it includes some removals and shifts regarding our Sault Michigan concert venue listings, some new YouTube uploads from some familiar faces, and first, LOCAL CONCERT ALERTS (including one on SHORT NOTICE), so without any further adieu, here's what you should know!
Local classic/hard rock cover quartet
Mourning Wood
will return to
Reggie's Place
on Queen Street East TONIGHT, after having just played there
last night
! Apologies for the short notice (and for missing last night's show), we only heard about them via drummer Glen Thomas' personal Facebook page yesterday, as the band doesn't typically announce Reggie's Place gigs in advance publically for one reason or another. Also, I'm out of town for the weekend, so I had no time to rush this post before last night's show, but my apologies, we'd have plugged it here had we known! Adding to this weekend's bookings, Glen also confirmed in the same personal post that Mourning Wood will also be returning to
The Park Grille
for their second show there this coming Friday, May 13th, which basically confirms that they did swap bookings with
The 3 Day Millionaires
, who quietly took over Mourning Wood's originally planned Park Grille date last night.
No word on why the bands switched dates, but a scheduling conflict for one/both bands would make sense. Either way, we didn't lose a show from either, so hopefully fans of Mourning Wood's varied and often heavy covers will be at the Industrial Park Crescent venue on Friday! TONIGHT'S (and yesterday's) 19+ shows at Reggie's are as a trio (presumably with bassist Paul Belair absent), and both had 19+ age limits and a 9:30 PM start time, while Friday's Park Grille show will start at 8:00 PM, and doesn't have a cover either, but remember that it is a restaurant. See the above links for more details, and here's Mourning Wood live!
Next up, local indie/punk quintet
Northwest
will rock
LopLops Lounge
for the first time this year on Saturday, May 28th when they open for Fort McMurray, Alberta blues rock quartet
The Sentimental Gentlemen
! Making their second concert appearance of the year (following the Lost Love show next weekend at The New A), Northwest's lively pop punk sound should get a good audience at month's end, especially if you've missed them in recent months, so keep their LopLops return in mind! The Sentimental Gentlemen are a talented band with a fun, upbeat, and soulful sound that should go over nicely at LopLops themselves, so be sure to check them out too! Also, it should be noted that The Sentimental Gentlemen are taking donations during their remaining Cross Canada Tour dates to help out their hometown, as you've no doubt seen and heard about the devastating wildfires in Fort McMurray in the past week. They are fine (they were in Newfoundland when the fires began) and it's great to see them helping out Fort McMurray however they can, so keep that in mind!
Though not specified on
the Facebook event page
, this show has a 19+ age limit, $5 cover charge, and 9:00 PM start time, as per
LopLops' website
. This should be a solid concert for fans of blues and punk rock, and with a chance to help out Fort McMurray at this terrible time, definitely consider a trip to LopLops on May 28th to check out the music & show your support!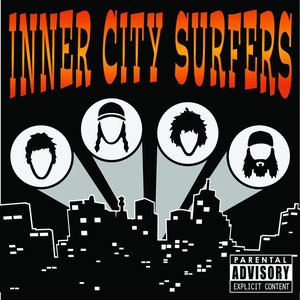 Also, here's a nice surprise from an inactive local punk band who many fans still want to see a reunion from, namely
The Inner City Surfers
, as their self-titled third & final CD is now available to stream for free on YouTube! Posted to bassist
Brad "Example" Lacell's YouTube channel
on Thursday, this album (the biggest and highest profile from their run) was released in 2007 through Addictive Records, and features Brad alongside singer/guitarist Dustin Jones, guitarist Dave Bahun, and drummer Mikey Hawdon as usual. The album was uploaded out of order to YouTube, but the 13-track CD includes the songs
"All I Know"
,
"Pickin' From The Country"
,
"Getaway"
,
"Booze 'N Doobs"
,
"Here's To The Days"
,
"Never Ender Bender"
, the lead single
"What A Life"
,
"Won't Belong"
,
"Lil' Shy"
,
"Grab My Pen"
,
"Screwed"
,
"Someone To Lean On"
, and
"The Quest"
, so click each link to hear each song! For reference sake, "Inner City Surfers" features four re-recorded songs from their 2002 sophomore disc "Laughing On The Outside".
It's great to have this entertaining CD easily accessible like this, especially given that it's out of print now, but if you are so inclined, this album is on sale via
iTunes
and select online merchants even today (also, note that Brad included
Tidal Records
plugs in each video, though no word on if this CD is planned for a reissue through Dustin's current label.) I'll admit that this CD is not likely going to get an imminent review on the SMS (as it's not new, and their original self-titled CD from 2000 would get precedence for archive reviews), but it's a fun flashback to The Surfers' heyday, so give it a listen above, and here's the opening song "All I Know"!
Finally for today, here's three assorted notes regarding some Sault Michigan-area concert venues that we've removed from our concert listings on the right of the SMS page, due to their inactivity as hard rock concert venues. As usual, these are in alphabetical order by venue name:
First, we've moved The Cozy Corners Tavern & Grill in Barbeau from that listing to our "Other Local Metal Links", as they haven't advertised a concert on their website since January of last year, last entering our concert coverage when Banned played there in 2013. Once a regular venue for Nixxon Dixxon successors Splitshot, The Cozy Corners is still open and still hosts community events, and hopefully we see more concerts there down the road!
We've also deleted Dan's Place in Rudyard from our concert venue listings, as we haven't found a hard rock concert booking there since Power Slug played there to end 2014. As best as I can tell, Dan's Place is still open, but with no visible online pages, it's admittedly hard to know what they've been up to lately. Again, hopefully we hear of concerts there in the future!
Lastly, we've moved fellow Rudyard venue Joe's Bar & Grill (now with a new Facebook page) to our "Other Local Metal Links", as we also couldn't find a remotely recent hard rock concert booking there, though they still host bands, including country/rock cover band Steelhead frequently. It's nice to finally find a Facebook page for Joe's Bar in any case, and if they book any hard rock bands, we'll try to make sure they're covered here!
That's all for today, but stay tuned for more news and notes in the coming week and beyond! Thanks everyone!