Well, I don't have anything major for local metal news tonight, but I can tell y'all which metal bands took home awards at tonight's 51st Grammy Awards ceremony!
Metallica
were the big metal winners, taking home the
Best Metal Performance
for "My Apocalypse" (beating Dragonforce, Judas Priest, Ministry, and Slipknot)! As well, they also won
Best Recording Package
for "Death Magnetic"! Just to add, Metallica producer Rick Rubin took home the award for
Producer of the Year, Non Classical
, beating (among others), Staind/Black Tide producer Johnny K! Congratulations to the winners!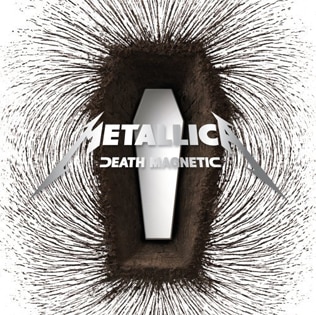 Other than that, it was all losses for metal bands. In the
Best Hard Rock Performance
category, Disturbed, Judas Priest, Motley Crue, and Rob Zombie all lost to prog rockers The Mars Volta. Meanwhile, in the
Best Rock Instrumental
category, Metallica, Nine Inch Nails and Rush all lost out to Zappa Plays Zappa. As well, both Metallica and Kid Rock lost to Coldplay for the
Best Rock Album
award. I definitely would have picked other bands for those awards, but meh, what can I do.
And finally, Kid Rock (
Best Male Pop Vocal Performance
), Eddie Vedder (
Best Solo Rock Vocal Performance),
AC/DC (
Best Rock Performance By A Duo Or Group
), and Nine Inch Nails (
Best Boxed/Special Limited Edition Package
) all lost in their respective categories too. However, Led Zeppelin frontman Robert Plant took home five Grammys for his incredibly un-metal collaboration with Alison Krauss!
That's all for tonight, local metal news will emerge once again tomorrow!