Well, it's the 18th of the month again, so it's time to go over the results of last month's poll, and unveil this month's new poll! As you guys know, last month's poll asked this question: "
What was the biggest Sault Ontario metal news story of 2009?
" Thanks to the 54 of you who voted, another high total! Let's go over the results from lowest vote-getters to highest! (Stay tuned afterwards for news on one of the local openers for the Pop Evil concert next month, and when Kiss could be coming!)
In dead last with no votes each were
Three Days Grace
's return to
The Essar Center
,
the release of
Stillbroke
's debut EP "Never Enough"
, and
Susan Myers' attempts to stop the Kiss concert
. I would have thought thought all of these would have gotten votes, Three Days Grace are a major band, Stillbroke are popular, and Susan Myers....well, what she said sure made news! Four choices tied for 10th place with a single vote each, those being
the threatened
Grady
concert boycott
,
the renovations at
The Canadian Nightclub
,
the release of Garden of Bedlam's self-titled debut EP
, and "
Other
". I'm particularly surprised by the Garden of Bedlam EP release getting a single vote, considering their popularity, but the rest are understandable! Also, I wonder what the person who voted for "Other" had in mind?
In a tie for 8th place with two votes each were
the end of
Hempfest
, and much to my surprise,
Gates of W
inter
's hiatus
! I would have thought that the end of one of the biggest metal bands the Sault has ever seen would have scored a lot higher! I guess it depends who votes. In 7th place with 3 votes was
the release of "Woods IV: The Green Album"
! Of all the album releases I included on the poll, this was the top vote-getter, which I expected! However, I figured more than three people would choose it, especially with how good of a job
Woods of Ypres
did on this release! In a tie for 5th with 4 votes each were
the opening of
The Rockstar Bar
, and
the Soo's demanding of
Kiss
to come here
! Kiss placing here was about what I expected, (there was more newsworthy Kiss stories to come), but The Rockstar Bar placing so high was a bit surprising!
In fourth place with 5 votes, honestly a bit lower than I was expecting, was
the re-opening of
Foggy Notions
! It sure has been popular and talked about since it's return, but I would have figured it'd have been top 3. Tied for second with 6 votes each were
the postponing of the Kiss concert
and
the return of
Caveman Morrison
! The Kiss postponing doesn't surprise me in it's placement, but Caveman Morrison's return sure does! I'm a fan and I know they're popular, but second place? Nice job! I wouldn't have imagined they'd get a high total like that!
And in first, with a landslide total of 18 votes, 33% of the vote, is......
the Kiss Battle of the Bands, won by Garden of Bedlam in a one point victory over
Lion Ride
! Exactly where I figured it'd place, it was one amazing event that seemed to attract the interest of every local music lover, it's something I wish happened more often! More battles to find openers for major bands, you know what opportunities that would help create? But that's just me. There you have it, you guys have chosen The Kiss Battle of the Bands, and Garden of Bedlam's victory in it, as the biggest local metal story of 2009!
And now, we come to our new poll on the Sault Metal Scene, and as I previously said, it'd be about the best "something" in 2009. So I pose this question to you:
What was your favourite new album release from a Sault Ontario metal band in 2009?
A number of bands in Sault Ontario released CDs in 2009, debuts for some, the newest addition to their growing discographies for others! I'm counting CDs and primarily-internet released albums, be they studio releases, compilations, EPs, or whatever it is that came out, as long as it's a brand new release from a Sault Ontario metal/hard rock band! Here are your choices:
Detroit - Brace For Impact
: This was the first official CD release and second album overall from local hardcore/punk rockers
Detroit
! Featuring a mix of re-recorded classics and new material, each song delivered relentless hardcore fury, mostly in under two minutes apiece! It was the last local metal release of 2009, only finding its way to fans in late December at the CD release concert, but it's been getting a positive reception since! Is it your favourite local metal album of the past year? To buy it, e-mail the band at
their official MySpace page
!
Garden of Bedlam - Garden of Bedlam
: Released this past April, this self-titled EP was the first ever release of any kind from
Garden of Bedlam
, who've quickly grown into one of the highest profile metal bands in the Sault! It features four original songs that you'll very likely hear at any of their live concerts, including the song from their first video, "The Truth Shall Set You Free"! It's currently on sale at
CD Plus
and
The Rad Zone
, as well as at their live shows! Very heavy, very entertaining, it's became a quick favourite locally, but is it your favourite overall?
Stillbroke - Never Enough
: In October, local hard rockers
Stillbroke
also issued their debut EP, entitled "Never Enough"! It features five very solid tracks that you'll also hear at their live appearances! It features popular songs like the title track, "No Reason", and "Forget"! Stillbroke have built up a good following locally, and will likely have the album on sale at their next local concert on January 28th! It's also on sale at CD Plus, among other locations! It's a fun album, where does it rank among other local releases to you?
Syktoyk Ram
page - Moments of Misery
: Continuing their ever expanding discography in 2009, the Sault's resident "blue Chinese metal crash punk" rockers released their
21st album
, "Moments of Misery", in February! It features eleven more unique songs made up on the spot, including "Asryor Vs. Superspeed Girl", "Construction Zone", and "Show Me"! It's available to purchase on
their official SoundClick page
, where you can also stream the entire album for free! Definitely another unique addition to their back catalog, is it your favourite new SMS-calibre album of the year?
Syktoyk Rampage - 22
: They weren't done there for 2009, as
Sykotyk Rampage
put out their
22nd album
in November, appropriately named "22"! It features a whopping 23 songs, including 15 brand new originals like "Li'l Crocochild" and "Candy Store Baby", along with 8 new live re-recordings of classics like "Drinking On The Weekend" and "Called In Dead"! Equal in it's unique qualities and full of entertaining music, prepare your brain! It's also available to buy and stream on their Soundclick page! Is this your top release of 2009?
Woods of Ypres - Allure of the Earth (Vinyl)
: The second of three new releases from local black/doom metal band Woods of Ypres, this was released only on 7" vinyl in September! It's a single, with the first side including their 2004 song "Allure of the Earth", and the second side featuring a cover of the song by Australian cellists Sebastian Simpson & Chris Doig! This is only available on a limited basis by mail for $20, click here
for details
! Good songs, but this may be getting overlooked amongst the larger more widespread albums. If it's your favourite, vote for it!


Woods of Ypres - Independent Nature 2002-2007
: Woods of Ypres began their slate of new releases in April with "Independent Nature 2002-2007", the band's first ever best-of compilation! It features four songs each from their first three albums, including such classics as "A Meeting Place And Time", "The Northern Cold", and of course, "Your Ontario Town Is A Burial Ground"! Though the usefulness of compilation CDs is debatable, the album is solid top to bottom, and a must have for people who can't find the band's early albums! Is it your favourite local metal CD in 2009?
Woods of Ypres - Woods IV: The Green Album
: November saw the release of the fourth album of new material from Woods of Ypres, entitled "Woods IV: The Green Album"! The band's first album with Gates of Winter's Bryan Belleau on guitar, it features 16 dark conceptual doom metal songs, filling out the 80 minutes very effectively! Songs like "Everything I Touch Turns To Gold (Then To Coal)" and "Wet Leather" have became quick favourites! This and other Woods CDs are at CD Plus, as well as numerous online retailers! It's probably the most high profile of the 2009 local metal releases, but is it your favourite?
Other
: Did I miss a Sault Ontario metal release in 2009? Do you want to vote for a CD from a band of another genre or location for whatever reason? Do so here!
VOTE TODAY!!!! I'd love to see this poll crack 50 votes as well, I know the interest is there!
And now, two quick news stories to cap this post, and we'll begin with
Kiss
....you knew they'd be back as a news story!
Destroilet
drummer Matt Waples noticed that on the tour listings page on
Kiss' official website
, the Sault concert is listed along with the European tour dates that Kiss are playing in May and June. Now, this could be nothing, it could just be that the band have it there on reserve until they book the date, but it is worth mentioning! This could be a sign that the band will have the Sault concert around the time of the European tour! If there is something to that, then the Sault show would likely be in April at the earliest, or after June 27th, unless they came here during the European tour and then went back to Europe, which isn't logical. Of course, this is all speculation. To see what Matt saw,
click
here
! And to check out David Helwig's article on
SooToday
about this,
click here
!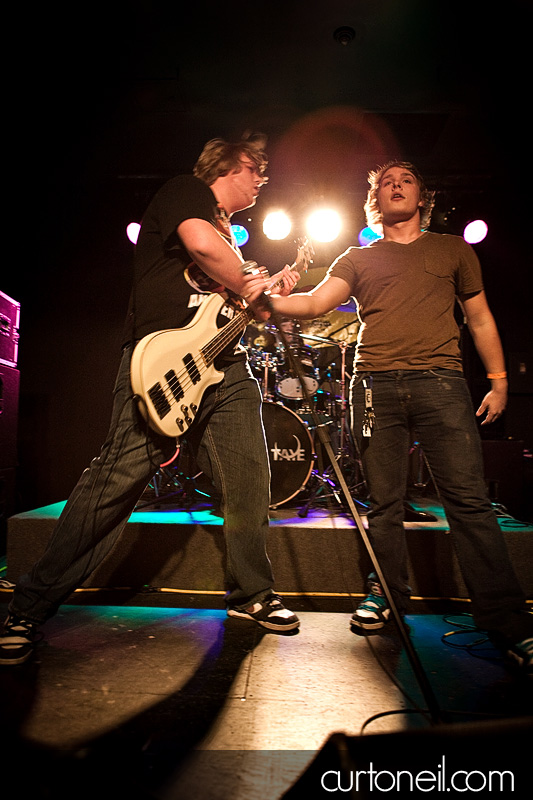 And finally, we have learned one of the local openers for the
Pop Evil
/
Evans Blue
concert on February 27th at
Kewadin Casino
!
Nixxon Dixxon
are 100% confirmed to be one of the opening bands for this benefit concert, which is awesome! Not many local bands can say they backed up bands the calibre of Pop Evil and Bret Michaels (who they backed up in 2008), it's great to see! Thanks to Cami Hubbard for the info! I can also now confirm that this concert is in benefit of Kim Rogers, a 20 year old Sault Michigan resident who died in a snowmobile accident on December 19th. All proceeds from the concert will go towards the establishment of scholarships in her name, which is a great cause! Hopefully lots of people make it out, it's tragic to lose anyone this young at any rate, hopefully the show's a success! Thanks to, of all things,
99.5 Yes FM's official Facebook group
for the information!
That's all for now, more news is on the horizon, so stay tuned!