Hey guys, it's time to spread the updates around once again! And today, I have a triple shot of LOCAL CONCERT ALERTS, so here's what you need to know! (And afterwards, a Woods of Ypres story!)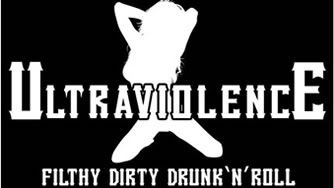 The
Ultraviolence
related news continues, as it looks like they are indeed coming back to
Coch's Corner
, just a month sooner than I was thinking! J.D. Pearce from Coch's Corner has confirmed to me in an e-mail that Ultraviolence are apparently playing there on February 6th, which is just one week from Saturday! He also said a local band was asked about opening, but I'll hold from mentioning that until something official comes out. Seeing as this is a Coch's Corner show, don't expect a cover charge, start time of around 11:00 PM seems likely. Now I've only heard of this show from one e-mail, so there's more gaps to fill in, but as I hear more, you'll be sure to find out along with me! Who knows, if they're coming on March 6th like
drummer Alexis Von Kraven's MySpace page
implies, we could get UV for the third time in three months!
Meanwhile, two local hard rock acts have scheduled a concert each in the next few months, both of which involve Tym Morrison in some fashion! Firstly, local metal cover band
Caveman Morrison
will be back at
The Rockstar Bar
on, coincidentally, February 6th! (Ultraviolence or Caveman Morrison...tough call!) Expect 4 more hours of great covers of your favourite songs from all over the hard rock spectrum! There is no cover charge announced, you must be 19 to get in. Nothing radically different from past Caveman shows, but it should be a great time! It might be tough for me to hit either of the February 6th shows (what can I say, it's UFC 109 that night!), but it sure would be fun to make it to either or both! Hopefully they both draw great crowds! Confirm your attendance for this concert at
the Facebook event page
!
Then on March 13th,
Tym Morrison
will pick up his acoustic guitar once again and head to
The Bottoms Up Lounge
for another acoustic solo show! 4 more hours of more intimate rock and other genres, this will start at 10:00 PM that night (as does next month's Caveman show), and there will be no cover charge! Never hurts to cool down every now and then, and what bettwer way then to hear to The Bottoms Up Lounge for some acoustic hard rock? Might hit this, it was fun seeing Tym's acoustic set the last time, I'll have to check it out again, might be a good time! Once again, confirm your attendance at the official Facebook event page! If I hear any updates on the shows I just talked about today, I'll be sure to tell you guys!
Next up, remember on Friday when I mentioned that
Woods of Ypres
would be profiled in the next issue of
Exclaim! Magazine
? Good news for those of us that can't track down the February issue:
The article is online for free
! It features a short review of Woods IV: The Green Album by Exclaim!'s Laura Taylor, as well as an interview with Woods frontman David Gold, in which he discusses what makes "The Green Album" so green, David's year living in South Korea, sound influences on the CD, and the challenges of releasing albums independent of major labels. Nice interview with long well detailed answers, though it'd have been nice to see Laura ask more questions! Check out the full article at
this location
, or if you know of somewhere that carries Exclaim! Magazine, read it in the brand new issue!
And finally for today, I just got word from Social Play drummer Chris Smith that the band have decided to look for an official singer! They're looking to drop covers entirely and get a full-time frontman to sing with them, so he asked if I could help out at all! I do like Dutch Vanderploeg's singing, but if this is something they really want, all power to them! They're not looking for anyone underage, female, or with "screaming vocals", so keep that in mind if you're interested.
Click here
to check out one of their originals! If you're interested in singing lead vocals for Social Play, message Chris Smith on Facebook by
clicking here
!
That's all for now, more news and updates are coming very soon, including my review of
TONIGHT'S Stillbroke concert at The Speakeasy
(hope to see you guys there!), and my review of
Detroit
's "Brace To Impact" on Monday! Stay tuned!