Well folks, there's a HUGE concert happening tomorrow night! So, here's a special local concert preview for you guys! (And don't worry, I'll preview this weekend's
Nixxon Dixxon
shows tomorrow night!) And also, I have TWO LOCAL CONCERT ALERTS as well, so don't waste any more time, get reading to find out all the exciting news!
Tomorrow night, at The Dreammakers Theater at
Kewadin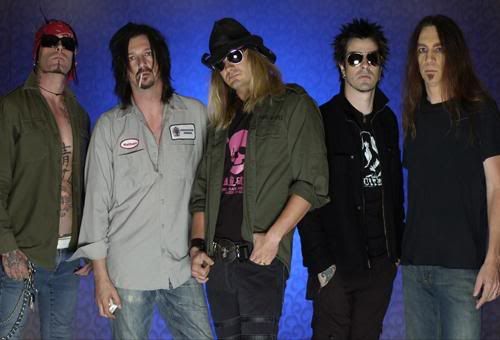 Casino
, multi-platinum selling heavy metal legends
Skid Row
will make their long awaited return to the Sault area for one night only! Sure, they don't have Sebastian Bach behind the microphone nowadays, but they're still rocking and releasing new music, and we should be in for a huge show tomorrow night! Of course, you likely remember Skid Row from such classic songs as "18 and Life", "I Remember You", and "Monkey Business"!
Now, some of you guys probably aren't familiar with Skid Row with their current frontman, Johnny Solinger, so here's a clip of Skid Row from their June 2006 show at Kewadin (they came with
Ratt
, FYI), performing their classic "I Remember You"!
Backing up Skid Row at this concert will be multi-platinum glam metal stars
FireHouse
! Best known for songs like "Love of a Lifetime" and "Don't Treat Me Bad", they will (to the best of my knowledge), be making their debut appearance in the Sault area! They also have some great stuff going for them, and hopefully they'll put on a great show as well! But don't take my word for it, check out this video of FireHouse's classic song "When I Look Into Your Eyes"!
Now, some of you guys might see this concert as a bit of a "makeup" for a pair of shows that Skid Row and FireHouse were supposed to play last year! There was the aborted Skid Row concert, which was to take place June 28th of 2008 at
Runway Park
with the Tracii Guns-led version of
L.A. Guns
and various other bands. We all remember what happened to that show, I won't dig it back up, but it would have been a great concert if it would have been put on!
As for FireHouse, they were scheduled to back up
Bret Michaels
at Kewadin last March, but pulled out when frontman C.J. Snare's wife went into labour! So, Nixxon Dixxon filled in admirably for FireHouse that night! Nice to see both bands coming here, and hopefully all goes well! Last I heard, tickets were $33.50, if any are still available! And of course, if you're going, and you have any comments, reviews, photos, anything like that, let me know
through Facebook
, with a comment on the blog, or at
robfigures@hotmail.com
!
Now, do I have anything else to talk about....oh yeah, LOCAL
CONCERT ALERTS!!! First off, death metal fans, you're gonna love this! San Diego based goregrind band
Cattle Decapitation
are making their way up here for a show at
The Lock City Grand Theater
on April 12th! They're quite a brutal band, but they also have a good message, speaking out against the mistreatment and slaughtering of animals! They have a pretty good profile going for them already, and if you wanna check out some Cattle Decapitation material, head on over to
their official MySpace page
!
Support on this show will come from Rochester-based tech/avant garde metal band
Psyopus
, Cincinnati-based death metal band
Rose Funeral
, and once again, Sudbury's own
Upheaval of an Exorcist
! Click on each band's name to head to their official MySpace page, and check out some of their original material, all involved bands are damn talented!
Now, tickets for this show are $20, which seems high, but keep in mind, Cattle Decapitation are a pretty big name as far as death/grindcore bands go, so the price seems a bit more appropriate! The show will start at around 7:00 PM! And remember, as all the news rolls in, head on over to the
official Facebook event page
for more info and updates!
...Oh that's right, I had ANOTHER LOCAL CONCERT
ALERT! Man, we're getting stacked with concerts, aren't we? Well, here's what's in store! On May 28th, Markham based hardcore band
The Fitzpatrick Incident
will be coming to The Lock City Grand Theater as well! They also have some really good hardcore songs on their MySpace page, so go check them out! And before you make the prediction for me, yes,
Upheaval of an Exorcist
are on this show as well! It's great how they come here so often, isn't it?
The other supporting bands scheduled for this concert are Hamilton-based hardcore band
The Advocate
, local hardcore powerhouse
As It Stands
(It's nice to see them back doing a show!), and local punk band The Fury! Tickets for this concert will be just $10 in advance, and $15 at the door, and everything should start at around 6:30 PM! And yes, it's ALL AGES! For more info as it comes in, head on over to
this concert's Facebook event page!
Ok, that might have been the longest post in Sault Metal Scene history, so I'll wrap things up for today! I'll have more news in store for tomorrow, and the local concert previews for this weekend's Nixxon Dixxon shows, so keep your browsers pointed here! Have a good one!