Happy Halloween, SMS readers and metalheads! We've got two posts to end the month and the Halloween season on a high note today, starting with a new news post! We've got new videos and material from a pair of heavier area acts, and the identity of this month's CD review (fittingly to be reviewed TONIGHT), but first, here's a preview for a concert going down tonight as well, so if you're in the mood for Halloween metal, here's what you need to know!
Continuing a busy stretch of local concerts, classic metal quartet
Late & Loud
will headline a Halloween bash at
The Speak Easy
TONIGHT! This will be their third local concert in a six day span, and second headlining set at the
Algoma University
bar in the same amount of time, so if you've missed them over the last while, here's a good chance to check them out! Details are scant on this show, but aside from the obvious Halloween setting (bring your costumes!), it should mostly be similar to Late & Loud's other Speak Easy shows, which don't often get a lot of advance promotion from the band. Still, a Halloween night metal concert is sure to be memorable, especially as you don't see them too often on non-weekends! I'd expect a cover of some type, so bring cash, while a 10:00 PM start time and a 19+ age limit should be expected as well (though underage students at the university may be allowed in too.) Check the above links for more details! If you crave metal, this is your last chance to rock out with a local metal band over the Halloween season, and with a band of this talent and recent prominence, you don't wanna miss it! Make it out if you can, and for a preview, here's Late & Loud covering Airbourne's "Runnin' Wild" at The Oddfellows Hall in April!
Next up, here's some new material from some local acts, and first, here's a new cover from Sault Michigan/Grand Rapids metal quintet
End of Existence
! As was being hyped on
their Facebook page
over the last couple of weeks, this is an intriguing cover of the country classic
"(Ghost) Riders In The Sky: A Cowboy Legend"
, perhaps popularized by Johnny Cash, but now "ruined" by End of Existence! Myself, being a metalhead and admittedly not a country fan, I dig this version more than any others! I'd like to have seen them speed it up a tad, but Bob Helsten's vocals suit everything well (though it is odd to hear death growling the words "Yippie-yi-yay"), and the band do a solid job of converting a country standard like this. Posted onto
the band's YouTube channel
on Friday, give End of Existence's cover of "(Ghost) Riders In The Sky" a listen below, and watch out for some amusing captions and comments on the video as well!
Also new for local hard rock/metal material is some new songs from prolific Sault Ontario guitarist
Mike Cliffe
, who's posted a handful of new solo tracks onto
his Reverbnation page
! Two of them have also made it to
his YouTube channel
as recent uploads, but one new track isn't in video form yet. Entitled "Angel", Mike added the subtitle "(OMG its more than 8 minutes long)", which is amusingly honest! The track itself is a slow building progressive rock instrumental with a spacey feel at points, and some nice exotic sounding moments late. It's not terribly heavy, and maybe it's a bit overlong, but it's well played, and give it a listen at the above links! The other new songs include one entitled
"October Angel (Angel 3)"
, which implies it's in the same series as the song "Angel" above. It's a softer and shorter prog rock instrumental that also has some nice moments, but it may be more affecting to listen to. The YouTube video also features spacey & starry effects that suit the track well, so check it out too at the links above!
What I'm sharing here though is Mike Cliffe's new track "Blue Moon Beach", which is a harder rocking new song with nice bouncy effects and a progressive jazzy vibe that shows off Mike's talents well! Accompanied by various blue visualizations and assorted camping photos in the video, it's a solid track and my favourite of Mike's newest solo songs, so check this (and more) out at the above links, and here's his video for "Blue Moon Beach"!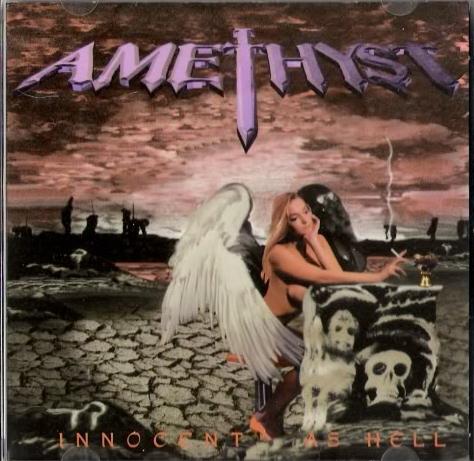 And finally, are you still wondering what this month's CD review will be on the site, or if there will be one at all? Well, there will be one TONIGHT, so don't fret, but what CD are we doing? With no new local metal/hard rock CDs in my possession this month, and a lack of gigging bands whose members released eligible albums I have access to (recently reviewed bands aside), I'll dip into the general archives this month. For this album, now's as good a time as ever, so tonight, we're reviewing defunct local metal quintet
Amethyst
's second release & only CD "Innocent As Hell"! Released way back in 1994, this will be our oldest CD review ever on the SMS, but well worth a posthumous look! I'd typically have liked to have reviewed their debut cassette first (that featured "Waste of Time" on it), but local cassette tapes are hard to come by even before converting them to newer formats, so I'll work with what I have for now. This'll be interesting regardless though, whether you saw them in their heyday or not, so watch out for our review of their only CD tonight, and much more news this week, including next month's "Where Are The New Albums?" post on Wednesday! Thanks everyone!