Now two weeks into our current posting streak at the SMS, we're focusing on mostly Sault Michigan news today (along with a note on an old message board in Sault Ontario that I just came across), so that plus some more assorted news is at the end, but we're leading off with a new band discovery, so here's what you need to know!
We have a new Sault Michigan-area solo project to add to our band links, and it's from regional singer/guitarist Ken Sutton, a.k.a.
SweetKenny
! A Detroit native who currently lives and works in nearby Dafter, Ken is a longtime veteran of various Michigan music projects over the past three decades, and among his resume, he's played in the Detroit band Labyrinth, mixed & mastered many albums, produced artwork and animation for other projects, and wrote scores for video games and independent movies, of which you can read more on via
the biography on his website
. In terms of his current solo project, Ken's been working on original material under the SweetKenny moniker since at least 2010, and he's already released five albums online on various music download sites since 2011! As buyable on
CD Baby
,
iTunes
, and
Amazon
(and streamable via
his website
), his albums include his solo "stripped" debut
"Raw & Honest"
, and four 2012 albums, including the softer-leaning
"Footsteps"
, two heavy albums named
"The Whole World Is A Fantasy"
&
"Jennifer's Box of Junk"
, and
an Amazon-exclusive "best of"collection
.
Amidst song postings
on Reverbnation
in recent months, Ken's 2013 plans include the releases of at least two new albums entitled "Doo Hickey" & "Perception", and these (along with his past solo CDs) are likely to be recorded at the
Waterfall Recording Studios
in Dafter, which he owns and does work with other artists through (
click here
for information on that front.) I've been familiar with Ken's work in the past, but I'm surprised it took this long for us to connect the dots and cover his music on here! His music is wide-ranging in sound & appeal, but he's clearly a very talented and proficient guitarist, and his songs are often very heavy with a nice classic sensibility! Vocally, Ken's singing changes a lot depending on the song, and I've detected influences from Ian Gillan, Elvis Presley, and Alice Cooper in the songs I've heard! (The latter two aren't a surprise, he's apparently been a tribute artist to both in the past.) There's so much ground to cover, but so far, SweetKenny has a little something for everyone, and his guitar skills are clear as day!
Definitely check out Ken's solo work at the above links, and if the releases hold up for his 2012 albums, I would like to review some SweetKenny albums on here! We've been starved for recent Sault Michigan-area albums as it is since Theatre of Night's most recent release. I've added both SweetKenny and Waterfall Recording Studios to our links on your left, and for a video, here's his 2010 music video for his song "Friends Again"! Interesting mix of Elvis-esque vocals and funk rock, but it has a good groove, and trust me, he has plenty of heavier tracks to check out at the above links!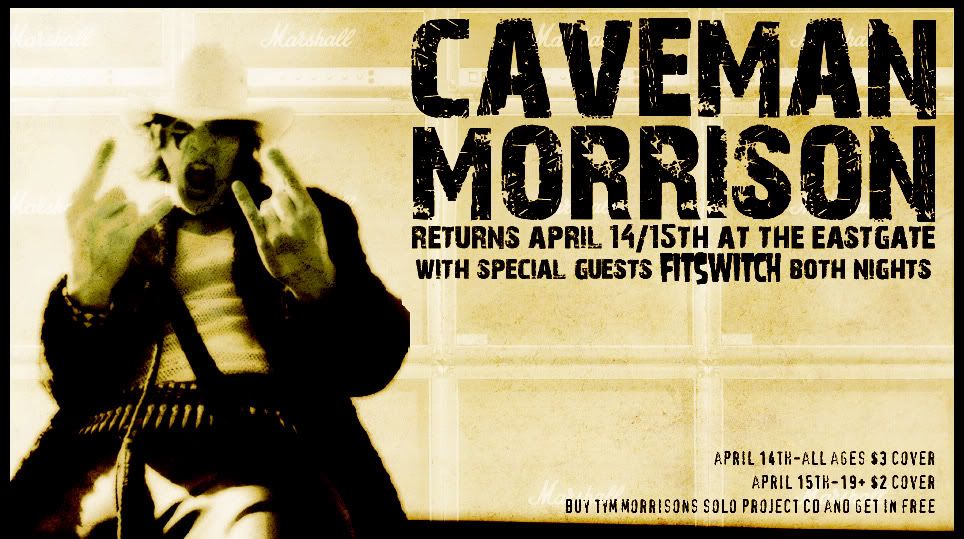 Also today, remember how I was lamenting on the loss of more local Sault Ste. Marie music-leaning message boards the other day? Well, I've found a new/old forum from way back when that may serve the same nostalgic needs that the closed Sault Music Scene forums no longer can! The forum is/was
SooTonight.com
, and it was active for just over a year from November 2005 until December 2006 (later posts were either Toronto-related or spam, and I suspect the latter helped end the forum's active use.) Ostensibly launched to promote concerts and events in the Soo at the time, it saw scattered use through 2006, primarily through the
"Who's Playing Where?"
and
"Post Your Events"
sub-boards, which feature some fun nostalgic promotion & posters for shows of the era, including bands like
Gates of Winter
,
Caveman Morrison
,
Fitswitch
, SourceCode, and The Regal Beagle, out of town bands like
Gunz N'FN' Rosez
, and numerous others from various genres, including some scattered band & non-concert event promotion!
Even though I was too young to attend most of the promoted shows on SooTonight.com, there's a fun nostalgic air with it all, and it's interesting reading about the various defunct bands and venues throughout, even if this forum didn't have the longevity & success of similar boards of the era. Some of the interactions were sort of harsh, but overall, this was a good idea that I wish had lasted longer. Check out SooTonight.com at the above links, and it's now listed with our other message board links on your right!
Finally for today, here's three assorted shorter news stories from Sault Michigan, and as usual, these are in alphabetical order by band name:
At some point last year (I believe), Sault Michigan hard rockers Monkey's Uncle added prolific local metal guitarist Nathan Switzer to their lineup as their bassist, replacing Jim Belleau. Nathan is the son of frontman Henry Switzer, so that's definitely a good fit on that basis! That said, I apologize if this was badly late, but Monkey's Uncle's MySpace page only gets sporadic updates at best, and news on 2013 concerts are still in limbo. I'll keep you posted!
Former Swayze Train/Insipid Brutality guitarist Scott Savoie has been releasing original metal compositions to his personal Soundcloud page in the past month, which have a lot of brutal technical metal promise! I have no clue if this will lead into a formal new band project, but these 5 instrumental demos are awesome so far, and check the above link to hear them!
Also in SoundCloud postings from across the river, local classical metal project Theatre of Night posted an instrumental cover of Mozart's Piano Sonata No. 11 onto their own SoundCloud page yesterday, and it's a great rendition of this classical standard! No word yet on if this will make a future album, but check it out above, and help fund their upcoming "Christmas Night" sessions!
That's all for today, but stay tuned for more news as the week rolls along, including new concerts across the river and (perhaps) another new local band! Thanks everyone!