It's now time for our 77th monthly CD review at The Sault Metal Scene, as we're looking at local grunge/hardcore duo
Bad Back
's first full length release "ALbums" today! Technically their third album (following their minimally advertised demos
"VOLumes!"
&
"VOLumes TWO"
from last year), "ALbums" was self-recorded at
Six Two Oh
(with assistance from AlgomA frontman Kevin Campbell), mixed and mastered by Mark Rand in Peterborough, and independently released on September 17th of this year. Like on the 2014 demos, Bad Back's lineup features singer/guitarist Jamie Vincent (a.k.a. "Jaymang Vinsang") and drummer/backing vocalist Nathan Sauve (a.k.a. "Naythang Sauvege".) Copies of "ALbums" are available on their Bandcamp page on a "name your price" model, so while you can get yours free if you want, consider buying "ALbums" to support Bad Back's work! Availability of physical copies is unknown, possibly as the band hasn't played an announced show since the release.
Featuring 8 songs (including at least 3 re-recorded from the earlier demos) clocking in at about 25 minutes of runtime, let's begin our "ALbums" review with the first song,
"Lung Bucket"
! A shorter re-recording of the opener from the "VOLumes" demo, this was the first song Bad Back wrote, and it opens with a consistent guitar riff before vocals kick in and the song nicely ramps up for intensity in the choruses. Jamie's vocals take on a high yet harsh quality on this song, which doesn't take a lot of risks, but for their two-man blend of styles, they make it work well, with Nathan shining on drums at points! Second is
"Number One Hit Single"
(from their second demo, physical copies only), which is a faster and more hardcore punk leaning number featuring Jamie and Nathan trading off vocals amidst some blistering instrumentation, and this would definitely be a solid mosh pit starter live! Nathan's raspier and lower vocals are a good contrast here, but the instrumental bridge in the latter third of the song comes across as too plain compared to the rest. Still, very fun!
Next up is
"Breeding Weak"
, another fast track with a creative opening and more of a freewheeling punk flavour! The only song on "ALbums" with Nathan on full lead vocals, he puts an amusing snarl on this one, with Jamie chiming in for gang vocals on the choruses, and the relentless guitar riffing and solid attitude carries this one high on the scale for the included tracks! The low singing at the end seemed out of place, but this maintains the spirit of it's predecessor track, and is another early highlight! That's followed by
"Drum My Way Home"
, which suitably begins with Nathan laying down a catchy drum rhythm before Jamie jumps in to fill things out. A mid-paced number, this song pays more homage to their grunge roots, but with suitable energy and some of Nathan's best drumming yet, and their complimentary vocals are again used to good effect! Without getting too fast, "Drum My Way Home" serves as a nice showcase of their two man talents!
Song #5 is
"Party Bus"
(which was given the comical subtitle "Party Bugs"), and it is the only song on the album to surpass 4 minutes in length. Taking on some more mainstream alternative flourishes with the instrumental bridges, things get heavier and faster on the verses, with Jamie sounding particularly intense therein, helping add to the party atmosphere of the song! The stop-start nature of the song drags it down a bit for me, as it seems to shift back & forth in mood too much, but Bad Back fans should definitely enjoy this one on it's own merits! Then we have
"Oh! (Nothing In My Pocket)"
, which is more of a punk-edged song that has a bit of an old school vibe, yet retaining Bad Back's minimalist qualities to good effect! Jamie's vocals soar over the material, and Nathan holds up his end on drums and backing vocals, and while it's not as fast and blistering as some earlier tracks, it's very listenable, albeit with an ending that feels like something's missing to drive it home.
The penultimate (and shortest) song on "ALbums" is
"Shirt Tucker"
, which was previously recorded as the opening track of last year's second demo release. Making use of fast spoken word vocals in the verses courtesy of Jamie, this song shines most on the punk-style choruses, and I like the surf-esque guitar solo in the second half, but this song ends before it really gets going, and the joint vocals throughout the later stretch don't really add anything to the song. It's not a bad track at all, but elements of it are done better and more extensively earlier in the CD. The album closes with
"Two Tongues"
, a fun closer that sees Jamie unleashing more melodic yet aggressive lead vocals, which create an interesting contrast on this song, which is punk-esque and not as in-your-face as some earlier songs. Nathan's drumming holds up as usual, and this is a fun & reliable closure to Bad Back's newest release that ends things on a high note!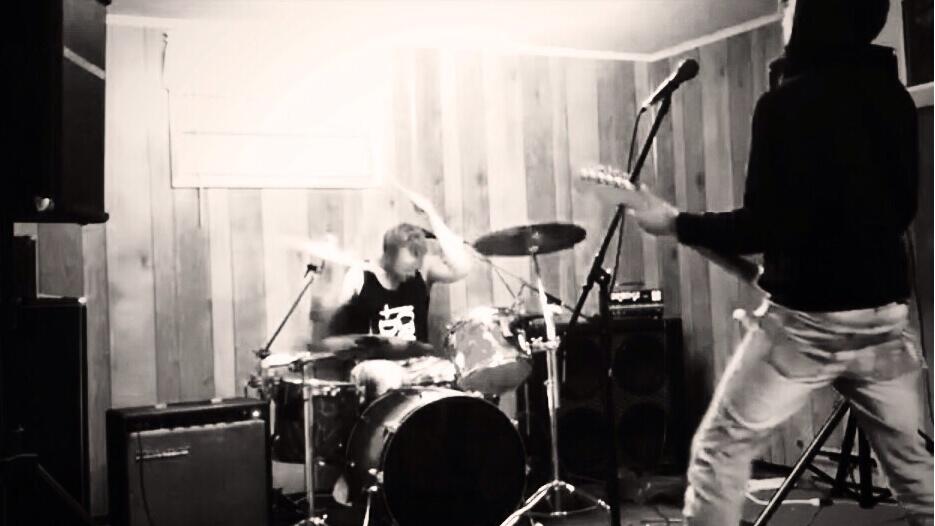 So, what are my final thoughts on Bad Back's first full length album? Overall, this is a fun and ideal way to hear Jamie & Nathan's original music, which retains the live atmosphere even in this setting! Jamie (and Nathan when focused on) both handle vocals well, and are a nice compliment throughout "ALbums", which helps make you forget that this is a two man band with no bassist, which can be tricky! Production wise, these songs improve on their 2014 demos (which weren't badly recorded as it was), but Mark Rand's mastering helped up the ante, so kudos to him for giving these an extra boost! At least "ALbums" (redundant plural and all) was well advertised ahead of time, and with quality tracks like "Number One Hit Single" and "Breeding Weak" will get fans going, though at times, some songs felt like they were missing something and/or weren't taking enough risks (I'd also liked to have heard more of a guitar solo element.) It'd also have been nice to hear songs like "Togna Sharogna" and "What I Want" redone from the demos, but maybe a second album is in the works?
Either way, "ALbums" is a very solid mixture of grunge, hardcore punk, and good times from Bad Back, and be sure to buy it (or download it free) at the above links, and presumably at their next concerts! I hope you guys liked this month's CD review, and next month, I'm eyeing a review of
The Pixo Control
's debut CD "Probably Not" following it's release on December 12th, so fingers crossed we get a copy by month's end, and stay tuned for more news and updates this week! Thanks everyone!