Here's our final news post of the month, as we have some rare concert previews for Monday night shows within, plus some recent concert videos, and to kick things off, LOCAL CONCERT ALERTS (one on SHORT NOTICE), so here's what you should know!
Local acoustic hard rock singer/guitarist
Tym Morrison
will play a special matinee concert TONIGHT & TOMORROW NIGHT when he debuts at...
Mark's Breakfast Plus
at The Market Mall? Apologies for the short notice, these were only announced via their
official Facebook event page
yesterday, alongside shows this coming weekend that we'll save for our next weekend concert previews to avoid redundantly featuring them twice in a few days' time. These rare hard rock concerts at the 275 Second Line West mall will mark Tym's first gigs at the new breakfast-specializing restaurant in the former Kackleberry's location, and while this may seem like an atypical site for a concert performance, they have already hosted artists like former That's Chester/Griphook frontman Jim O'Leary, and reportedly host live music specifically between Sundays and Tuesdays.
Tym is no stranger to bringing his unplugged covers to unfamiliar venues (we never covered Gliss until he started there, for example), and hopefully TONIGHT & TOMORROW's shows are hits! Like his Gliss gigs, these shows are both 6:00 PM matinees with no announced cover charges or age limits, but remember that this is a restaurant, and they do have formal dinner entrees if you don't want all-day breakfast. Visit the above links for more details on TONIGHT & TOMORROW'S debuts at Mark's, and here's Tym live!
Next up, we have another new concert to announce, but with lots of prior word, as Montreal hardcore punk legends
The Ripcordz
will return to the Soo on Saturday, October 7th at The Algonquin Pub! Yes, this show has been publically advertised for over a month now via
it's official Facebook event page
, but we only just learned the venue in the past few days. For a fifth straight year, Paul Gott and company will headline a local concert between August & October, and you know how intense and packed their shows get locally, so don't miss out on their tried & true classics and newer cuts this fall! Currently advertised local openers include punk/metal quintet
Jack Spades
(who joined them on the "Fed Up!" split & helped open each of The Ripcordz' last four local dates) and punk trio
Stegadeth
, who contain members that have opened for The Ripcordz with both Jack Spades and T-Rex Manning in the past. Fitting choices for what should be another ferocious night of hardcore punk in October, so don't bypass either local opening band then!
Sadly a 19+ event following The Ripcordz' all ages headliner at The Canadian last year, this concert will be a 9:00 PM affair with $10 advance tickets that you can now buy online at
this link
, though no word yet on local availability or potential price hikes at the door. Local fans know that The Ripcordz are a must-see attraction during their recently yearly stops in the Soo, so circle October 7th on your calendars, and stay tuned for updates!
Also, here's our preview of another Monday night concert (albeit one with advance notice), as Calgary industrial punk trio
Dri Hiev
will hit
The Gore Street Cafe
TONIGHT in their local concert debut! Harbouring a unique sound that I likened to noise punk recorded inside a hydraulic factory, I have no idea how Dri Hiev (presumably pronounced "dry heave") will fare in the laundromat, which tends to lean more towards acoustic acts, but come down to see their intense and original sound tonight to see for yourselves! Local acoustic punk solo project
Telephone & Address
will open tonight in their first live set since rocking the cafe five months ago, and Chris should be in fine form with more of his unplugged post-punk originals, and pick up his newest CD "Are You Now or Have You Ever Been..." tonight also! This early stop on Dri Hiev's Canadian tour will see a 7:00 PM start time, it will be ALL AGES, and while this is a "pay what you can" event as usual, the venue suggests donating $10. Visit the official Facebook event page for more details, and here's Dri Hiev live!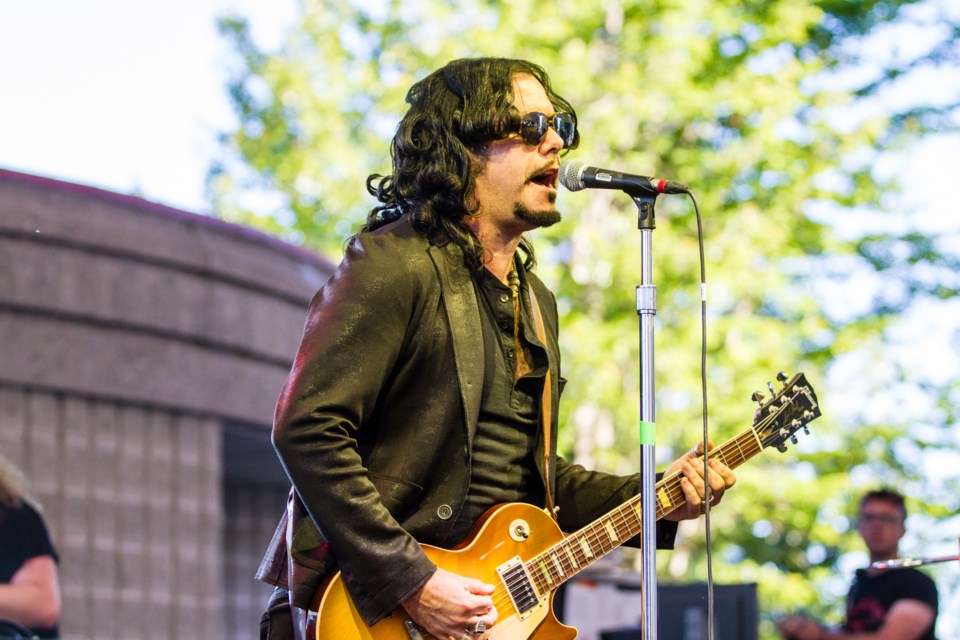 Finally for today, here's some new videos from
Christopher Paci's YouTube channel
, as the local concert filmer was also back in action shooting lots of videos at The Tea Party's free headlining concert at The Roberta Bondar Pavilion two weeks ago! Only posted online late last week, Chris filmed every act except opening artist
McLean
(granted, his set was only advertised at 15 minutes long), and he posted videos of Sudbury country singer
Andrew Hyatt
's song
"Love Drunk"
, and three songs by Toronto drum & bass duo
Ubiquitous Synergy Seeker
(
"Damini"
,
"Work Shoes"
, and
"Yo Hello Hooray"
.) As for the headlining Windsor hard rock trio, Chris posted videos of them playing their songs
"Temptation"
,
"Heaven Coming Down"
,
"Save Me"
,
"The Bazaar"
,
"Writing's On The Wall"
, and as embedded below, "Psychopomp". These are candid fan-shot videos rather than the previously seen videos from news outlets and organizers, so how did these turn out?
Not bad at all, Chris was about third row for the concert, with a nearly central angle to the stage, and with bright daytime lighting at the outdoor venue to boot. Fans' heads can get in the road, but with the higher stage and many softer stretches from the day's bands, the audio and video quality is no issue! Give all of Chris' videos a look from this free and varied evening of live music above and below, and stay tuned for more from his channel!
That's all for today, but stay tuned for more news and updates next month! Thanks everyone!