It's now time for our 125th CD review at The Sault Metal Scene, and with no major local metal, hard rock, or punk albums out in November 2019, and a few obvious archive selections being put aside in lieu of upcoming new releases from involved artists, now seems like a good occasion to
finally
look at the only
Woods of Ypres
studio release that we have yet to formally review on the site, namely their April 2011 vinyl-exclusive single
"Home"
! Recorded locally at Stereo Soul Studios with producer Miguel Gauthier (a'la "Woods IV") in August 2010, this two-song release was part of
recording sessions
that resulted in five songs for what was then planned to be an EP called "Woods V: You Were The Light", before their false breakup and eventual signing with
Earache Records
that fall. With the label desiring a full length album for Woods' first new release there, this EP was shelved in favour of 2012's Juno-winning
"Grey Skies & Electric Light."
, and re-allocated as "Woods 4.5".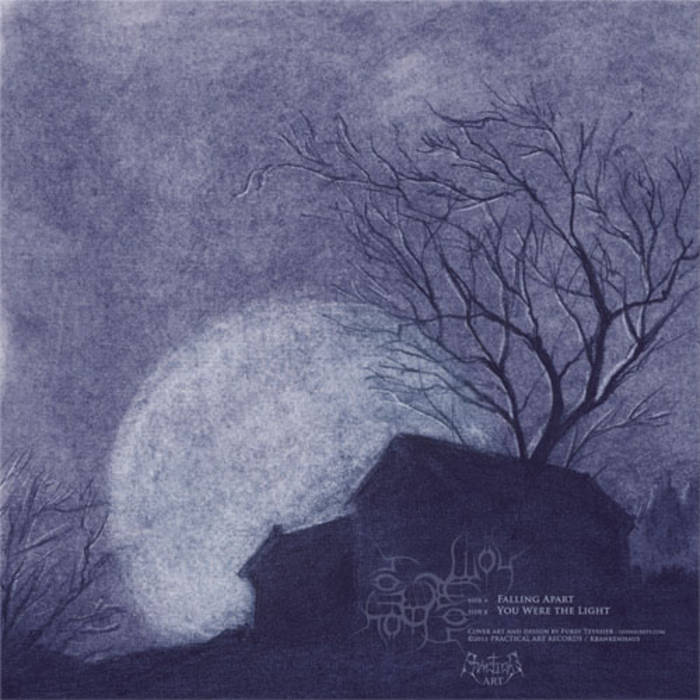 In the interim, frontman David Gold's independent label Practical Art Records put out two of the "You Were The Light" songs in a limited run of 500 coloured vinyl records the following April, in what would sadly turn out to be Woods of Ypres' last studio release before David's tragic death that December. To this day, the remaining three songs from the 2010 sessions have not been publically released, but "Home" has been retroactively called "Woods 4.5" in interviews and among some fans. Woods of Ypres are represented here by their final live lineup, including David on vocals & guitar, the debuting Joel Violette on lead guitar, and in their second & final appearance on a Woods release, brothers Shane & Evan Madden on bass and drums. As well, cellist Raphael Weinroth-Browne makes a guest appearance here, as he did on "Woods IV" & Woods V". Physical copies of "Home" sold for $20, and while they are long since out of print, you can buy each song for $1
on Bandcamp
.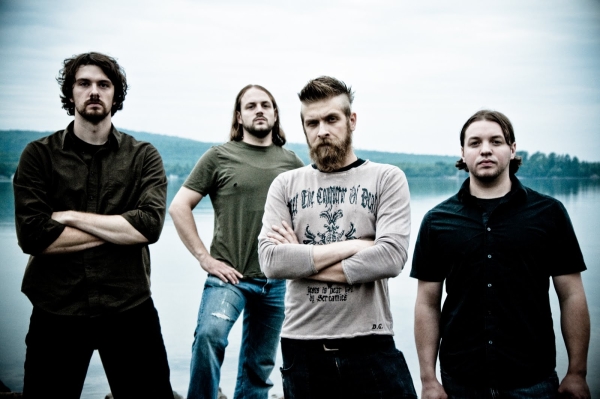 Streaming copies are available on those services as well, but consider buying "Home" to support Woods of Ypres' work, if belatedly. Running for just 13 minutes, let's begin this short review with the record's 6:50 A-side track,
"Falling Apart"
! Sonically very similar to the aggressive blackened doom sides of "The Green Album", David's harsh vocals are great on this song, which has excellent guitar riffs, almost like a harsher version of Clutch. I like the low bass work, and the drumming holds up nicely, though the cleanly-sung choruses almost come out of nowhere and very much stall the song's forward momentum. They are effective for fans of Woods' doom metal side, of course, and I like the mournful "ooooh" near the end but I don't know that the verses and chorus gel here. Joel has a quality guitar solo in his first outing as well! Overall, this is a very solid track that fans of local-era Woods of Ypres will easily take to!
The B-side is the intended title track for the unreleased EP,
"You Were The Light"
, which runs for
only
6:02. A slower and more deliberate track from the get-go while still retaining a heavy ambiance, this song is a better showcase for David's impressively deep singing, though if you like his aggressive screams, they aren't lacking here in the early bridge and last stretch. Evan has some excellent drum fills and rhythms on this one, and I like how the instrumentation is nicely varied and constantly going at full bore in the background no matter what route the vocals are going,. If anything doesn't work, it's how they integrated Raphael's cello work, which is technically proficient and orchestral as you'd expect, but I don't find it flows with the song that well. Raphael is a great cellist, but it just feels like too many cooks in the kitchen. That aside, this is another high quality song that showcases Woods of Ypres in their late-period best!
So, what are my final thoughts on Woods of Ypres' penultimate studio effort? While this isn't complete from what was originally recorded, David and company selected two highly entertaining songs for this single, and even if they're not on "Woods V", the quality has not suffered at all! David, Joel, and the Maddens worked well together on these songs, which were never boring or repetitive despite their 6+ minute run time each, and if you like your Woods of Ypres to be hard hitting, abrasive, and melodic all at once, these songs will do the trick! I just wish the choruses on the A-side and the cello on the B-side were better integrated. The limited physical release on a now-defunct indie label won't help get these songs to the masses, but Woods fans shouldn't bypass them. Will we ever hear the remaining 3 songs from the "Woods 4.5" sessions? I don't know, especially with Earache not involved in the sessions, but if any band alumni or associates have access to the tracks and permission, I am positive fans would want to hear them, even as a free upload.
David's memory lives on with all of Woods of Ypres' fans and supporters, and while "Woods V" gets most of the retrospective attention, "Home" is well worth your time, especially if you can track down one of the original vinyl copies. For now, stream or buy it digitally at the above links, and I hope you guys liked our final(?) Woods of Ypres album review at the SMS! So, what will be our last CD review of 2019 next month? At this juncture, I don't know, but here's what I can say. New releases from metal, hard rock, and/or punk bands will always take precedence, but none that I know of have a stated release date for December at press time. Check out our next "Where Are The New Albums?" post on Monday for ideas as to what may be on the horizon. If we do look at an archive album again next, a strong possibility would be The Inner City Surfers' 2002 sophomore album "Laughing On The Outside", to tie in with upcoming holiday concerts featuring at least one band member, details forthcoming. That said, nothing's official, so stay tuned for updates, and for more news and notes on the site shortly! Thanks everyone!