In what may be our last news post of July 2019, we are tackling some new YouTube video discoveries (some more belated than others), but leading off, here's a preview of a special Wednesday night concert for you punk fans!
Saskatchewan "post-gar(b)age-punk" duo
The Faps
will return to Sault Ste. Marie TOMORROW NIGHT when they rock
Dryer Fire
's pop-up summer venue at 123 Bruce Street! The second stop on The Faps' current Ontario tour, this will be Blair & Skyler's
sixth
local concert appearance, and first since rocking The New A in April, though this gig at Dryer Fire's temporary homefront may represent new ground for many fans of theirs. With their intense, fan-engaging, and often intriguingly dressed live show making many local fans in the last few years, hopefully the mid-week placement doesn't scare off too many possible attendees! Local surf rock instrumental quartet
The Dynowaves
(featuring Brent "Slumshine" Ellis from April's Faps show) will open tomorrow's proceedings with their own proficient and unique originals, so don't miss them either! Promoted in-house by Dryer Fire, this is an ALL AGES concert with a $10 cover and a 7:00 PM start time.
While the Wednesday evening scheduling is unfortunate, The Faps are a proven attraction locally now, and their hard hitting minimalist punk attack should attract new and old fans alike at Dryer Fire tomorrow, so don't miss out on this show if you can help it! Visit
the official Facebook event page
for more details, and here's The Faps live!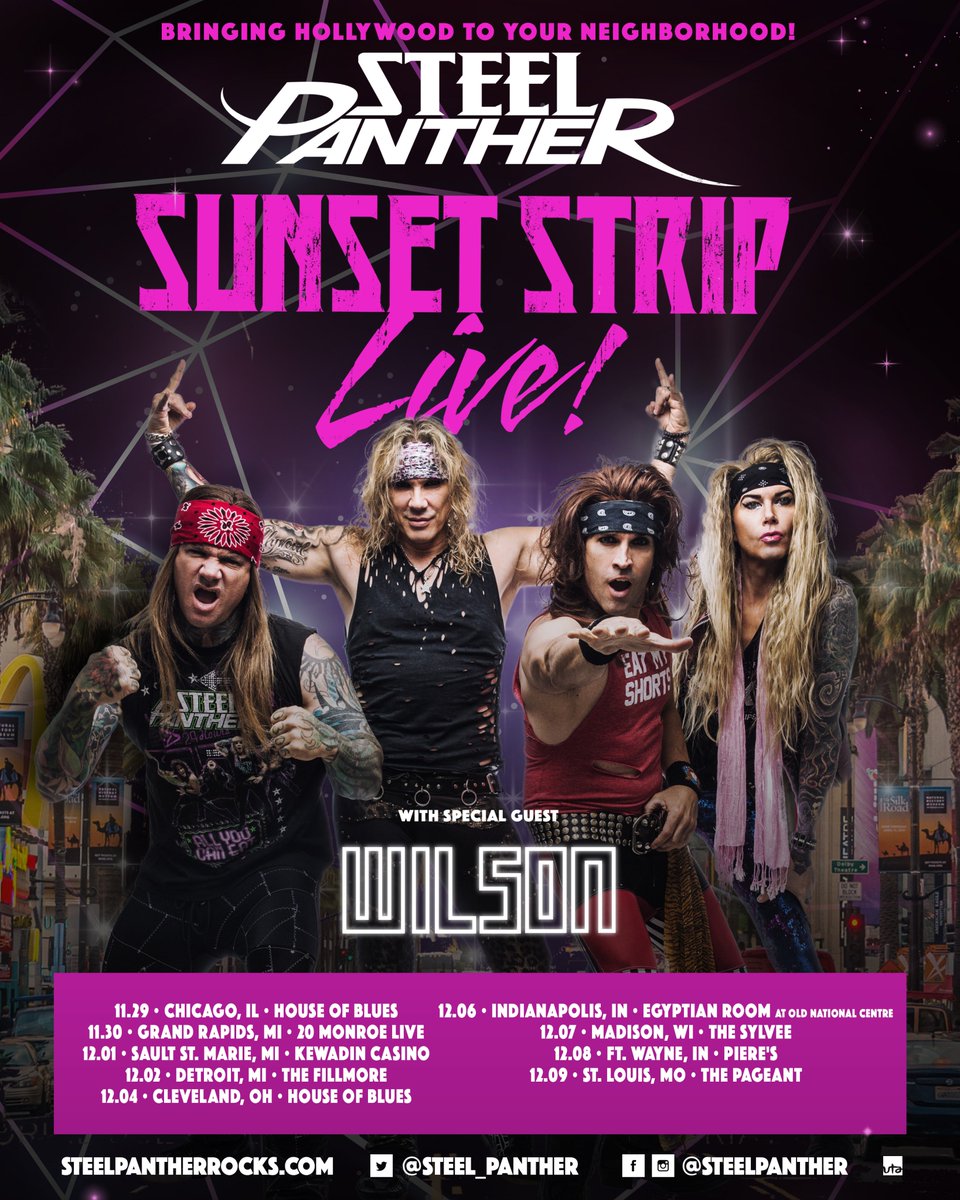 Next up, here's some surprising new discoveries: More video footage from the
Steel Panther
concert at The Dreammaker's Theater at
the Sault Michigan Kewadin Casino
back in December! One video was only posted online in
June
, as filmed by attendee Brad Madigan for
his YouTube channel
, marking his first upload from a
local
concert. This captures the first 15 minutes of the Los Angeles glam/comedy metal quartet's headlining set, which (after a sampled recording of Van Halen's "Everybody Wants Some") featured their songs
"Eyes of a Panther"
and
"Goin' In The Backdoor"
, before bantering, joking, and jamming for the remainder of the clip. Musically, Steel Panther (and guest bassist Spyder) sound like their usual entertaining and ribald self, which definitely extends into the post-song bantering, and the impressive crowd is certainly on board! Brad got a great front row view of the band and audience, with only a speaker on stage breaking things up.
I don't know what took so long to post this video online, but if you love hair metal and enjoy very adult humour, Steel Panther will be right up your alley, and this video captures them in their element, so give it a look below!
The other belated Steel Panther video comes from attendee
Brandan Penno
, whose video of Steel Panther covering Ozzy Osbourne's "Crazy Train" is his only upload on YouTube to date, as posted in April. Clever and amusing touch having frontman Michael Starr perform while dressed as Ozzy himself and acting like him on stage, even seeming addled and confused like he often came across on The Osbournes. The cover's solid and lively, and Brandan got a nice zoomed-in view of the front of the stage, so give it a look below also!
Finally, here's
SooToday
's brief video feature from last month's Go Skateboarding Day festivities at Queen Elizabeth Park in Sault Ontario, as posted onto SooToday staffer (and ex-Garden of Bedlam drummer)
Derek Turner's YouTube channel
! I have no idea why this isn't on SooToday's proper channel. As was the case in their prior video features from this annual event, there's no audio of any bands, as skateboarding is the focus, though you do briefly see The Cover-Up playing atop the big ramp 22 seconds in. Derek himself does not feature on camera, but the video features co-organizer and Id Iota frontman Christian Lemay promoting the event and it's goals in a one-sided interview, though given his long-time association with Shaw TV, it is
very
odd to see him holding a SooToday microphone. Go Skate Day is a great event to promote skateboarding with new and old athletes alike, and hopefully this year's installment was a hit as usual! Give SooToday's video a look below, and here's to 2020!
That's all for today, but stay tuned for weekend concert previews and more very shortly! Thanks everyone!