In this, our final post of 2016, we're once again spotlighting the year at large by looking at the bands, concerts, events, changes, departures, returns, and more from the local metal, hard rock, and/or punk scenes! Though our unusually low post count this year doesn't suggest it, a lot went down in 2016, so here's what you should know as we look back at the year that was!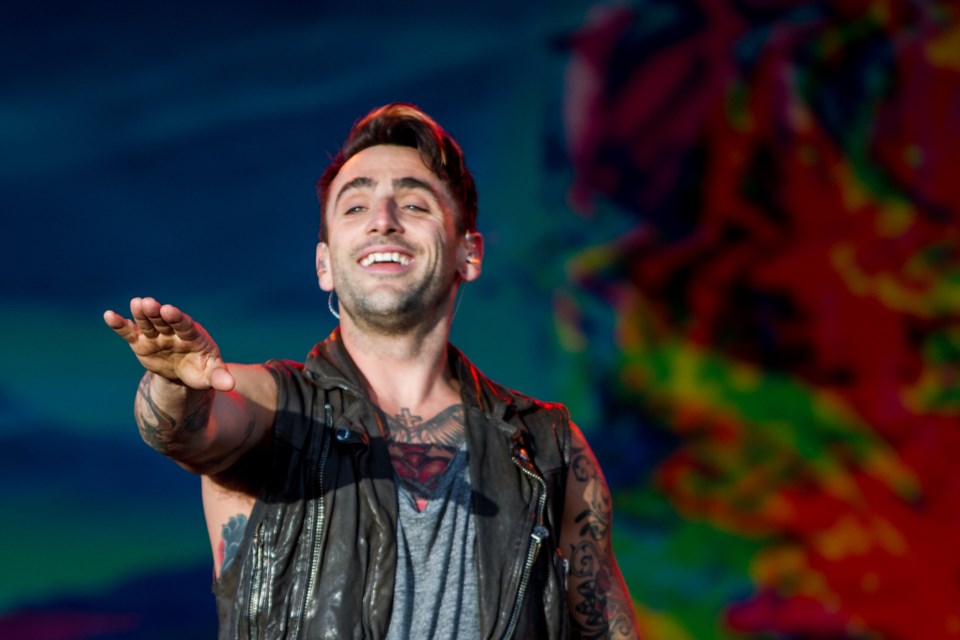 The year of 2016 was very sparse in the realm of major concerts at venues like
The Essar Center
and
The Dreammaker's Theater
, with the former not hosting any hard rock headlining concerts this year, and the latter primarily focusing on touring tribute bands for the lion's share of the year, only breaking their drought with the sixth local concert appearance by Poison frontman
Bret Michaels
on November 5th, which recieved a very positive reception! Over in Sault Ontario, while we had no Essar Center shows of SMS relevance this year, new downtown outdoor concert venue
The Yard
did bring Juno Award winning pop punk quartet
Hedley
back to the area on July 1st for the first time in 6 years, with all female Toronto rockers
The Beaches
and local Celtic/punk quartet
Dustin Jones & The Rising Tide
in tow. This Canada Day bash was a hit, and with Pop Evil already booked for Kewadin Casino next year, hopefully 2017 brings even more major headline acts to our area!
In Sault Ontario, we saw many out of town metal, hard rock, and punk bands rock the stage, with such notables as
The Anti-Queens
,
Bloody Diamonds
,
Bookakee
,
Castle
,
Dumpster Mummy
,
Gorod
,
Iskra
,
K-Man & The 45s
,
Lost Love
,
Moon Tan
,
The Nailheads
,
Reanimator
,
The Ripcordz
,
Rotbottyrot
, and
SNFU
performing well received sets, among many others! Among other notable concerts this year: Nine bands came together at this month's Guy Thiffault benefit concert,
Shit Liver
returned home to open for
The Motherfuckers
in April,
The Tech
held the Sky's The Limit mental health fundraiser,
The Rednecks Saloon
hosted it's relaunch party, and
The Gore Street Cafe
hosted the Fishbowl & Fortnight Festivals. In the battle arena, both
Jesse Merineau
(with
Caroline Divine
) and
K.I.C.K.
knocked off
The Din
to win March's battles of the bands, while Nathan Albidone won this fall's anticipated
Tidal Records
songwriting competition. These and more kept the music flowing in 2016, and expect much more next year!
A relatively quiet year in the Sault Michigan area still yielded some big events and familiar faces throughout! Despite the cancellation of the anticipated
Firehouse
concert and the planned return of
LemmaFest
, music fans did get to see collections of local musicians rocking out at the
Bay Mills Band Together
fundraiser in Brimley in May, the annual
Sugar Island Music Festival
in August, and that same month's debuting Rudyard Music Festival. Traverse City metal bands
Peril
&
Scarkazm
continued their frequent E.U.P. concert runs, while 517 and Kiss tribute
Detroit Rock City
rocked out to new local fans,
Infathom
returned for a surprise Brimley show in March, and we said goodbye to Marquette hard rockers
Nudge
this summer. Local hard rock bands like
415E
,
Banned
,
Highway 63
, and
Project 906
remained live staples, while the debuting
Stoned Ape Evolution
and young rockers
Tantrym Tyme
both found regional audiences as well. Here's to even more in 2017!
In terms of general news items, we had no shortage in the local metal, punk, and hard rock scenes, with bands like
AlgomA
,
Gnaeus
,
Id Iota
,
Jack Spades
,
The Pixo Control
, and
Shit Liver
all hitting the road for well received tour runs, while groups like Banned and
Sykotyk Rampage
also played outside our area! While we saw such melancholy stories as The Pixo Control being dropped from The Sheepdogs' local concert,
Hells Bells
cancelling local stops twice,
The Park Grille
abruptly ending their live band run, and The Gore Street Cafe fighting for survival for much of the year, we also saw many good stories, like the release of local artist
Darren Emond
's Iron Maiden comic book, the return of Brian Davie to
Scott & Brian In The Morning
, and
Destroilet
's contribution to The Rebel Spell's official tribute CD. Renamings and rebrandings were also a frequent occurence this year, with Mike Haggith & The Din,
Kaepora Gaebora
,
For July
,
The Back Door
,
Waterfront Legend
, and
WLSO
all changing names and/or themes this year. Hopefully 2017 is just as eventful!
Sadly, the local music scene wasn't unaffected by the high number of famous deaths in 2016, with a handful of important music figures passing this year. In May, we lost former Arnill's Music owner Barbara Arnill after a lengthy battle with cancer at the age of 83, which brought out many remembrances from those musicians she helped over the years. Then in August, the local music and theatre communities mourned the loss of
Shot In The Dark Productions
head and former White Pines instructor Susan Barber in her 56th year after her own cancer fight, while long-time
Canadian Nightclub
DJ and former concert promoter Jay Perron (a.k.a. DJ Reverend J) suddenly passed away in October at just 43 years of age. Finally, the punk community grieved the loss of ex-
Hangdowns
/
Nebraska Arms
frontman Guy Thiffault after his sudden passing just under two weeks ago at 36 years of age, leading to Tuesday's well received tribute concert. All four will not be forgotten any time soon by their friends, family, and fans!
On a happier note, a number of CDs, EPs, and albums were released this year by local metal, hard rock, and punk bands, with two of the biggest locally being The Din and Gnaeus' debut studio albums "Give In To The Din" & "Meditations", with the two bands opening for each other's CD release concerts in August. 2016 also saw the release of local doom metal trio AlgomA's long hyped split vinyl EP with Saskatchewan's
Chronobot
, while
Long Shot
put out their only EP shortly before disbanding, and Id Iota released their debut EP "Maudlin Fair" during their Ontario tour in the spring. Also this year:
The Inner City Surfers
posthumously released "Time To Travel On" on streaming music services,
Telephone & Address
put out "Are You Now or Have You Ever Been...",
The Strange Coyotes
belatedly put out their final live CD,
SweetKenny
released a number of score and traditional albums, and
Blood Shed Productions
brought new releases from
Crucify The Whore
and
Malignant Neoplasm
. Look for more anticipated albums in the new year!
2016 welcomed another promising crop of new local metal, hard rock, and punk bands to the scene, with alternative/punk bands
A Dire Setback
and
T-Rex Manning
successors
Stegadeth
stealing many of the winter headlines in their debut concerts! Earlier in the year, we saw the launches of pop/hard rock supergroup
Heavy Head
,
Late & Loud
successors
Kraken Mara
, funk/hard rock instrumental project
Gianni Gagoots
, death metal duo Twistory, young classic rockers Electric Church, and new death metal band
Exploring Detritus
(previously Kaepora Gaebora), while
Havadder
alums Scott McLurg, Jamie July, and Travis Sharpe found their way into the new cover hard rock bands
The 3 Day Millionaires
, The Band Camp Rejects, and Nameus respectively. As well, Sault Michigan saw the launches of blues/hard rock cover quartet Project 906 and masked original metal band Stoned Ape Evolution this year. Promising roster of new bands to be sure, and here's to a big 2017 for them!
The past 12 months have also seen a number of lineup changes in local bands, with none achieving as much discussion on social media as the abrupt departure of prolific hard rock singer
Curtis McKenzie
from both
Project 421
and
Eclipse
in November, with him nor both bands emerging with new public music activity since. In other major changes: the reunited
Winkstinger
replaced Alan Wells & Jason Bourcier with Keith Gagnon & Andrew MacDonald,
The Elements
enlisted Josh Norling and Jonas Gasperas as (de facto?) band members,
Them
parted ways with Chase Wigmore & Rainey Vincent, and
The Apocalypse Afterparty
welcomed "Sven Derful" & "Lady Rito" to their expanded lineup. 2016 also saw guitarist Tiffany Stocco leave Jack Spades, Alex Proulx replace Brendan Garlick on drums in Gnaeus, Dan Linklater replace Justin Girardi as Id Iota's bassist, Robin Lee replace Jeremey Salatuk on guitar in
Lucky 13
, and guitarist Jamie July leave Havadder, among other big lineup alterations.
Unfortunately, 2016 also saw a number of bands dissolve or fall inactive, notably including The Pixo Control (succeeded by frontman
Mike Mikus
' new pop rock solo project) and alt-hard rock quartet Long Shot, with fans of each surprised by their sudden breakups. Meanwhile, such notable bands as
Gates of Winter
,
Garden of Bedlam
,
The Billy Bastards
, and
Bad Back
have largely fell silent online, and haven't played live in over a year each. Also locally, bands like
Stereo North
, Lucky 13,
Griphook
, Caroline Divine, and Late Shift have been AWOL from the stage or online updates in the latter half of 2016, though hopefully they resurface in the new year. As well, reunited Sault Michigan hard rock band
The Creepy Little Coffee People
haven't had an online presence in months, and the future of linked Sault Ontario metal bands Project 421 and Eclipse is up in the air at best following their highly public lineup changes in November. Fingers crossed that these bands can resurface down the road, as all were full of talent & promise!
And finally, the local metal & punk scenes saw a number of big comebacks and returns in 2016, with no night delivering more than the Guy Thiffault benefit concert on December 27th, which saw
Bin Hawdon & The Taliband
, Nebraska Arms, and Edmonton's Rotbottyrot all end 6-8 year hiatuses (not to mention the return of folk rockers
The Business Suit Trappers
), which I'm sure would all make Guy proud! That same night also saw Destroilet play their first show in 14 months, while fellow performers Talk Shit had previously reformed after a 7 year breakup this fall. Elsewhere, fans welcomed back Winkstinger,
Pillory
, and
Caveman Morrison
to the stage after previously disbanding, while
That's Chester
returned to honour late guitarist Eugene Orlando at this year's
Rotaryfest
with special guests, Sykotyk Rampage, Id Iota,
Redundant
, and
Rotopsy
resumed concert activity after long breaks, and Josh Stephney rejoined The Bear Hunters for their May concert. Here's to many more comebacks and reunions in 2017!
2016 was another big year for the local metal, hard rock, and punk scenes, and I'm sure 2017 will be bigger and better than ever, so look for our preview post on the year at large tomorrow! Thanks everyone, and have a safe and responsible Happy New Year!