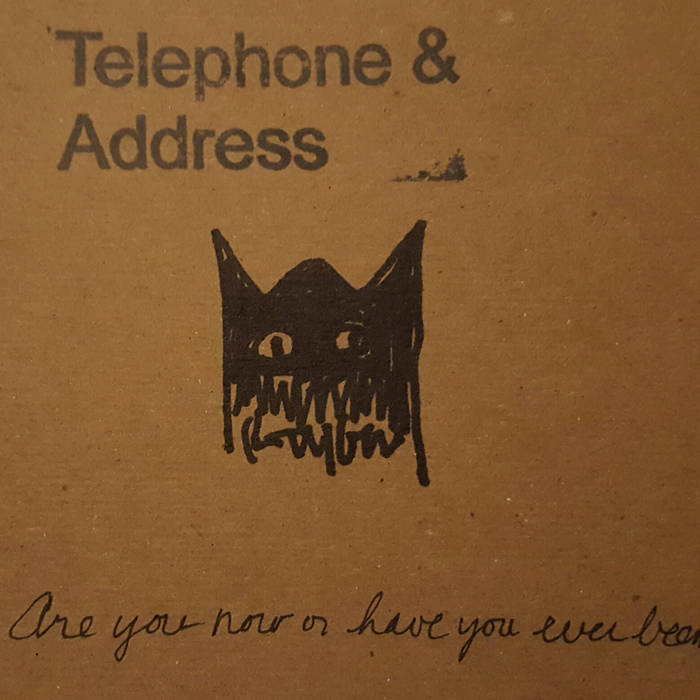 Merry Christmas, everyone! As a little early present for the occasion, here is our 90th monthly CD review at the SMS, and final one of the year, as we're taking a look at local punk/grunge solo project
Telephone & Address
' fourth official album
"Are You Now Or Have You Ever Been..."
! Alternately titled without the final word in some physical copies, this album was recorded over the past year, and independently released through Harmisntus Productions on October 26th when they opened for Iansucks at
The Gore Street Cafe
, but it's digital release didn't occur until this month. Featuring project leader Christopher Shoust on vocals & all instruments, "A.Y.N.O.H.Y.E.B." is available for $8 on
their Bandcamp page
in mp3 formats, while you can order limited copies of the physical CDs (with slightly varying hand-drawn artwork of the cover character) for $10 through there. The album is also presumably available at upcoming Telephone & Address concerts, though note that prior releases were charged at $15 when sold that way.
And yes, you can stream the whole album on their Bandcamp page for free, but consider buying it to support Chris' work! Featuring 8 songs clocking in at 26 minutes in length, let's begin this review with the first song,
"Army Song"
! Musically, this song and album are basically a hybrid of his first two official albums, adding the guitar from "The Rotten EP" to the bass & drum-centric style of "Need Not Apply". The lyrics are repetitive (especially the repeated "Left! Right!" chorus), but it has a laid back, grungy feel that Telephone & Address fans will take to, and it gets the job done musically with enthusiasm, if you don't mind the repetition. Second is
"He"
, a mid-tempo number that has more lyrical variance and a solid casual riff, but the song can be a little dizzy at times, and the lo-fi production may not have benefited this song as a result. Chris' high-registered vocals suit the material though, and fans should take to it if you like earlier material!
Next is the album's longest song,
"Ignore The Platitudes"
, which takes more of a folksy punk bent, and keeps up the laid back feelings while retaining Telephone & Address' alternative stylings. Repetition rears it's head here again, this time via over-long recitations of the song's title in the choruses, but beyond that, it works for Chris' established sound, and the drums suit the song's pacing pretty well! I imagine this song would work very well in an acoustic setting. Then we have
"Not the Only One"
, whose drum-heavy instrumentation sounds like a lo-fi "Foxy Lady" on repeat. Again, we have repetitive singing of the song's title here, but in this case, that's basically the song's entire lyrics, and after a while, you get the idea. This is my least favourite song so far, especially with the minimal guitar usage aside from post-verse bridges, and the repetitive singing, but it is catchy early on.
Fifth is
"Protest March"
, as self-identified by Chris at the song's beginning, and thankfully, this song has more varied lyrics, some of the best yet on this album. The track truly has a marching feel, with solid drumming and a fitting riff, while his vocals have a little more grit here than we have seen on some prior songs. For my money, this is my favourite song so far on "Are You Now...", and it has the most variance in structure and music styles so far! That's followed by
"Sing On"
, a slower ballad of sorts that is well performed, but again dips into the repetitive song-title-as-chorus well, which hasn't helped prior songs on this CD. That said, this is another song that I have a feeling would work better as an acoustic number, as it has that mood to it, but if you can get past the repetitive lyrics, it works well enough!.
The penultimate song is
"Test"
, which is a mid-tempo punk song that has a nice instrumental melody and steady rhythm, and while the lyrics are repetitive again, they're at least more spread and stretched out than they have been previously. Not the most memorable song in terms of music that this album has, it more sort of came & went to me, but fans of Telephone & Address' more reserved originals will likely be right at home. "Are You Now Or Have You Ever Been..." closes with
"You Say"
, which runs for an album low 2 minutes in length. Possibly thanks to that, this song doesn't get repetitive, nor does it overstay it's welcome, delivering some steady lo-fi punk to close this album in style, with his instrumental talents and distinctive vocals on good display! Solid track that suits Telephone & Address nicely!
So, what are my final thoughts on Telephone & Address' newest CD? Well, it's definitely a return to form compared to last year's highly experimental ambient CD "Rust Orchid", with Christopher Shoust tackling punk and grunge originals with enthusiasm and raw energy, seemingly putting together the pieces of his first two
official
albums to make more of a total package here. His nasally vocals and the lo-fi production quality may still be acquired tastes, but they suit his music and it's intent, and I like the back to basics approach here, even if this album is shorter than anything he's made since "The Rotten EP". The achilles heel of "Are You Now Or Have You Ever Been..." is repetitive lyrics, particularly during choruses, as repeatedly singing the song's title did get old to me pretty quickly, but that might not be as jarring for devoted fans. That said, songs like "Protest March" and "You Say" play to his musical and lyrical strengths the most, and are among my highlights..
A return to form for Telephone & Address despite repetitve chorus lyrics, this album is well worth checking out for fans of Chris Shoust's lo-fi punk originals, so be sure to buy or stream this CD at the above links, and look for "Monster" in the new year, one assumes! I hope you guys liked this month's CD review, but what's coming next month to start 2017? I'm not 100% sure at this juncture, but of course, a new CD would gain precedence if it is released and I'm able get a copy of it! In any event, "Monster", an archive SweetKenny album, or "The Din Does Laundry" will
not
be next, due to our 6 month anti-bias buffer. If we have to dip into the archives for review #91, an older album from A Fall From Innocence or a Mike Haggith project could easily come next to tie in with perfomers at next month's Live705 show at The Canadian, as could Stiffler's Mom's newly located 2004 demo, if any of Greg Simpson's bands play live next month. In any event, stay tuned for our next CD review in January, and have a Merry Christmas, everyone!