Originally, our last post of the month was to have been devoted to weekend concert previews, but with a major LOCAL CONCERT ALERT covering so much ground in this post, I opted to push our Banned previews for this weekend to tomorrow's news post, but don't worry, they are coming! That said, we do have some concert previews today, linked to more new show announcements for next month, so here's what you should know on all of that!
Local acoustic hard rock singer/guitarist
Tym Morrison
will continue his ongoing weekly concert arrangement at
Gliss Steak & Seafood
with solo headlining matinee gigs TONIGHT, TOMORROW, and SATURDAY, and as December begins this weekend, we'll add his remaining shows next month to our concert calendar today also! These include Gliss gigs on December 7th-9th, 14th-16th, 21st-23rd, and 28th-30th, so look for more unplugged cover action all month long from the former Caveman Morrison frontman! None of Tym's Gliss shows next month are directly on Christmas or New Year's-related holidays, and while we will let you know if any are put on hold due to personal or venue holiday scheduling,
the Facebook event page
covering remaining 2017 shows does not indicate anything changing from the above dates. However, before all of that, Tym's rocking The Quality Inn's house restaurant tonight through Saturday, so don't miss him this weekend or next month!
As usual, all of these Gliss shows have 6:00 PM nightly start times with no announced cover charge or age limits, but remember that this is a sit-down restaurant, not a typical nightclub venue. See above for more details, and here's Tym Morrison live a few years back!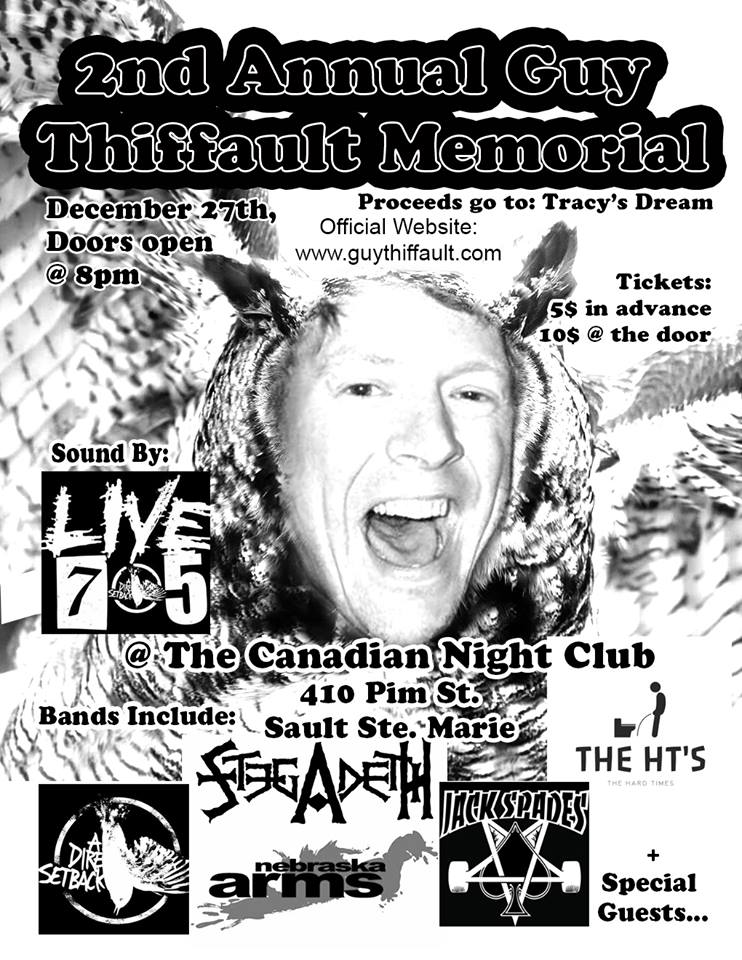 Next up, here's a surprise new show for next month, as there will be a second annual
Guy Thiffault Memorial Concert
on Wednesday, December 27th! Moving to
The Canadian Nightclub
after rocking The Rockstar Bar last year, this event was a massive success over the 2016 holidays in memory of the late Hangdowns/Bondar frontman, and it's really nice to see that an encore installment is being organized, especially with more notice than last year's received! All proceeds for this year's tribute concert will go to
Tracy's Dream
, a local charity that provides cancer patients and those in medical need with free Sault Area Hospital parking, which is a great gesture on both sides! Five bands are currently advertised to perform on the 27th, and they include a one-off reunion of Guy's old indie/punk band
Nebraska Arms
, who played a 2 song set last year. Given their headlining status on
the Facebook event page
, I'd guess they're playing longer this time around, and it's great to see them back for year #2!
I can't confirm how Nebraska Arms will look next month, but for reference, bassist Wayne Watkins took over lead vocals last year, while Guy's Bondar bandmate Mark Rand filled in on guitar. Local punk/metal quintet
Jack Spades
are the next listed band (great to see them this year!), while a band named The HTs are also listed. There are no public online pages for this band yet, but I can confirm that they are one and the same as the tribute band You First & The Passive Aggressives from J.D. Pearce's Halloween Party concerts this year. If you saw that show live, you'll have recognized their lineup as having ex-Bankshot bandmates Lucas Schmiedendorf & Clint Wilson alongside former Quasar guitarist Andre LeBlanc & former Winkstinger bassist Ryan Disano. Solid lineup, it'll be interesting to hear more from them, and thanks to Lucas/Sal for extra confirmation! The other two bands currently confirmed are returnees from last year, including punk trio
Stegadeth
, whose second live set total was at last year's tribute show.
The listed openers (like last year) are local alt-punk quartet A Dire Setback, in what will be their first live appearance after a 3+ month hiatus from local concerts. The band still has not publically confirmed or denied rumours about a major lineup change, so how will they look and sound next month? We may have to wait until the 27th to find out! Unspecified "special guests" will also play this one, so prepare yourself for that also! Promoted by the aforementioned Lucas Schmiedendorf, and with sound by Live705, advance tickets will be $5 for this concert (the price jumps to $10 at the door), and while local in-person availability has not yet been announced, you can buy tickets online at this link. Doors open at 8:00 PM, and I would imagine this is a 19+ event. Also, organizers have partnered up with Driverseat to offer a deal to attendees who'd be interested in paying for a designated driver to get them & their vehicle home, so see above for details on that!
For more details, visit the above links, plus this new Guy Thiffault website featuring concert details and loads of audio tracks from Nebraska Arms, The Hangdowns, and Bondar! Nothing yet from The Business Suit Trappers, but if you love Guy's local band work, this is a huge wealth of material, so enjoy it, and we've added it to our "Other Links" section! This is shaping up to be another huge concert for Guy's memory and for another great cause, so visit the above links for much more on this show, stay tuned for continued updates, and look for our Banned concert previews and more news and notes on the site tomorrow! Thanks everyone!