It's been a few days since we devoted a full post to fallout and news related to local doom metal notables Woods of Ypres and their late frontman David Gold, and with more stuff to mention and give promotion to, I thought we should compile everything into another post! So today, we've got news on a cool tribute to David that you can help with, the latest details on the David Gold tribute CD, some new videos from the tribute show in Toronto, and the latest reviews of "Woods V", so here's what you need to know!
(Edited at 12:57 AM)
First, here's some details on a tribute to David that's in the works, and how you can help. Former
Wood
s of Ypres
singer Robin Cross is spearheading a project (with the Gold family's blessing) that would see a memorial tree and plaque planted in Optimist Park in Windsor (the band's original home from the early 2000s.) This was the "woods of Ypres" that inspired David's work and the band's name, and Robin said that he can think of no more appropriate way to remember him. This already sounds like a great project to honour David's memory, but if you want to help, Robin is accepting donations to cover the cost of the tree & plaque, which will total at over $600. If you're interested in donating to help fund this project at the original woods of Ypres in Windsor, you can send money via PayPal to
robindcross@hotmail.com
or via check or well concealed money to the address found at Robin's post on
the David Gold's Legacy Facebook page
. I hope this takes off, because it sounds like a great and fitting tribute to David's memory and Woods of Ypres, and from what I've seen, Optimist Park looks like a very nice spot for the tree to be planted (and very fitting given it's personal connections!) Kudos to Robin for planning this tribute project, and hopefully you guys can donate for the cause! Check the above links for more details!
Also in David Gold related news: the David Gold tribute CD is still in the works, and an updated track listing is now up for the project!
"A Heart Of Gold: A Tribute To Woods of Ypres"
has changed a lot since it was first announced for it's band listings, but at least 18 tracks are confirmed for it at present, via this handwritten photo by Steph LeDrew, who's helping in the album's organization. Though not final, you'll notice bands like
Novembers Doom,
Gypsy Chief Goliath,
Panzerfaust, Pagan Ritual,
and
Eclipse Eternal
from the local and Toronto David Gold tribute concerts on the track listing, and though most of them are scheduled to do their Woods of Ypres covers from the tribute shows, Gypsy Chief Goliath are listed to cover "Shards of Love (Hurt Forever) with Woods of Ypres' Joel Violette &
Rae Amitay
, who did the song live with GCG frontman Alex Petrovich at the Ypres Metal Fest. Also of note: according to comments on the above setlist picture, Joel & Rae were also confirmed to cover "Silver" from "Woods V", which they performed at the local memorial show by themselves. That'd be interesting to hear again! If you're interested in an early taste of the album, Will Bozarth's acoustic cover of "Finality" was posted online at
this location
to stream, though note that it's an early instrumental demo. Sounds good so far!
Things seem to be shaping up well for the album, and there's some interesting covers planned for sure, though I wonder if fellow recent Woods of Ypres member Brendan Hayter will be factored in to Joel & Rae's planned songs on the album? The other note I had on this tribute album was that there are some tentative plans to have some sort of a local connection towards it. As revealed last week in a post on
our Facebook page
, Steph LeDrew had a proposition for bands from Sault Ste. Marie to submit material towards the tribute album, and if you're interested in more details, to contact her on Facebook at
this location
. From what I understand, she's looking for local musicians to contribute to a cover of "The Ghost of Summer's Past" for the album, which potentially sounds very cool, so contact Steph if you wanna be a part! I've heard rumblings about some other possible local participation, but nothing has officially been confirmed yet towards any local bands being on "A Heart of Gold". Hopefully we hear something though, as the local bands at the Ypres Metal Fest did a solid job with their covers, and it'd be cool to hear some of them in studio form! Check the above links for all the current details on the David Gold tribute album, and
c
lick here
for all the newest updates via
the album's Facebook group
!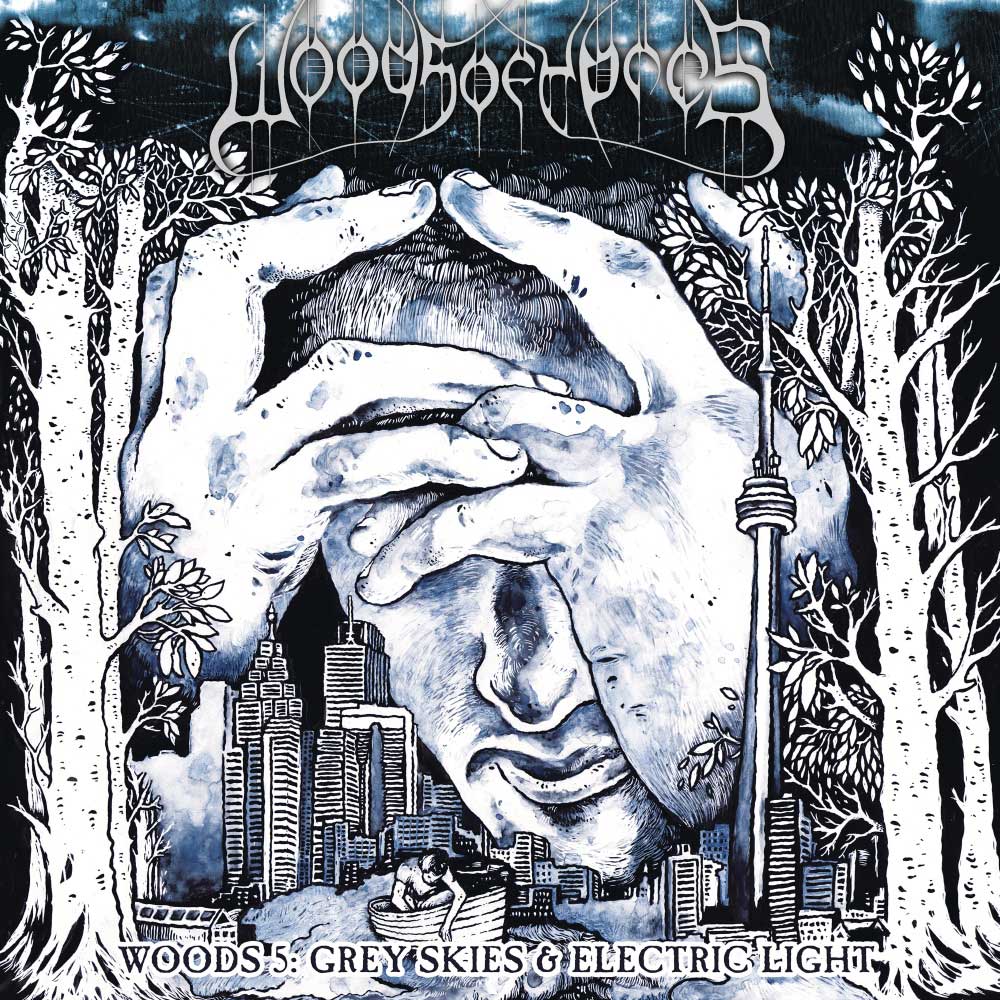 Let's close today's post with a bunch of new reviews of Woods of Ypres' final recorded studio album "Woods V: Grey Skies & Electric Light", which is nearing it's full North American release beyond just the tribute concerts and online stores! There's much more than just these, but I'm admittedly overdue. On April 3rd, Atanamar Sunyata from the website
Metal Injection
gave "Woods V" a 9.4 out of 10, calling it a logical progression from "Woods IV", a reflection of David Gold's spirit, and "an indelible, infectious sign of his craft", though some minor criticisms were given for David's attempts to sing too low. Solid review, so check it out at
this location
! Also, a recent review by Todd Lyons of
About.com Heavy Metal
saw "W5" gain 4.5 stars out of 5. He called it "an elegy for a lost prodigy" and a "harrowing experience", while going into nice detail on the album and events surrounding it, even calling "Kiss My Ashes (Goodbye)" a lost Type O Negative creation! Very nice review in it's own right, so
click here
to give it a look! Another review came from Zach Duvall of the site
Metal Review
, where he gave "Woods V" 9.5 out of 10. In a lengthy and well written review, he called the album "a near masterpiece" among other deep praise for the songwriting and music, including a nice view that this album is a celebration of life rather than a damnation of it. Another really good review, and well detailed, so
click here
to check it out!
Another new-ish review came from the editor at
MetalAlbumReviews.com
in January, who gave "W5" 4.5 stars out of 5, and though he didn't recommend it for people who don't like being emotionally compromised, he called it "almost perfect" and as containing "the kind of doom metal I want to hear." Overly positive (though short) review, and you can tell how much he liked "Woods V", so give it a look by
clicking here
! Also, Ryan Neal from the website
OneMetal.com
gave this album a 4 out of 5 in a review from last month, and though he used an outdated band photo, he complimented the album as having a "strikingly original brand of doom metal", while praising it's melodic qualities and somber elements. Nice review overall, so check it out at
this location
! Finally for this batch of "W5" reviews, "Facundo" from the website
Metal Blast
gave this album a perfect 5/5, calling it the best album he's heard so far this year and "an opus in the truest sense", though he says you need an open mind to listen to it, and it is the perfect fit for only specific people. I like his connections to other examples in this review, and it's a nice and highly complimentary review for sure, so
click here
to check it out, and stay tuned for more "Woods V" reviews soon, hopefully!
That's all for now, but stay tuned for the second half of our profile of the Friday the 13th song uploads from Werehold Records later today! Thanks everyone!