Hey guys, it's time to preview most of this weekend's local metal & hard rock shows, but first, I've gotta apologize for one missed date last weekend. Apparently, Sault Michigan hard rockers Powerslug returned to
Golanka's Bar
(a.k.a. The Bird) across the river this past Saturday for what (I think) was their first stop there of 2012. Guitarist Chris Gurnoe confirmed the gig on
his personal Facebook page
that afternoon, but the short notice (and the band's lack of an internet page) prevented me from hearing about it until it was too late. I apologize to Powerslug and anyone who could have been affected, I'll try to stay more on top of their next gigs! Now, to the concert previews, and while we're saving the battle of the bands profile until later today due to it's size, we've got some big shows going down this weekend to cover (including a LOCAL CONCERT ALERT) and some "Woods V" reviews, so here's what you need to know!
The new show is courtesy of Sault Ontario classic hard rockers
Turner Up
, who will return to The Sportscentre Bar & Grill on Wellington Street West THIS SATURDAY! I apologize for the short notice, this show was announced on Tuesday but I could only slot it into a post today. Though they won't be at tomorrow's
Sault Humane Society Battle of the Bands
anymore, this talented quintet will bring their set full of entertaining hard rock covers back to this new-ish concert venue on Saturday, two months after playing their first gig at this West End bar. I'm still not familiar with the Sportscentre Bar & Grill as a concert venue, but I'm hearing good things from people who've played there, and it's slowly becoming a more prominent place for local bands, so keep it mind this Saturday! This is a one night only gig (possibly for the same reasons why they're not at tomorrow's battle), with Turner Up hitting the stage at 10:30 PM on Saturday. You must be 19 to attend, and there's no cover charge. For more details, visit
the official Facebook event page
! It's always good to see Turner Up rocking the local stage, and hopefully they deliver some great classic hard rock tunes for their fans on Saturday! For a preview, here's the old Turner Up covering a Guns N' Roses classic at The Rockstar Bar last year!
Now to previously announced non-battle concerts this weekend, and we'll take a quick detour to Sault Michigan for the next concert by local hard rock trio
Trail's End
! The new-ish local band from 3 former
Nixxon Dixxon
&
Splitshot
bandmates are scheduled to return to The Rapids Lounge at
Kewadin Casino
TOMORROW NIGHT for just their fifth advertised concert since forming late last year, though unlike their previous two concert weekends, this will only be a one night engagement. Despite earlier listings on
Kewadin Casino's entertainment page
, they will
not
be playing on Saturday night due to a showing of UFC 145 at The Rapids Lounge, so Trail's End's Kewadin weekend plans are halved, much like Swayze Train's were in February thanks to UFC 144. Should be a good card though, and Trail's End have big plans in 2012 beyond tomorrow, I'm sure! Admission should be free for tomorrow's concert, you must be 21 to attend, and a 10:00 PM start time is likely. For more details, check the above links! Though Trail's End haven't publically acknowledged this show, Kewadin entertainment page is as reliable a source as any, and hopefully the guys have a great set full of covers & originals tomorrow night! For a preview, here's their original song "Run"!
Finally for the previews, local metal trio
Caveman Morrison
are returning to the stage for their third concert weekend with their current lineup for shows TOMORROW & SATURDAY NIGHT at
The Nicolet Tavern
! Their current lineup of
Tym Morrison
, James White, and Johnny Belanger appears to be settling in well, and you know that they'll deliver a great weekend of hard rock and metal covers for their fans at The Nic this weekend! Nothing seems to be too different from the usual Caveman Morrison concert weekend, but if you're up for some live music all weekend, you can't go too wrong with these shows! However, I will note that drummer Johnny Belanger is still scheduled to compete at tomorrow's Humane Society Battle of the Bands with The Bear Hunters, so fingers crossed that they're earlier in the night so he can play at both events without issue! Both tomorrow & Saturday's Caveman Morrison gigs should have no cover charge, you must be 19 to attend, and 9:30 PM start times are listed. For more details, visit
the official Facebook event page
! These should both be solid concerts, so hopefully there's big crowsds both nights for Caveman Morrison's latest weekend at The Nic! For a preview, here they are covering a Foreigner classic at The Rosie in December, and message Tym A.S.A.P. if you can help return his stolen acoustic Yamaha guitar!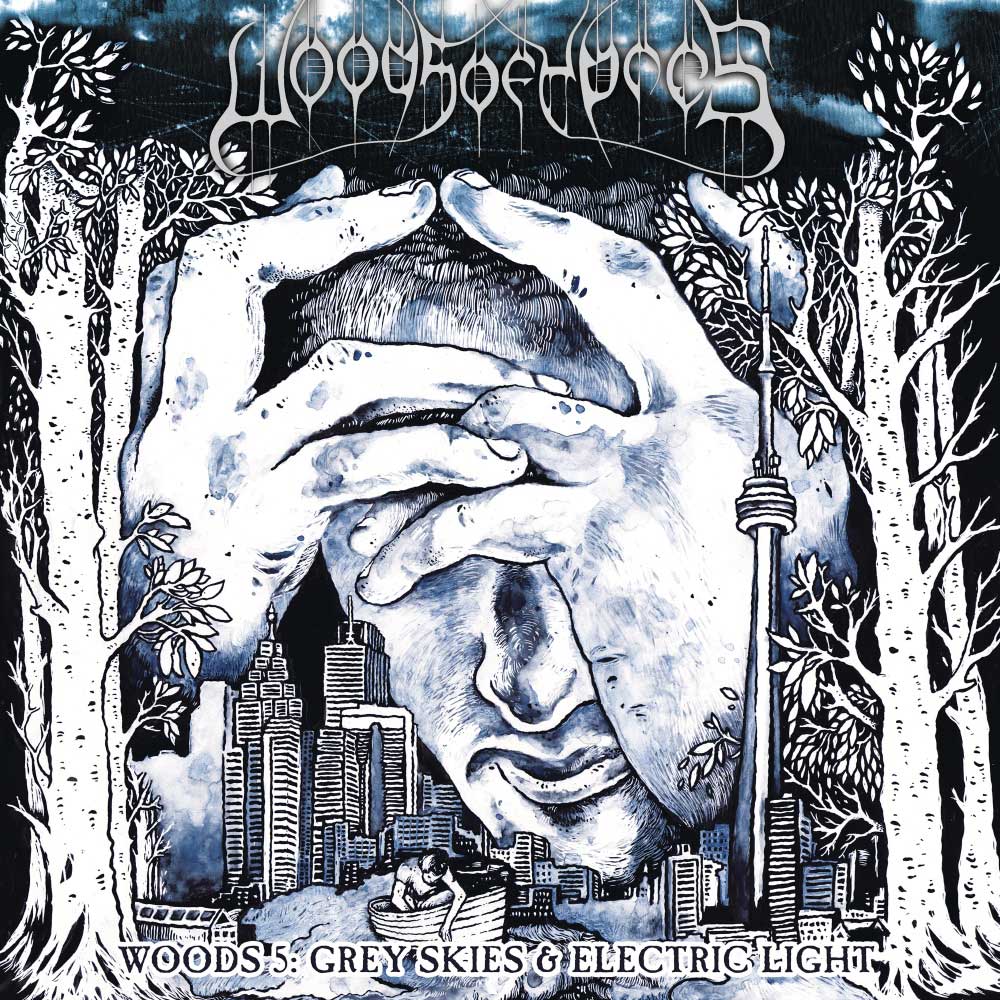 And finally for today, here's some more reviews of local blackened doom metal band
Woods of Ypres
' last recorded album "Woods V: Grey Skies & Electric Light"! In January, Lior Stein of the website
Metal Temple
gave this album an "almost perfect" rating of 9/10, calling it a "masterfully crafted release" and highly praising the late David Gold's vocal range and the album's peaceful mood it created. Nice review with some interesting thoughts on the themes of the CD, so
click here
to check it out! In a review on
The Metal Crypt
last month, writer Christopher Foley gave "W5" a 3.75/5, calling it "a quality selection of songs" and giving high marks for it's crossover appeal, while noting some lyrical deficiencies and that the album might turn off black metal purists. Brief and more straightforward review, but if you're looking for one with less sentimentality, this may do the trick, so see this review at
this location
! Finally for today, Ryan Grant from the metal website
HereToDestroy.com
gave "Woods V" a very positive review earlier this month, and while it's more personal with connections to how Woods of Ypres' music has been life changing for him, he still gives good thoughts on David's vocal intensity and the increased emphasis on melody, among other well termed thoughts. Another nice review, and you can tell how much it meant for him to write it, so check it out by
clicking here
! Stay tuned for more "Woods V" reviews hopefully soon!
That's all for now, but stay tuned later today for our extended preview of TOMORROW'S Sault Humane Society Battle Of The Bands! Thanks everyone!