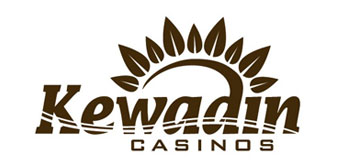 Today's post is entirely devoted to new concert announcements from both of the regional
Kewadin Casino
branches with regular weekly concerts, as their entertainment pages have
finally
been updated to reflect 2017 concerts in both
Sault Michigan
and
St. Ignace
's lounges! To go along with last year's website layout overhaul, the entertainment pages (
here
&
here
) are now completely separate from each other, and have new URLs, so we have updated them and added both to our "Other Local Metal Links". The new show announcements stretch until December of this year, and it's worth noting that 40 (perhaps 42) of the 66 listed weekends are from bands who are based outside of the E.U.P., though whether you chalk this up to Kewadin attracting bigger touring names or a decline in live local band availability is up for debate. For reference sake, some of the unfamiliar touring bands include Trowbridge classic rock trio
Playin' Jax
, Lansing classic rock band
The Showdown
, Traverse City dance rockers
Risque
, and Columbus,
Ohio
R&B outfit
NuCorp
.
Also among the out of town bands is
Reality Bites
, a new 1990s-themed rock cover band from Marquette featuring
Nudge
alumni Danzo McCracken & Scott Kusmirek, who are scheduled only at the St. Ignace Kewadin. It's great to see Danzo & Scott playing out east again (they've already been back at The Satisfied Frog too), but their sound descriptions point to more of a general & varied 1990s tribute with only select hard rock songs from the decade. A band named Stuck In Reverse is also advertised for two Kewadin weekends in 2017, and while
this Facebook page
might be theirs, we don't know anything on them, their hometown, or their specific sound otherwise.
We will tackle new Kewadin gigs from Jeff Hudson & Adam Crawford's two Traverse City hard rock bands (
Peril
&
Scarkazm
) in our next news post, given that we've previously covered their announced shows through March, but let's now get into new shows from three regional hard rock bands! First up, we'll see Sault Michigan hard rock quartet
415E
back under the Kewadin umbrella for shows at The Rapids Lounge at the Sault Michigan Kewadin Casino on February 24th & 25th and on May 26th & 27th, while they'll be back at The Northern Pines Lounge at St. Ignace's Kewadin Shores Casino on March 17th & 18th, then on June 2nd & 3rd! The St. Ignace shows will mark the former Hubbard-Menard Band's first there since playing consecutive weekends a month ago (apologies for missing that their December 30th show was all acoustic), while they haven't been seen at the Sault Kewadin since September. If you've missed them in recent months, here's your early-2017 schedule!
As usual for Kewadin Casino's lounge concerts, expect 9:00 PM start times, 21+ age limits, and no announced cover charges for these four weekends, and while there's nothing announced beyond June, note that there are open weekends on Kewadin's schedules that could end up going to 415E for all we know. It's great to see 415E back for more concerts in this new years, especially in the Soo, which they definitely haven't played at as much as St. Ignace, so check the above links for more on these shows!
Also newly confirmed for 2017's Kewadin Casino schedules are a pair of Rapids Lounge gigs in the Soo from Kinross classic/hard rock trio
Banned
, who will be back there on March 10th & 11th, and then on May 5th & 6th! At press time, this is it for Banned's upcoming dates at either Kewadin branch, with nothing scheduled in St. Ignace at press time. Alex, Wayne, and Don are no strangers to The Rapids Lounge, as fans who saw them at this week's four-nights-in-five run for the I-500 week will attest, and I'm sure Banned will be up to their usual tricks when they return there in the spring! Like with the above 415E concerts, these will also be 21+ affairs with no announced cover charges and 9:00 PM start times. Check the above links for more details, and stay tuned for more show announcements elsewhere from Banned!
Finally for today's concert announcements, local hard/blues rock quartet
Project 906
are advertised to return to The Rapids Lounge in Sault Michigan themselves on March 31st & April 1st, and then on May 19th & 20th! A relatively new sight for Kewadin Casino concerts, Project 906 only just debuted at The Rapids Lounge last month, and they just played St. Ignace for the first time this past weekend, so now we can tackle their next Kewadin stops with some advance notice. Billy, Joe, Dustin, and Will have became a fan favourite sight at concerts in the E.U.P. in the past year, and it'll be interesting to see how 2017 shapes up in the 906 camp, especially in regards to their relatively new run at Kewadin Casino branches! Like with Banned, they aren't currently advertised for any upcoming St. Ignace weekends. Again, expect 9:00 PM start times, no announced cover, and 21+ age limits, so be sure to check the above links for more details, and stay tuned for updates from Project 906!
And just for clarification's sake, all of the listed
Highway 63
gigs on Kewadin's calendars are already in our listings, with no brand new additions, but for one reason or another, the casino doesn't list the post-June gigs that Highway 63 previously announced. If they are off, we'll let you know, but we'll treat them as on unless otherwise stated. That's all for today, but stay tuned for details on Peril & Scarkazm's post-March gigs at the Kewadin Casinos next, and more! Thanks everyone!