Hey guys, after a day to gather stories and take a slight break from the recent franticness of local metal news, I am back with lots more! Today, we have the latest "Woods V" updates, a newly found page for a defunct local band, and the latest news from a notable recent Sault Michigan group, but first, a LOCAL CONCERT ALERT!!
In what is sort of a short notice concert announcement for him,
Caveman Morrison
singer/guitarist
Tym Morrison
has scheduled another solo set to take place on FRIDAY! This time, he'll be back at The Roosevelt Hotel for a day full of acoustic rock and metal covers! Just like his last show at The Rosie, it'll be a 4:00 PM-8:00 PM affair, so knowing that, I can surmise that this is a typical set time and not a one off special occasion like I thought the last time around. There will be no cover charge, and judging by the time, it COULD be all ages, but don't test your luck unless you're 100% sure. For more information, visit
the Facebook event page
for the show! Always great to see Tym's solo shows, especially if you want a more mellow laid back experience than his Caveman fare, and with Caveman Morrison's recent return, expect a lot more exciting news from Tym in the near future! I actually heard a big story concerning Caveman Morrison recently that you guys should hear that impacts another local band, which I won't go into detail about yet because nothing public has came out, but I'll be sure to let you know when it does!
Next up, we have some big news from Sault Michigan hard rockers
Elipzis
! You know, the quartet featuring ex-members of
Integrated System of Machines
,
Riot! By Night
, and
Kilacel
that played the Kewadin Festival, among other recent concerts. Well, they have some notable updates, starting with the upload of three new demos onto
their MySpace page
! These appear to be songs featured on CDs they've been selling at concerts, but it sounds like it's just a demo, so it's not (technically) an officially released album... yet. Elipzis' stuff sounds pretty good, it's straightforward hard rock with some interesting musical tweaks and influences to help it stand out! Rachel Kiger proves to be a more than capable frontwoman, adding to the long list of female hard rock singers in the Sault area (compared to Sault Ontario, they're loaded!) She has an awesome range and tone, Elipzis are lucky to have her! Almost reminds me of some more operatic frontwomen like Tarja Turunen at points. "6 Shots" is my favourite of the three songs, but that's expected cause it's the heaviest. "Father" and "Freedom" show off their diversity with slower ballad material, and they're well played also! Good stuff, well recorded too, check the songs out above!
Also, they've scheduled an out of town concert for THIS WEEKEND, as they'll hit the Grand Rapids area as one of the supporting bands at this year's Bikefest On The Grand in Cooperstown, Michigan! Get more details at
this location
, and thanks to bassist Ryan Harrison for the updates!
Thirdly today, remember on Saturday when I mentioned that
Sativa Rose
drummer Alex Palmer was formerly in the band
Dreamscape
? Well, it's been a LONG time since I mentioned that band on the SMS. I first discovered and posted them here over 19 MONTHS ago, and though they've been inactive since (I'm guessing) 2008, they still have new things to discuss! How do I mean? Well, the other day, I was researching members of Sativa Rose to see if they were in defunct bands, and I found out about Alex's involvement in Dreamscape through
their MySpace page
, which I never knew existed! I'd featured
their PureVolume page
on here since January of last year, and now I have more information and songs on these guys! Firstly, I can confirm that their only lineup included Kris "Funkadelic Fois" Foisy on vocals, guitar, and bass, "Metal" Mike Beith on vocals & guitar, and Sativa Rose's Alex "Big Al" Palmer on drums. The trio started jamming in 2003, and according to their MySpace, released an album in 2007, though I have no recollection or hard evidence of this.
The band were promising, if you look past the recording quality, which isn't fantastic. But on MySpace tracks like "Slowly Die" and the appropriately named "Heavy Tune", Dreamscape showed some good instrumentation and heaviness! Most of their other material at both pages delved into more experimental funk that wasn't all that "metal", but it's diversity, and that doesn't have to be bad! Sure, they didn't go too far, and the recording quality may negate the songs in some people's eyes, but give Dreamscape a listen at the above links, see what you think!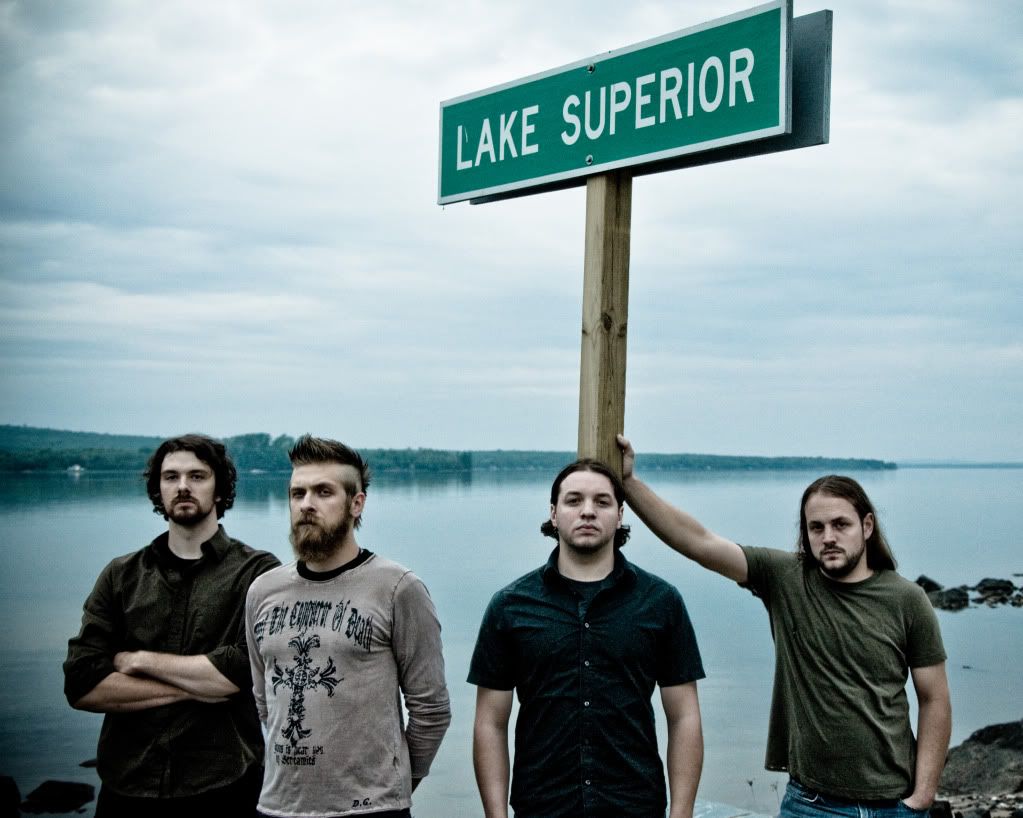 And finally, we get to a seemingly regular feature here on the SMS lately,
Woods of Ypres
talk! Nope, no theories as to David's mystery plans, this is strictly about their final album, "Woods V", with all information coming from
the "Woods V" forum topic
on their official forum, unless otherwise stated. Firstly, I can confirm that lead guitarist Joel Violette IS contributing to the album, making him the fifth lead guitar player in as many Woods CDs (after Brian McManus, the uncredited Steve Jones, David Gold himself, and Bryan Belleau, in that order.) My source for this is a wall posting on
David's personal Facebook page
. Also, to answer the question on if "Woods V" is an EP or not, given the five song length? Nope, it's a full length album, because the songs are LONG (intentional capitals), and that the band are making use of efficient studio time (which wraps up in just six days!) David also gave a track-by-track sound comparison to the five songs on the album at the above topic on the second page, including some very interesting comparisons! Can you picture Crowbar meeting Porcupine Tree, for example?
The band took their last photo shoot together on a local beach yesterday (the pictures aren't out yet), and both Evan and Shane Madden have departed back home. All that's left to record are Joel's last guitar parts and David's vocals, oh, and the piano tracks too! Yes, they're back on this album, presumably to be played by David again like on "Woods IV". I forgot about the keyboard work on it, but when the band hasn't employed a band member specifically for that instrument since Brian Holmes left, it's easy to forget. My source for that info is
the band's Facebook page
. Stay tuned for more Woods of Ypres news in the coming days, be it for "Woods V", David's big plans, or something completely different!
That's all for now, my next post will be our third installment in our Kiss Concert Video Showcase series! We're past the peak for Kiss concert videos, but a few are still trickling in, and I have at least four from two different YouTube channels to share, with more possibly to be added! Stay tuned for that, and more, very soon!