Happy August, everyone! If you weren't at
Coch's Corner
last night, you missed on hell of a concert, and here's my review, with Woods of Ypres updates to follow!
This time, I made sure I was there early, cause the last time
Ultraviolence
played in town, I was late due to the screening of The Big Four's concert at Galaxy Cinema. Well last night, I was there before the band, so I missed nothing! After a bit of a struggle attempting to get their banner up (they settled for draping it on the merchandise table), Ultraviolence hit the stage and they ruled! In what was the last date of their summer tour, they completely went wild to cap it off, and we loved every minute of it! Took a while to get going though, their first set went off normally, but by the end of the night, frontman Turi Mercuri was walking across tables, hopping into booths, high-fiving and singing along with everyone in sight, and even getting carried on a table by fans while singing away! It was like a drunken magic carpet ride, I'll bet!
And when I say "drunken", I mean it, the alcohol flowed like mad last night! The guys in Ultraviolence had numerous shots of alcohol and partaked in chugging back a pitcher of beer and bottles of Smirnoff Ice as well, though Turi openly admitted hating Smirnoff Ice repeatedly. Hey, it's alcohol, it does wonders! And with songs like "Big Ol' Swig" and "One More Drink" (which fittingly capped the show), you knew damn well what you were in for! Hell, they even broke out SILLY STRING during Phillip Elliott's drum solo and at some other later points in the show! How that fits, I'm not sure, but it was really a big old party, so no one minded.
Ultraviolence broke out a set similar to their show in June, but seeing as this was the exact same tour, I expected that. Luckily they're a great band, so it worked out! Alongside originals like "Hey Lil Mama", "Queen Heartbreaker", and "Devil's Little Girl" (which were available at the concert on their first EP), they broke out tons of covers as well! Turi Mercuri shares a vocal resemblance with Brian Johnson of AC/DC, so naturally, there were a few AC/DC covers, but they also threw in covers of bands like Motley Crue, Guns N' Roses, and Jimi Hendrix (I REALLY like their "Foxy Lady" cover!) On the more offbeat side of things, they covered Elvis Presley and Chuck Berry too, so picture AC/DC covering "Johnny B. Goode", and you'll get a general idea. Like at their last show, bassist Jordan Beard got a moment in the vocal spotlight to sing lead on a cover of Motorhead's "Ace of Spades", which was also really good! The band as a whole sounded really good, Turi's an awesome frontman, Andrew Postelthwaite was solid all night on guitar, Phillip Elliott laid down the skins on every song (his drum solo, especially), and Jordan was great on bass himself!
At the same time, they did miss a couple things here and there, and a few songs sounded a bit off ("Paradise City" in particular sounded slow) but it was the last show of the tour, and they wanted to end it with a party, and they sure did, so that made up for any musical gaffes! And, don't forget, they were quite drunk by night's end too, and after a 40 day long tour, I think they deserved a night to get wasted and party, and we were a part! I don't think a single person there last night had any problems with Ultraviolence's set, they are seriously one of the most fun hard rock bands you're gonna see from out of town in Sault Ste. Marie! They may sound like AC/DC often, but don't go on that basis, go for the whole scope of it! They love their fans, they're nice guys, they include you in the show, and encourage a hard drinking fun night of filthy dirty drunk n' roll! Great concert, one of the best I've seen this year, and hopefully they'll back on their next tour! As usual, I got photos and video, so click here to check out my photos from
the concert
, or visit
our official Facebook page
! And here's my video, of Ultraviolence playing their original song "Queen Heartbreaker"! Apologies for the video quality, it was dark in there.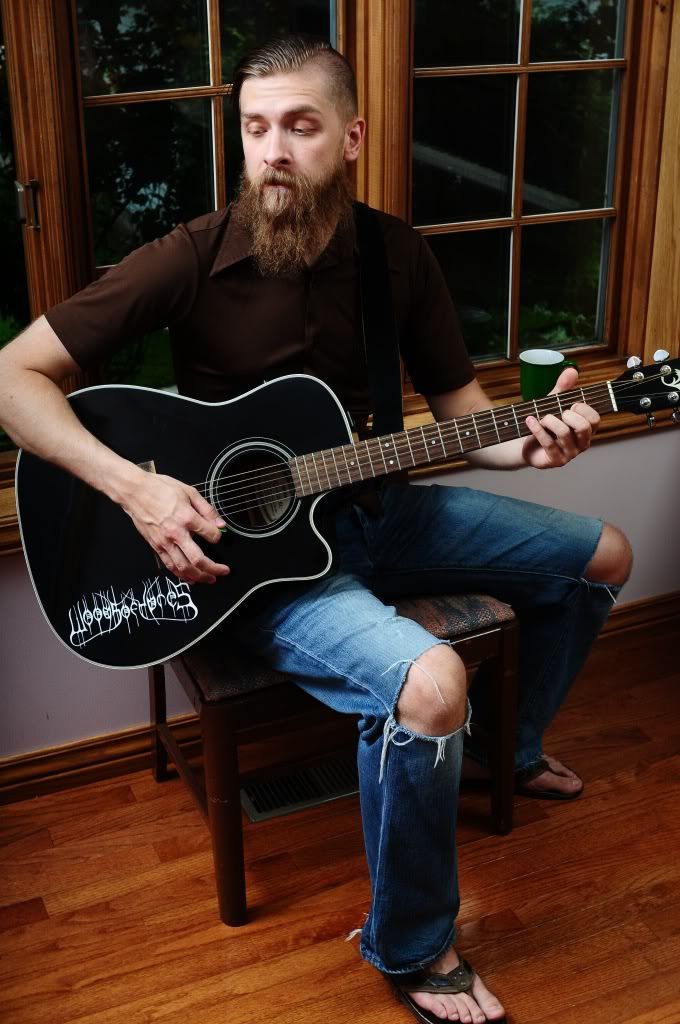 And to cap off today's post, I have some
Woods of Ypres
updates! Firstly, remember how I told you guys that frontman David Gold was trying to sell his white Gibson SG-3 guitar with the words UNREST! on it that he uses in concert? Well, he's found a buyer for it, so it's off the market! But, David's now selling another guitar, the Yamaha acoustic guitar he's used in the recording of all of Woods of Ypres' albums, and according to the topic on Woods of Ypres' forum about it, he will be using this guitar in the recording of Woods of Ypres' fifth album, "Woods V", next month! Awesome to hear they're recording a new album so soon, but I still wonder why he's selling off his guitars. We know that, though Woods of Ypres aren't imminently ending, he's moving out of Canada next month. The quotes on
Woods of Ypres' Facebook page
for the guitar sales continually say "I can't take it with me", but why can't he bring his guitars? Where's he going? Why are merchandise sales ending? What will become of Woods of Ypres? He's doing a great job of keeping us guessing, hopefully we'll hear more finite information on what exactly this all means by the time of
David's going away party in Toronto on August 25th
.
In more positive news, there are new Woods of Ypres concert videos online! YouTube user
Sahrroh
has uploaded two videos from their July 3rd show in Mesa, Arizona onto
his YouTube channel
! These will be familiar songs if you've followed the video uploads from the tour, as they're of the songs
"Suicide Cargoload (Drag That Weight) & "Halves and Quarters"
and
"Shams Of Optimism" & "Crossing The 45th Parallel"
! Both are of similar quality, from a very good angle in the crowd, but the audio can be a bit scratchy. Because it's the longer video, I've embedded the performance of "Shams Of Optimism" & "Crossing The 45th Parallel" below, so check it out, and also check out Sahrroh's YouTube channel above for clips from his journey to the Mesa Woods show, including some footage from his house after the show for a bit of an afterparty with the Woods of Ypres members!
That's all for today, but stay tuned tomorrow cause I have a special post totally dedicated to this question:
Where are the new albums?
We've heard of plans for a bunch recently from Sault Ontario bands, many have been recorded or are in the process of recording, but none are out yet. We'll explore each one's status tomorrow in a special post, so stay tuned for that! Thanks everyone!