Back to news and updates today, and we have some good stuff, including a brand new page for a prominent local band, video from another local band's recent farewell, and kicking things off, long overdue Woods of Ypres updates! So here's what you need to know!
I haven't talked in-depth about
Woods of Ypres
since Saturday, and given the news and happenings about them lately, I really should have thrown something in before now. Before anyone asks, no, David Gold hasn't released anything concerning why Woods of Ypres are ending and where he's moving. I figure something about that will be soon, but then again, I'm sure many of us have been expecting something for a few months now, so it's anyone's guess. Recording sessions for "Woods V" wrapped up on Sunday, as did sales for the last band merchandise, which was shipped to fans on Monday morning. David departed from Sault Ste. Marie on Monday afternoon and is now in Toronto, where he will celebrate his "
final night in Canada
" tonight at 6:00 PM at a bar/restaurant named C'est What, before what I presume is an international flight on Thursday. Where to, I don't know, no definitive answers or explanations are out yet. But when something does come out, I will have it right here!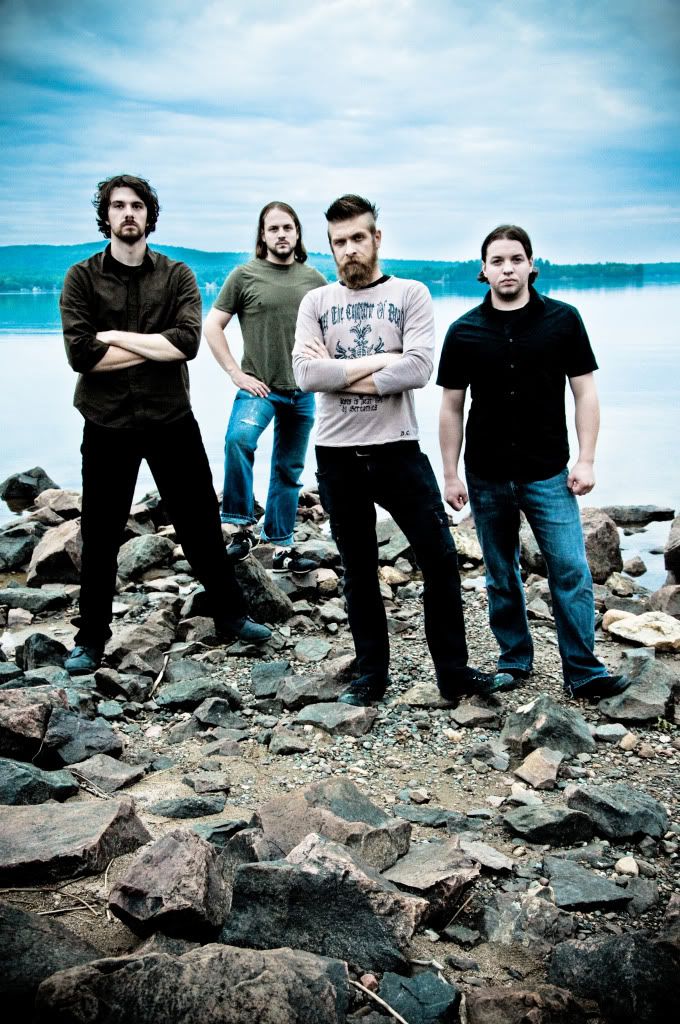 Keeping with the Woods of Ypres related stories, here's some more interesting band-related notes. Firstly,
a topic on the band's official forum
has been posted where forum user Dauden gave an extensive ode to his love for Woods of Ypres, what their songs meant to him, and so forth. Really nice read, and other forum users have followed suit sharing their Woods of Ypres retrospectives and thoughts.
Click here
to check them out, it really shows how much of an impact Woods of Ypres have made! Also, you know how some people will incredibly slow down a song to make it into almost an ambient dirge? Well, a
SoundCloud
user named anomaly88 did that to Woods of Ypres' song "I Was Buried In Mount Pleasant Cemetery", slowing it down by 8 times, making it sound like quite the epic atmospheric little number! Very interesting, I wonder how other Woods songs would sound like this?
Click here
to check it out! And finally, Woods of Ypres drummer Evan Madden has uploaded four new "drum cam" live videos from their final tour onto
his YouTube channel
! Three are from the band's Toronto show, of Woods playing "
The Sun Was In My Eyes (Part 1)
", "
Your Ontario Town Is A Burial Ground
", and "
Distractions Of Living A
lone
", while there's also a new video of their live versions of "
The Shams of Optimism" & "Crossing The 45th Parallel
" from their show in Austin, Texas.
These are, again, focused on Evan's drumming, and the quality's good overall, though the audio sounds a bit washed out for the Toronto clips, and the "Shams/Crossing" video is a bit darker and has a scratchier sound to the audio. For the sake of variety, I'll embed Evan's video of the band playing "Distractions Of Living Alone" below, but check out the above links for more new Woods of Ypres videos! I'll keep you posted with more on Woods of Ypres, including (hopefully) the answers to our questions!
Next up, we'll transition over to one of David Gold's former bands,
Gates of Winter
! Yes, the local progressive death metal powerhouse have some new updates, in the form of
a brand new Facebook page
! Note that
the band's old Facebook page
is still online, but it's only been updated once since 2008, to reaffirm their then-hiatus last September, so don't go there for new updates. Their new page has wall postings of two of the samples we previously heard on other sites, "Edin Na Zu" and "Dimensions", along with one saying that those songs (and a new song named "Time Warp") are in production this week. The band membership is no different than it has been since David left, but I find it odd that keyboardist Brian Holmes is credited for "instrument modeling" & "synthesis" instead of keyboards. Sounds overly technical, but no worries! The band's current biography on their information page only goes back as far as the release of "Lux Aeterna" in 2008, and concisely details things that have happened since then, including the statement that they took a performing hiatus due to hitting "a wall of personal conflicts", and that the new album will be a "compositional maturation" and a "darker evolution of their previous works", followed by links to many positive reviews of "Lux Aeterna."
Sounds good so far, I can't wait to hear the new album! However, I do think the band should expand their biography more to discuss things that happened prior to 2008. They played some big shows and did some notable things between 2003 and 2007, so why not share that? Also, I'd like to see them at least mention their self-titled 2005 EP in their bio, but I'm not surprised they don't. They've seemed to disown that EP in the last few years, but it's better than they might let on! Still, for new band updates and to hear previews of the new CD, become a fan of Gates of Winter's new page at
this location
!
Finally for today, video footage has came online from what proved to be
Nixxon Dixxon
's last concert on Saturday at The Bird. This comes from YouTube user
myangels1266
's channel, and it's of Nixxon Dixxon covering "Heroes" by Shinedown! Really good performance, "Heroes" suits Brandon Carr's voice well, and the band are playing at the top of their game! My biggest complaint is the lighting in The Bird, as it's dark and full of bar lighting that doesn't accentuate the band at all. Hell, you can see the Music Choice radio channel on the TV better than the band! Still, it's a great performance, check it out below! It still sucks to see Nixxon Dixxon breaking up, but my fingers are crossed that they'll be back one day, maybe when Jake comes home on a break? Who knows! For now, check out the latest video!
That's all for today, but make sure to visit The Sault Metal Scene tomorrow for our weekend concert previews and some more assorted stories! Also stay tuned over the next few days for our next CD review! Will it be from one of the many bands with one in the works or announced, or will we dip into the archives and review a classic album? You'll know by Tuesday! Thanks everyone!