This is our 25th post of the month already, and at this rate, we could approach last month's post record at this rate! Today's post is largely comprised of older stories that got pushed aside in recent weeks, but is well worth discussing! This includes a cool SMS concept logo, the latest from Lion Ride & Beyond The Surface, some new pages, and kicking things off, a new video! Here's what you need to know!
V
eteran local musician
Phil Temperao
has uploaded a solo song onto
his YouTube channel
! Unlike the older jam session videos that usually featured him and Dennis Porter, this is a solo song that bears little resemblance to the older
Meatplow
(or whatever they'll be called next) videos. This is just a song named "Rain" under the project name "Sebastien 6". It features Phil on all instruments save for the lead guitar, which is actually provided by his brother Jose (a.k.a. Jose Wailz), who you may recall as Phil's old Amethyst bandmate! Compared to the more aggressive and industrial tinged songs from the full band, "Rain" is a lighter track that is still hard rocking, and shows off Phil's singing range. The guitar work's solid, but the song can be a bit repetitive, and if you prefer the material from the live videos with Dennis contributing, "Rain" may be slightly underwhelming in tone. It's a solid track though, and it's accompanied with some good shots of Phil and outdoor nature pictures. Recorded at Greentown Digital Studios this year, there's apparently more coming from this solo project, so keep an eye out! Check the above links for more, and here's "Rain"!
Next up, here's some long overdue news on young Pickford hard rockers
Beyond The Surface
. Firstly, they've announced that lead guitarist Eli Reilly is now be their full time singer going forward in addition to playing guitar, replacing Danielle Petingalo in the band's vocalist position. No reasons have been posted for Danielle's departure, but in all fairness, she hasn't been a credited member of the band since before I heard about them, so it just took a while for official confirmation. I don't know how Eli sounds vocally, but he can't sound too bad! With that said, the band have announced their next live gig, which will be part of a "spring concert" at Pickford High School on May 17th with the school band. I don't know enough about it to call it on the SMS yet as a "public concert", but keep it in mind, especially if you live in Pickford or attend Pickford High! They're a promising young band, and I am curious to hear how they sound in their current incarnation! Stay tuned for more updates at
their Facebook page
, and I'll try to stay more on top of them in the future!
T
hirdly, here's a pair of new Facebook pages from some local metal bands! One isn't really "new", but I only discovered it a few weeks ago, so I gotta mention it. Sault Michigan hard rockers
Intrepid
(one of the many
Guitar Studio
rock camp bands) have had
a Facebook page
since August of 2009, and believe it or not, we've never mentioned it here! The page tells us some interesting details on the band from late 2009-2010, including a number of very brief and often ill-detailed statuses about their next shows, which ranged from local bars to talent shows to the
Kewadin Festival
! I'd have covered these for sure if I knew about them, but many were ambiguous and only hinted towards potential shows or gigs with no listed venue or date. The page also includes a bunch of live photos, though sadly, no concert video footage. Intrepid haven't updated this page since after a December talent show performance, but if you wanna get caught up on Intrepid,
click here
! The other news is that Sault Michigan classical metal project
Theatre of Night
have
a Facebook page
of their own, and though it only features synched news from
their primary Reverbnation page
, do check it out, as you'll still find out about their latest news!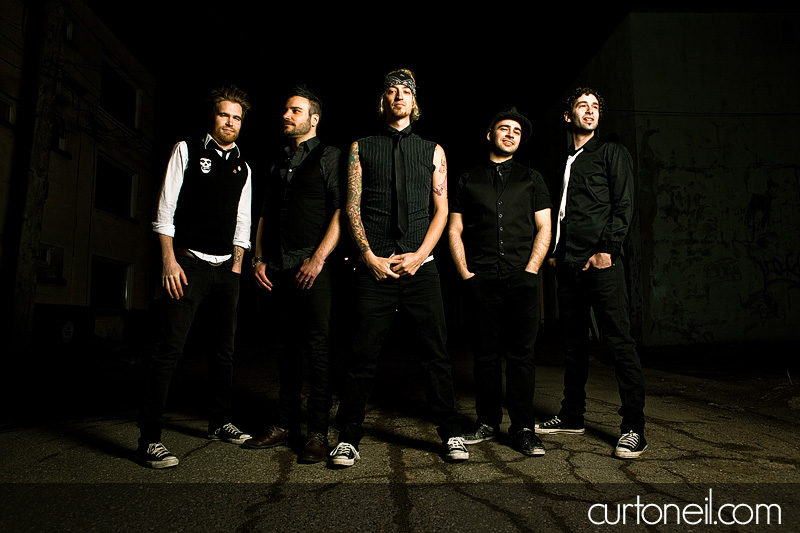 Fourthly, do you want some new photos? How's about some new
Lion Ride
photos? Some professional quality photographs from around the time of their local show earlier this month at
The Rockstar Bar
are now online, including
an extensive slideshow
from photographer Jesse Nelson on his blog
Family Tree Land
! Loads of photos from before and after their concert, including the show itself, are included there, which are great quality but sadly unavailable in high resolution on the page itself. To view in larger and better resolution,
click here
to go straight to the original Flickr feed, you'll thank me later! Look out for cameos by members of some prominent local bands and a band member's mother in the front row, for example! The other photos will be coming soon from prominent local photographer
Curt O'Neil
, who's done some outstanding past work with Lion Ride concert pictures! This time around, he just did a formal photo shoot with the band, I think their first of this type with the current lineup. Though the fruits of this labour aren't visible yet, Curt did post one preview picture, and it's on your left, but
click here
for full resolution! Nice work, I can't wait to see more, so stay tuned for when they come online!
Finally, here's a cool little custom item I've been holding onto for a while! If you know me well, you'll know that I enjoy the art of logos, be they for sports, companies, or whatever, and I try to utilize appropriate designs in SMS artwork, logos, and page layouts. I'm not a professional, but I do what I can. That said,
Destroilet
drummer Matt Waples, who is a VERY talented graphic designer with
Sonigraphix Design Solutions
, sent me a concept for a new SMS logo last month based around the one we debuted in December. I thought now was a good time to share his work with you guys, as he deserves all the credit in the world for the work he does! I'm a fan of logo concepts on sites like Icethetics, so why not inject some of that here? If I remember correctly, I told Matt that this looked great, but it felt more like a Japanese action movie logo than a metal website logo, not that that's a bad thing. I find the M a bit fat and the flipped second S makes it look like "SMZ", but that aside, it's a damn good concept, and I appreciate Matt going out of his way to make this on his own free will! What do you guys think of it? Feedback is welcome, especially with the work Matt puts in! Check out his portfolio too at
this location
, outstanding work on logos and posters, and I added Sonigraphix to our Other Local Metal Links too!
That's all for now, but stay tuned for more news and notes very soon! Thanks everyone!