34 posts in 28 days...wow, we're just two posts away from breaking our record for busiest month ever at the SMS, which says a lot when the summer months are our busiest! Thanks to all of you guys for sticking by through this busy March! Today, we have a bunch of new Woods of Ypres stories, but first, we'll cover some older stories, including the latest on a new book and some new pages from a local solo artist, so let's begin today's post!
End of Existence
frontman/Great Bodily Harm drummer Bob Helsten, a.ka.. Orb Hearthstone, has created two new solo internet pages! We previously heard his new softer metal material on
his MySpace page
, but the Orb solo project is now on a music site I've previously never heard of called MusicFast, so check this new page out at
this location
! The only real "new" element is the addition of artists that influenced him, and there's a ton of good bands listed, but otherwise, there's nothing too different from his MySpace page. Still, give it a look, there's some solid solo material on there! As well, Orb has now launched
a YouTube channel
featuring five End of Existence videos, so become a fan of that as well! It strikes me as a bit redundant when the End of Existence channel has all of the same videos, but maybe Orb will post some solo or Great Bodily Harm material on there in the future! Check out all of the above links for more from Orb's solo work!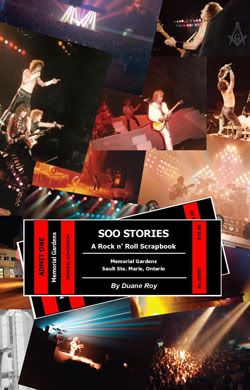 Next up, here's the latest on "Soo Stories: A Rock N' Roll Scrapbook", the new book on concerts at the old Sault Memorial Gardens by Wawa author
Duane Roy
! Firstly, if you haven't picked up a copy yet and you don't want to order a copy through PayPal, then good news! "Soo Stories" is now in stock at
The Rad Zone
at Wellington Square Mall! Duane posted on
The Rad Zone's Facebook page
on Friday to announce this news. I assume "Soo Stories" will be in the Hole In The Wall section, and I believe the cost of the book will be $25 as the standard online price is. I'm absolutely gonna have to head down to The Rad Zone to pick up this book, and yes, I want to review it on the SMS! We're gonna have a book review spree once my exams are done, as I still have to review Paolo Colasacco's "Going Underground" on here too, so watch out for that as well! Also, a couple new sites have "Soo Stories" articles, including
The Algoma News
out of Wawa, which has a short article about the book, some of it's contents, and some more of the information Duane still wants to hear about old Gardens concerts. Not bad,
click here
to give it a look! As well, Brave Words & Bloody Knuckles gave a brief look at the book, which is good exposure but not too in-depth.
Click here
to read it, and check out all of the above links for all the info you need on "Soo Stories", including online purchasing links!
Now for a bunch of
Woods of Ypres
updates to round this post out with, starting with a video I didn't talk about when I first mentioned videos by this uploader last week. I shown you two "Wood of Ypres" videos by YouTube user
xes1978
on Wednesday, but the latest of the three slipped me by, so here's what you should know! It's of the band playing "By The Time You Read This (I Will Already Be Dead)", and it's a good performance of the song! As it's the same quality and camera as xes1978's other videos, I can't change my critiques too much, as it's still good quality with a dark red ambiance, and not enough variance in camera angles (Joel Violette is still not captured), but it's a good video all around! Check it out below!
Now to some more Woods of Ypres updates, starting with some new concert reviews and related notes! Firstly,
Hellbound.ca
's Natalie Zed reviewed another Woods of Ypres concert, specifically their show on March 13th in Toronto, and you can check it out at
this location
! You may remember her Woods of Ypres CD and concert reviews from last year as well. Woods of Ypres were the second band of four on this concert, so it's not too in-depth compared to some other concert reviews we've seen, but she does praise Woods of Ypres' abbreviated set, even more so due to a broken guitar string and David's wish to not hold up the show. Nice photos too, and the other bands sound brutal! Check the above links for more on this review! Also,
Atanamar Sunyata
from
Metal Injection
has more Woods of Ypres stuff for us courtesy of his own concert review from their concert on March 16th in New York City, which you can read by
clicking here
! I have to say, Atanamar is very well spoken, and he leaves a lot of praise for Woods of Ypres' set in this review, saying that they slay in person and that they played an incredible set! Definitely read this review, and his videos that I shown you on here are also embedded there to check out!
Finally for today, here's some new Woods of Ypres interviews & articles, starting with an article with... Joel Violette? Yeah, it's not just David getting some press for the band! Joel was interviewed by the New Brunswick website
HereNB
about his work in Woods of Ypres, including how he joined the band, his work with David Gold in
Thrawsunblat
, the experience of playing live, and more! Short but a good read,
click here
to check it out! Also, Ken Kelley from
The Music Nerd Chronicles
posted an article on Woods of Ypres on March 18th, featuring some insights from David Gold about the Earache Records signing, the band's plans for the next six months, and more! Not too long, but it shares some more good details about "Woods V", so
click here
to read it! Finally, Hungarian metal site
KronosMortus
interviewed David recently as well,
click here
to check out that interview! The interview was posted in Hungarian but translated to English afterwards, so scroll down to the bottom for the English translation. If you can get past the stilted translations, you'll find some good band discussions and questions that other interviews haven't asked, so give it a look! Check out all of the above links for more from Woods of Ypres!
That's all for now, but knowing this month, we'll have more very soon, as we're on pace for 37 posts this month if things keep on the way they've been going! Stay tuned!