It's time for our second of seven weekly installments in the SMS' Battle of the Bands Rewind Mini-Series! As we're doing every Friday until the Humane Society Battle of the Bands on April 20th, we're taking a look back at a notable Sault Ontario battle of the bands from between 2008 & 2010, and though I know this series isn't 100% comprehensive, e-mail me at
robertfigures@hotmail.com
if you can help add any missing battles or suggest a change or addition! This week's entry is for a notable battle of the bands through a local music store that received some good media notices, so read on below for all you should know from almost four years ago at this battle!
(Updated on February 8th, 2016)
----------------------------------------------------------------------------------
The 2008 Case's Music Battle Of The Bands (May 25th, 2008)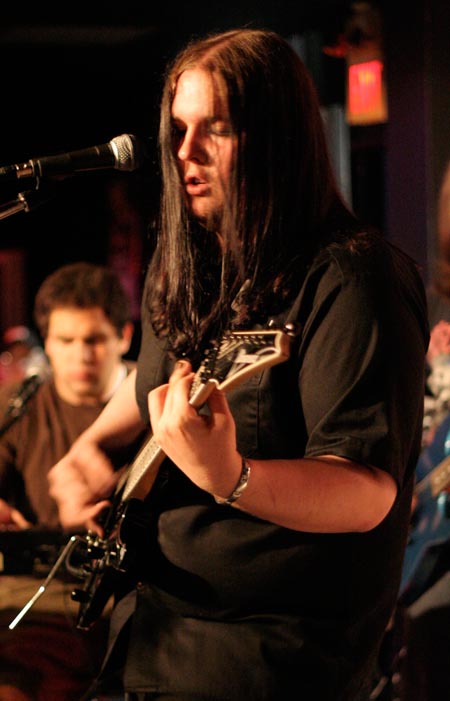 Background:
An annual spring event from at least 2007-2009 under the late Mike Case's ownership of local music store
Case's Music
, this battle of the bands was only well documented by local news media in 2008. Still, this battle of the bands gave young local bands and musicians (many from the Case's Music Rock Camp) a chance to compete and show off their talents with a wider audience. Nine bands in the elementary & high school divisions gathered at
The Canadian Nightclub
on May 25th, 2008 to perform one original song and one cover each, with judges grading the bands on musicianship, originality, presentation, and songwriting ability, among other criteria, with one winner selected from each division.
Prizes:
$100 and recording time at Green Room Productions went to the winners in both the elementary school division & the high school division, with no publicized awards for the other bands. Winners of the individual awards each won a free Case's Music t-shirt.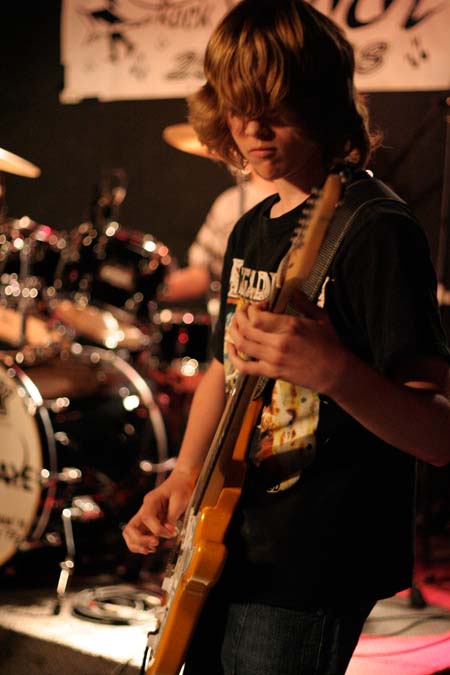 Competitors:
The lineup included 9 young local bands playing varying genres of music, though which ones specifically took part in each division can be hard to determine through available video footage of this event. This battle of the bands included no less than 5 bands fronted by female singers, including Behind Society, Horizon, Imination, The Soo Country Rollers, and Vitamin X, and all played varying forms of rock, though with some punk & indie influences scattered throughout. The other four bands included hard rock quintet
Stillbroke
, local indie rock trio
Caddy Street Avenue
, and young local metal bands Fountain of Betrayal and The Unforgiven. Note that many of the competing bands shared one or two members, an occurrence that wasn't isolated to just this Case's Music event.
Results:
Stillbroke took most of the evening's awards, winning first place in the high school division, and seeing band members Jesse Frigault, Nathan Bouliane, and Joseph Kargiannakis take home t-shirts for best singer, bassist, and keyboardist respectively. Fountain of Betrayal won first place in the elementary school division, while the remaining individual awards went to The Unforgiven's Ray Cowan for best guitarist & Caddy Street Avenue's Andrew Dal Cin for best drummer. The remaining seven bands did not receive a publically announced ranking, nor did any other individual performers.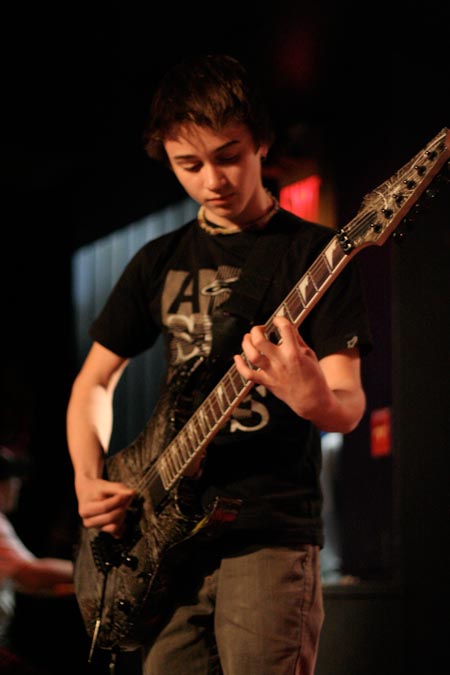 Aftermath:
Despite
SooToday
's praise of the lineup as "the future of the Sault music scene", most of the bands who competed at this battle of the bands didn't survive beyond Case's Music concerts and functions, though a couple of the bands did have some lasting success. Notably, Stillbroke's various lineups became a prominent sight through early 2010 at numerous concerts, including opening for
Helix
, doing some out of town shows, and releasing their debut EP "Never Enough" in the fall of 2009. After going on a lengthy break & changing their name to
Borderline Divine
in late 2011, they played three concerts in mid-2012 before going inactive that summer. Caddy Street Avenue had similar success in their indie rock genre, releasing a debut EP "Is This It?" in 2009 among other notable gigs following the battle, including opening for bands like
The Brat Attack
, before going inactive in early 2011. The remaining bands did not do much locally outside of the Case's Music umbrella that I know of after the battle, and all were likely considered inactive by 2009. I also recall The Unforgiven playing at an outdoor metal show in August 2007 at the Bellevue Park Bandshell, for what that's worth.
Some Notable Performers' Newer Bands
(Metal or punk in
italics
):
Bring The Fallen
(Travis St. Amour from Fountain of Betrayal)
Five Oceans
(Patrick Dal Cin from Caddy Street Avenue; based out of London)
The Glass Thieves
(Adam Fortais, Patrick Dal Cin, and Andrew Dal Cin from London; based out of London)
Joseph Kargi
(Joseph Kargiannakis from Stillbroke)
Late & Loud (Josh Hatherley from Behind Society)
Lazer Queen
(Josh Hatherley from Behind Society)
March Into Regression (Ray Cowan from The Unforgiven and Tyler & Travis St. Amour from Fountain of Betrayal)
The Outside Lights
(Nathan Bouliane, John Armstrong, and Joseph Kargiannakis from Stillbroke)
Run Coyote
(Andrew Dal Cin from Caddy Street Avenue; based out of London)
Them (Tyler St. Amour from Fountain of Betrayal)
Trivia:
The judges for this battle were veteran local musician & current Case's Music owner Jay Case, prominent local solo artists Shannon Moan & Tracey Hilderly, noted local rock/country singer & drummer Greg Simpson, and former Bud Shamble collaborator Rob Gilmar. Greg Simpson & Jay Case notably had some battle experience of their own the following year at the Kiss Battle of the Bands, though with differing success levels: Greg made the finals with Stiffler's Mom, but Jay's band Huckster didn't make it out of the first round. Jay later served as MC, judge, and co-organizer of the Rockstar Bar Battle of the Bands in April 2013, echoing his uncle Mike's hosting of this battle.
Stillbroke used their recording time won at this battle to record their original song "Sick & Tired" at Green Room Productions. The song wouldn't make the cut for their debut EP "Never Enough" the following year, but the included song "No Reason" is very similar in structure. Whatever became of Fountain of Betrayal's recording time isn't publically known.
Photographs on an expired website from a Case's Music concert circa 2007/2008 show prolific local musician Kyle McKey playing with each band that day, including 5 of the 9 bands from the 2008 Case's Music Battle, likely implying that he worked as an instructor there at one point during the timeframe of this battle. Kyle would later become a full time member of another competing band, Stillbroke, in 2009 & early 2010.
After Fountain of Betrayal's dissolution, drummer Travis St. Amour kept his good battle of the bands luck going with two battle wins out of three tries with his new death metal band Bring The Fallen in December 2009 & May 2010. They also won the YMCA Battle in March 2009 under the name The Undead Warriors, but Travis hadn't joined the band yet.
Behind Society drummer Josh Hatherley would see greater battle success in the following years, placing third at the YMCA Battle of the Bands in March 2009 with his then-band The Glass Statues, followed by a close first place finish (and a "Best Ensemble" trophy) with his most recent band Late & Loud at the Sault Humane Society Battle of the Bands in April 2012, and another finals run with them in April 2013.
Stillbroke's Jesse Frigault & Sam DeDominicis would later compete at the Kiss Battle of the Bands in December 2009 with Stillbroke's classic lineup (including the aforementioned Kyle McKey and drummer Jenny Hooper), but lightning didn't strike twice for them, as they weren't voted into the finals.
A couple of bands featuring Stillbroke bassist Nathan Bouliane almost saw action in later battles of the bands at The Grand Theater, those being indie rock quintet The Outside Lights (featuring 3/5ths of Stillbroke's battle lineup) at the YMCA Battle in March 2009 and blues rock quartet The Moves at the Humane Society Battle in April 2012. However, both bands would drop out prior to the respective events.
Fountain of Betrayal frontman Tyler St. Amour was briefly scheduled to play 2015's VM Radio Battle of the Bands (also at The Canadian) with his newer death metal project Them, but they dropped out for unannounced reasons and were replaced by local metal trio Infamous, though both bands feature Anthony Boudreau on drums.
Videos:
Clips of each band & the award presenations
from SooToday (
original link here
)
Sources/More Information:
Review, photos, and video from SooToday
----------------------------------------------------------------------------------
Two down, five to go in this mini-series! Hopefully you guys enjoyed this week's look back, and as for next Friday, we'll be looking at the YMCA Battle of the Bands at The Grand Theater from March 2009! A lot of newer local bands (at the time) rocked the stage for this one, and we'll tell you guys all about what happened, where many of the bands and performers are now, and so on this coming Friday! Until then, stay tuned for more news later today, along with our next Defunct Local Band Profile tomorrow! Thanks everyone!