As expected, it's time for our fourth of seven profiles in our Battle of the Bands Rewind Mini-Series, and the series peaks in quantity (and arguably quality) with today's entry, as the biggest local battle of the bands in recent memory is getting the spotlight! Like the previous three weeks, this post will outline what happened, who won, and the whereabouts of the bands and performers at this battle of the bands, along with more facts, trivia, and notes relating to it and the events surrounding it. Read on below for this week's profile, and e-mail me at
robertfigures@outlook.com
if there's anything missing or incorrect!
(Updated on February 23rd, 2016)
----------------------------------------------------------------------------------------
The Kiss Battle of the Bands (November 30th-December 2nd, 2009)
Background: From November 30th to December 2nd, 2009, a huge battle of the bands was held at The Canadian Nightclub, where 20 bands gathered over three nights to compete for the chance to open for Kiss at their headlining show at The Essar Center on December 15th, 2009, though it was later postponed to August 10th, 2010 due to inclement weather. This huge opportunity was held in cooperation with local radio station Rock 101 and Kiss' touring company AEG Live. Of the 20 bands who signed up, 10 each performed on the first two days, with performance order determined in a secret random drawing before the event. Each band received a 10 minute timeslot to perform two original songs, with no covers allowed. A judging panel chose 5 bands each night to advance to the finals on December 2nd, with 75% of the voting based on their performance, talent, and entertainment level, and 25% based on audience reaction. The finals on December 2nd were formatted and judged on similar criteria (though the band order was announced for the finals), after which one band would be chosen as the winners.


Prizes: The winners would initially have been recommended to Kiss' management as the local openers for their concert on December 15th, though it was later confirmed that Kiss would approve the winner of the battle no matter what. The winning band would also win 10 tickets to Kiss' concert at The Essar Center, along with a guaranteed photo with Kiss. Though no other prizes were offered for the runner-up bands, the second place band was guaranteed the opportunity to open for Kiss in the event that the first place act couldn't perform at the concert.

Competitors: The first 10 bands on November 30th had a definite mix of styles, including blues rock quintet Blues Harvest, heavy metal bands Caveman Morrison & Garden of Bedlam, glam/punk quartet Dirty Virgin, progressive rockers Flat Stanley, veteran rock outfits Huckster & Stiffler's Mom, indie punk rockers Nebraska Arms, "the original crash band" Sykotyk Rampage, and new rock quartet Tiny Trebuchet. The remainder of the lineup, who performed on December 1st, was a bit heavier than the first night, though still with a good selection of genres. The remaining bands included country/punk notables The Billy Bastards, death metal quintet Bring The Fallen, veteran rock bands Gsis Murphy, Middle of Nowhere, and Wishbone, popular metal quintet Lion Ride, hard rock standouts Sense of Truth & Stillbroke, and Sault Michigan metal quartet Nixxon Dixxon.

Results: The first night of the battle saw Blues Harvest, Flat Stanley, Garden of Bedlam, Nebraska Arms, and Stiffler's Mom advance to the December 2nd finals. The following evening, Gsis Murphy, Lion Ride, Nixxon Dixxon, Sense of Truth, and Wishbone moved on to the finals to complete the 10 band final round. After the final judges results were tallied, it was revealed that Garden of Bedlam beat Lion Ride by a single point to win the battle of the bands and the right to open for Kiss in Sault Ontario. Placements for the other 8 finalist bands and the 10 bands who didn't advance were not publically revealed.


Aftermath (Finalists): Garden of Bedlam successfully opened for Kiss with a half hour set at the new date of August 10th, 2010, helping solidify their place in the local metal scene. Since the battle, Garden of Bedlam have headlined numerous major concerts (including the Rotaryfest Second Stage in 2010 & 2012), played scattered out of town dates, and released their first full length CD "Everything Will Die" in 2011. Lion Ride continued their local success through 2011 with numerous Ontario concert dates, and recorded material towards an unreleased album in 2010, but they would ultimately disband in February 2012. Stiffler's Mom continue to play numerous concerts in the area to this day (save for a 2011-2012 breakup), while Flat Stanley are currently working on new studio material with guest singers. Blues Harvest & Wishbone stayed prominent with various local concert dates and recording sessions towards new albums, though Wishbone broke up between briefly in 2012, and Blues Harvest have been inactive since 2013. Sense of Truth played scattered live dates through May 2010 and recorded material towards their unreleased debut EP, before falling inactive and eventually parting ways in 2011. Nixxon Dixxon played numerous high profile dates in 2010 in the Upper Peninsula, including opening for Pop Evil & Vince Neil at Kewadin Casino concerts, before disbanding that August. Gsis Murphy & Nebraska Arms continued to play occasional local concerts through mid-2010, when they both quietly parted ways.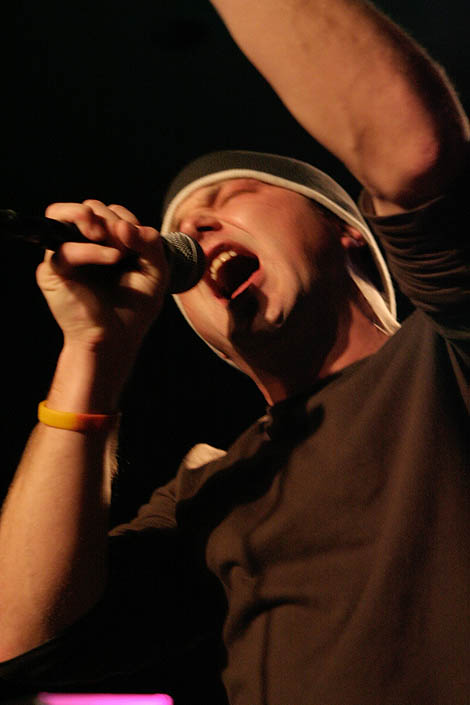 Aftermath (Non-Finalists): The Billy Bastards continue to play scattered local concerts to devoted crowds, releasing three well received albums in the process, while Sykotyk Rampage, though only occasionally seen on stage with frequency, have recorded dozens of new and unique albums since this battle. Caveman Morrison played live often until falling inactive in 2014, while Stillbroke played two more shows in early 2010 before entering a long period of inactivity, returning in late 2011 with a new lineup & name (Borderline Divine) before disbanding for good in mid-2012 after just three concerts. Dirty Virgin have only been seen since at one off Canadian Nightclub gigs in the spring of 2011 & 2012, and Huckster continued playing off & on through the summer of 2011, seemingly going inactive later that year. Bring The Fallen rocked local concert venues often until their dissolution in the spring of 2011 (save for a one-off reunion in July 2013), and both Middle of Nowhere and Tiny Trebuchet continued to play occasional local dates through their descent into inactivity in mid-2010.

Some Notable Performers' Newer Bands (Finalists; Metal/hard rock bands in italics):

415E (Chris Hubbard from Nixxon Dixxon)
Bone Yard (Greg Simpson from Stiffler's Mom)
Changing Lanes (Erik Boissineau from Garden of Bedlam)
The Fairmounts (Mikey Hawdon from Lion Ride; based out of Toronto)
Griphook (Anthony Fabiano from Gsis Murphy)
Lucky 13 (Jeremey Salatuk from Wishbone)
Mourning Wood (Glen Thomas from Flat Stanley)
Northwest (Wayne Watkins from Nebraska Arms)
Skeyes of Seven (Cory Murchison & Ron Baxter from Sense of Truth)
That's Chester (Greg Simpson from Stiffler's Mom)
The Wild Iris (Steve Myers from Sense of Truth & Jake Rendell from Blues Harvest)

Some Notable Performers' Newer Bands (Non-Finalists; Metal/hard rock bands in italics, ex-members indicated with an *):

Aggressive Acoustic (Brian Cattapan from Sykotyk Rampage; based out of Sudbury)
Al Wood & The Woodsmen (Cliff Alloy from Huckster)
The Bear Hunters (Josh Stephney from Bring The Fallen)
Debt To The Heirless (Dan Souliere from Bring The Fallen)
Destroilet (John Conway from The Billy Bastards)
Frightlight (Rick White & Jeff Richards* from Caveman Morrison)
The Ghost Town Cryers (Kyle McKey from Stillbroke; based out of Pembroke)
The Hustle Brothers (Jay Case & Cliff Alloy from Huckster)
Redundant (Rick White from Caveman Morrison)
Sailor's Tongue (Kyle McKey from Stillbroke)

Trivia:

At least three local bands who were reported to have signed up for this battle would later drop out of the event. Local producer Miguel Gauthier's pop rock project MBM was slated to be a part, but exited the lineup due to a failure to secure a full live lineup, and were replaced by Caveman Morrison. Celtic punk quartet Dustin Jones & The Rising Tide reportedly signed up as well, though they had conflicting out of town tour commitments over that time period. Some sources also reported that drum & bass punk trio The Fury had signed up, and though they later confirmed they wouldn't be playing, they would finish second at the Algoma University Battle on December 1st.
Rock 101 DJ Mark SanAngelo was the MC for this battle of the bands, and he was joined by morning host Brian Davie for the final round. Both likely did some judging for the event too, but details on who exactly was judging the battle weren't revealed. Crank Sound Distribution also handled sound for the entirety of the battle.
Following their success at this battle of the bands, Garden of Bedlam celebrated their victory with a solo headlining concert at Madison's Pub (now The Harp Bar & Grill) on December 5th, and they were joined by fellow battle competitor Marco Pedalino (Lion Ride) as a guest guitarist for a couple of songs. Garden of Bedlam would use the battle experience as the topic of their original song "Three Days", which was performed at the Kiss concert the following August, and was later featured on their full length debut album "Everything Will Die" in December 2011.
Though rules for this battle stated that bands had to play only original songs and no covers, a few bands did play covers of songs that members played in other projects. Notably, Caveman Morrison (who generally play only covers) did two songs from frontman Tym Morrison's solo album, and Stiffler's Mom covered two songs by their earlier metal band Sin Stereo in their opening round performance.
Dirty Virgin, who capped off the performers on the first night of this battle, were notably disqualified for attempting to play a third song in their set, potentially costing them a slot in the battle finals. This remains the band's last concert during their active period (and only show with drummer Dickie Blackstock), though they did reunite for one-off gigs in the spring of 2011 & 2012.
After the Kiss concert was initially announced in the summer of 2009, Lion Ride aggressively began an online campaign to be named local openers for the concert. When the battle of the bands was announced, Lion Ride pulled out all the stops, including bringing their stage banner and smoke machine for their energetic and high octane first round set, which helped encourage other finalist bands to bring band paraphernalia and merchandise to the final round. Despite falling a point short of victory, Lion Ride's appreciation of Kiss never faltered, and they frequently covered "Strutter" at later concerts.
Before their set on the second day of the Kiss battle, Bring The Fallen competed in and won the Algoma University Battle of the Bands at The Speak Easy, where they won the opportunity to open for fellow battle competitor Mikey Hawdon (Lion Ride) and his punk band The Inner City Surfers later that month, though they later had to drop out of that show. Battle success wouldn't repeat itself that day, as Bring The Fallen were not voted through to the Kiss Battle finals, making this their only loss out of four battles of the bands that they competed in during their local run. The band capped their battle career with a win at Downtown Showdown at The Oddfellows Hall in May 2010, albeit with future Shit Liver bassist Mike Kyle filling in for Nolan Rainville due to out of town commitments.
Though he didn't win the right to open for Kiss at this battle, Lion Ride drummer Mike Indovina still made it the local Kiss concert while serving as tour manager for Toronto pop rock quartet The Envy, who were named as a late opening band for Kiss during that stretch of their tour.
Some people noted that progressive rock band Wishbone played at this battle despite a threatened boycott that three unnamed local bands had levied on The Canadian Nightclub if Wishbone were to play at The Canadian in October 2009 as openers for Texas country metal trio Grady. This was due to inflammatory comments that then-drummer Glen Thomas had reportedly made against the three bands. However, Wishbone (and Glen's primary band at the time, Flat Stanley) competed at the Kiss battle without incident, and both bands successfully made the finals. No word on if any boycott ever happened as a result.
Sault Michigan quartet Nixxon Dixxon made their only live concert appearances in Sault Ontario at this battle of the bands before their breakup the following year, and these remain the most recent cross-border appearances by a Sault Michigan metal band at a Sault Ontario concert.
Three bands who competed at this battle (Middle of Nowhere, Nebraska Arms, and Sykotyk Rampage) would re-convene at The Soo Curlers Association's HeartStop Lounge the following February for the Sault College/Scotties Tournament of Hearts Battle of the Bands. Nebraska Arms (featuring two time battle finalists Wayne Watkins & Adam Sauve) finished in a strong second place, with Sykotyk Rampage in 3rd and Middle of Nowhere in fourth place. The winners of that battle were local folk rock outfit Blackwater.
Though they didn't compete in any other local battles of the bands, Lion Ride competed in two similar events in Toronto the following year. The guys finished in third place in The The Great Canadian T-Shirt Battle at The Hideout in March 2010 (winning recording time and adult paraphernalia), while they advanced to the semifinals of the annual Indie Week competition that October at The Hard Luck Bar. The winners of the latter event were defunct Toronto dance rock quartet These Electric Lives, who enlisted Lion Ride's Mike Indovina as their new (and final) drummer in late 2011.
A handful of performers from this battle were a part of the Sault Humane Society Battle of the Bands on April 20th, 2012 at The Grand Theater. Wishbone (then featuring Flat Stanley's Tony Kajnar & Glen Thomas, plus bassist Steven Flint) scored a close third place victory, with frontman Dennis Duguay winning "Best Vocalist", while Bring The Fallen frontman Josh Stephney's newer band The Bear Hunters fell a point short of a third place tie. Sykotyk Rampage also performed at the event, though out-of-competition prior to and directly after the competing bands.
7 performers at the Kiss Battle competed at the Rockstar Bar Battle of the Bands in April 2013, where Sense of Truth's Steve Myers & Blues Harvest's Jake Rendell took third place in the finals on April 24th with The Pesto Shirts (now The Wild Iris), while Bring The Fallen's Josh Stephney took fifth place as a guitarist with The Bear Hunters. Also, both Josh & B.T.F. bandmate Nolan Rainville (in the death metal band Giwakwa) competed against Sykotyk Rampage (now with Tony Briglio on bass) in the third semifinal on April 17th, though neither made the finals.
After an almost 4 year absence from battles, The Canadian Nightclub hosted the fan-voted Viva La Battle on November 13th, 2013, where Nebraska Arms bassist Wayne Watkins saw greater battle success as the singer & guitarist of his newer indie/punk quintet Northwest, where they finished in second place. Though The Bear Hunters won this battle, Josh Stephney did not compete due to moving to Brampton a few months beforehand, though he did play with them at the Bam Margera concert the following month, which was the first place prize at the battle.
A few performers at this battle have tried their hand at recent installments of the annual Rock N' Roar Battle of the Bands in Spanish, Ontario in April 2012 & 2013, though none made the top 5 to earn a spot at the annual Rock N' Roar festival. They include Gsis Murphy drummer Anthony Fabiano (with Griphook in 2013), performer Lucas Bugyra (with Havadder in 2014), and a reunited Wishbone in 2014 (though then with Jeff Gray on bass instead of Chris Smith.)
Videos:
Nixxon Dixxon's semifinal set
Stillbroke's first round set
(Due to the deletion of a previously featured Nixxon Dixxon video, a Garden of Bedlam video from a separate concert is also featured below)
Sources/More Information:
Coverage & photos from SooToday (November 30th)
Coverage & photos from SooToday (December 1st)
Coverage & photos from SooToday (Final Round)
(
second link here
)
Sault Star article promoting the final round
-----------------------------------------------------------------------------------
I hope you guys liked this look back at this major local battle of the bands! Next Friday, we'll take a look at the battle this event ran concurrently with (on one day, at least), that being the Algoma University Battle at The Speak Easy from December 1st, 2009. It was a much smaller event, but no less valid, so what happened there? Find out next Friday as this series enters it's latter stretch, and stay tuned for a new news post later today! Thanks everyone!