Anyone want some more news? I have some new stories from the Sault Ontario side of things today, including a great classic video, an interesting performance from last week, and a newly announced local hard rock album, but first, here's a LOCAL CONCERT ALERT!!
I was waiting for official word from promoters before announcing this show here, but I have verified proof from multiple sources about it, so hopefully it won't hurt to push it now! The sixteenth
Roosevelt Hotel
metal night appears to be set, and here's what you should know about it! THIS THURSDAY, three more local bands will take the stage for the first all-local Thursday metal show since last month, but who's playing? From the lineups I've seen, grimecore trio
Shit Liver
are the listed headlining band, in their 6th Thursday night show at The Rosie! Good to see them out there again, they'll be sure to leave an impression! Also scheduled are classic metal quartet
Sativa Rose
, who'll be rocking out that night in honour of guitarist Anthony Orazietti's 25th birthday! The band even launched
a Facebook group
&
event page
in honour of the celebration. Sounds good to me, what better way is there to spend a birthday? The other scheduled band is hardcore quartet
Changing Waves
, who had also mentioned their involvement
on Facebook
on Wednesday. They have confirmed the debut of two new songs on Thursday night, and they also plan to distribute a demo of some kind, though details weren't added concerning it.
As always, this show on Thursday should begin at around 9:30 PM, you must be 19 to enter, and there's no cover charge. Check the above links for more details! Nice to see a slightly different band lineup this week,
Dismembertainment
have done good once again! Pencil me in to attend this concert, and I'll hopefully see you guys there!
Next up, have you been wondering where local solo guitarist
Mike Haggith
has been in recent months? As you can see on
his Facebook page
, he's been working on some of his Windsor bands, a contest for free copies of some of his albums, and another open mic night performance at
The Outback
. Since the release of "Suspended Animation" & the cancellation of his planned "Blue Album", details on new solo material have been scant, but his next studio album has officially been announced! A concept album entitled "Space 82" is now scheduled as his 44th studio album, with a tentative release date of September 1st! The album will feature tracks that all relate to a form of human experience, and will have a "jam" structure with some longer tracks. 4 songs are now confirmed for the album, including the single
"Limb Coast"
that Mike posted earlier in the year, so recording has technically started for the album's tracks. This should be interesting, and it's good to see Mike's prolific solo project back in the studio! We'll absolutely feature "Space 82" in next month's "Where Are The New Albums?" post, and if the release project holds up, a review of the album in the fall should be in the cards! Stay tuned for updates!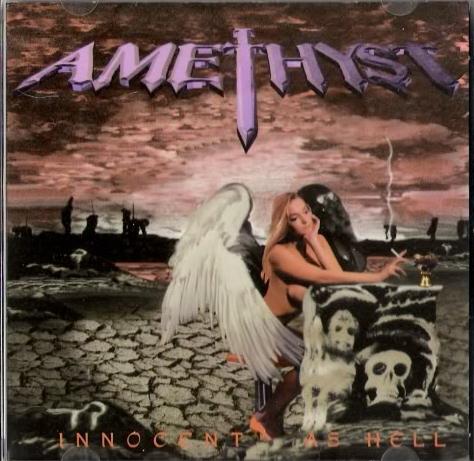 We'll close today with two videos, and firstly, here's a very cool upload from a classic local band! You may have seen the videos that CML Productions'
Rick DellaVedova
has been posting from
Garden of Bedlam
concerts, but as you may recall, Rick was once a prominent local musician as signer for the defunct classic metal quintet Amethyst, under his stage name Rick Widow! That said, he posted a video onto
his YouTube channel
in October for a music video he edited together in 2005 for the Amethyst song "Snakeye Strut", from 1994's "Innocent As Hell"! Well edited, and it's a solid metal track for sure, I'd have been at their shows if I was around back then! This is currently the only "video" of Amethyst that's publically viewable (the "Waste of Time" music video from their original cassette was sadly made private), so definitely check it out below and get a blast from the past! Kudos to Rick for the upload!
Finally, here's an interesting video I found online over the weekend that you should get a kick out of! Did anyone notice anything peculiar in the parking lot of
The Canadian Nightclub
on Wednesday? Well, if you did, was it a guy playing drums on a bouncing drumkit in the back of a truck? Here's what I've found out. If you follow the country/rock scenes in the Victoria, B.C. area, you may have seen a drummer named
Charlie Rose
at concerts for bands like
Varmint
&
Altered
. His unique feature is that, since 2000, he's drummed on a self-made bouncing drumkit made from a converted oil barrel suspended by some heavy duty springs. After lots of practice and live experience, he's developed all the right moves and methods, and now he and his
"Boingy Boingy"
drumkit are touring eastward to Toronto to appear on the CBC series "Dragon's Den" to pitch the Boingy Boingy on the show! On the way through Ontario, Charlie stopped in the Sault on Wednesday for at least long enough to give a drum solo on the Boingy Boingy for an "ambush" set to a small audience, and the video is below!
Now, I'm aware his musical background isn't metal, but if I wouldn't have said anything, would you have been able to tell? He's really good, especially given the task of having to ride a drumkit that bounces! If I hear in advance that he's playing anymore impromptu gigs in the Sault on the way back from Toronto, I'll let you all know, but here's his drum solo from Wednesday outside of The Canadian!
That's all for now, but stay tuned, as I may have a book review coming up next! Thanks everyone!