Here's another news post for you guys on this Saturday afternoon, and it includes previews of a few upcoming shows, some assorted recent updates, and some long awaited videos and fallout from a big concert last week. First, however, we have a SHORT NOTICE LOCAL CONCERT ALERT and related apology, so here's what you should know!
(Updated at 4:38 PM)
Local classic/hard rock cover quartet
Soundcheck
will rock
The Esquire Club
TONIGHT, after previously playing there
last night!
Profuse apologies for the short notice and for missing last night's show on here, we only heard about them overnight via members' personal Facebook pages (Soundcheck haven't updated
their Facebook page
in over a month), though for what it's worth, the picture of the physical schedule at the venue suggests that they replaced country veterans Bone Yard this weekend, possibly on short notice as it was. It's also worth noting that this same schedule (which was up at The Esquire Club long before it went online) also advertised Soundcheck shows
two weeks ago
. If they did happen, my apologies for missing them, but I can't find any personal or public reference to those shows occurring. As for TONIGHT's (and yesterday's) Soundcheck shows there, the guys enlisted Bone Yard frontman Greg Simpson to fill in for Steven Flint on drums last night, but Steven confirmed on his personal Facebook page that he will be back with Soundcheck for TONIGHT'S concert.
Greg was a solid choice, and it's interesting to see him drumming without singing lead like in
Stiffler's Mom
! Also, you may notice on the above poster that a planned Stiffler's Mom weekend at The Esquire Club in late March was cancelled before making it's way online, with Cherry Crush replacing them. Hopefully nothing bad happened, though note that we haven't heard from this band online since last fall. TONIGHT'S Soundcheck show is likely a 10:00 PM affair with no announced cover charge and a 19+ age limit, with all being the same last night too. See above for more details, apologies again for missing yesterday's show, and nope, no public videos yet!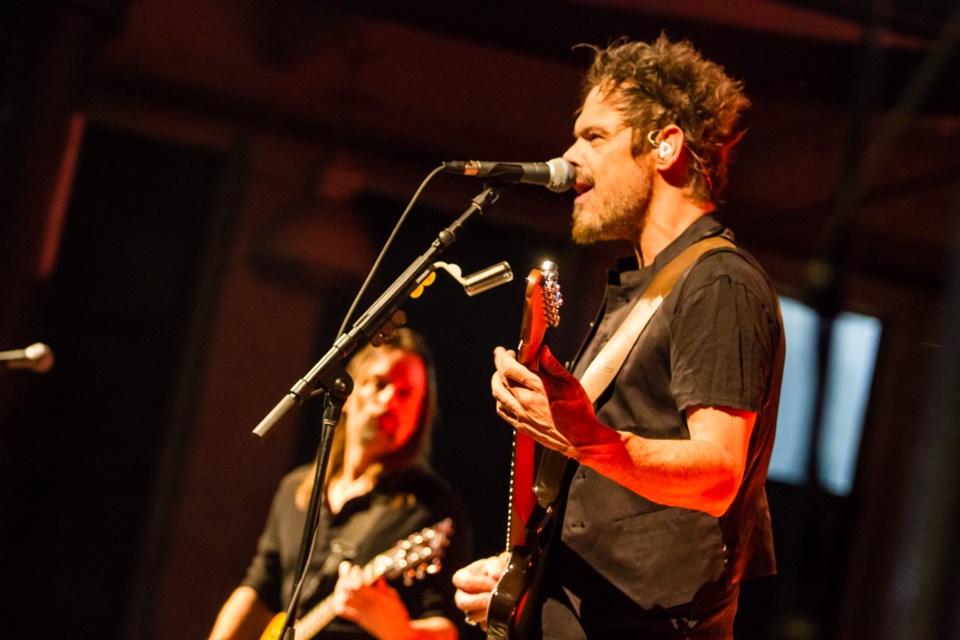 Next up, here's some long awaited videos from the
Big Wreck
concert at
The Machine Shop
last week, courtesy of prolific concert filmer
Christopher Paci's YouTube channel
once again! Chris outdid himself once again with
ten videos
at this show, including two of opening Winnipeg alt-rock trio
Attica Riots
, with one being of their opening songs
"Simply Not Good Enough"
&
"Misery"
, and the other being of their song
"Give It To Me"
. The camera work is a little jittery, but Chris got a solid view of the stage, and Attica Riots sound lively and engaging for genre fans! As for Big Wreck, Chris filmed the Juno nominated hard rockers playing their songs
"Look What I Found"
&
"That Song"
(both in one video),
"By The Way"
,
"Waste"
,
"Blown Wide Open"
(accidentally labelled as "Blown Away"),
"The Oaf (My Luck Is Wasted)"
,
"Albatross"
,
"Digging In"
, and as embedded below, "Fall Through The Cracks". Click each link to take you to each song!
As well,
SooToday
's Donna Hopper posted
this article
with remarks on the show and 15 photos of the bands online on Valentine's Day, including 11 of Big Wreck and 4 of Attica Riots. Sounds like the show went over very well, and it's great to see Ian and company play here again rather than hanging out in a parking lot between shows! Donna's photos are excellent as usual, so give them and her article a look above, and definitely check out Chris' solid videos from last week above & below!
Also, here's our previews of a trifecta of early-week concerts from local hard rock singer/guitarist
Tym Morrison
, who will return to
Mark's Breakfast Plus
in the Market Mall for matinee gigs on MONDAY, TUESDAY, and WEDNESDAY! After previously playing at the former Kackleberry's for three matinee shows two weeks ago, Tym will return for a Gliss-esque scheduling of shows again early next week, and fans should be eager to see his unplugged classic selections again, even at these still somewhat atypical days! No word on if Tym will be playing at Mark's on Mondays-Wednesdays with any regularity once the month is done, but we'll let you know if anything is announced. Much like his usual solo matinees, these three shows are 6:00 PM events with no age limit or announced cover charge, but remember that this is a restaurant, not a typical venue. Visit
the official Facebook event page
for more details, and here's Tym live!
Finally for today, here's three assorted shorter news items from the last while, and as usual, these are in alphabetical order by artist name:
A local drummer named John Chindamo is looking to join or start a local band, noting that he is "familiar with the classic rock and some of today's stuff", and is willing to learn country if needed. I'm not overly familiar with John, but it's great to see him wanting something to do with local music, and if you're interested in more details, message him at this link or via his Musicians Wanted Facebook group post from Monday!
The newest song from ex-Skull After Betrayl frontman Mike Vincent's solo project (and for his intended second solo album) can now be heard on his Bandcamp page! Entitled "Prevarication", this should please fans of Mike's more technical metal instrumental work of recent years, so give it a listen above!
Bear Hunters guitarist Mitch Sirie has revived his Sorrow Fields solo project after a 2 year hiatus, and is apparently working on their long-gestating debut CD at Mission Control Studios! Their Facebook page features a photo of Mitch playing at the studio, and as of Wednesday, he was working on guide tracks. No sign yet of a new online presence for The Sorrow Fields, but it's very encouraging to see Mitch picking up his solo music again, and The Sorrow Fields are back in our active band links, with a "Where Are The New Albums?" return next week also now in the cards!
That's all for today, but stay tuned for more news, updates, and features on the site next week! Thanks everyone!