Let's keep things rolling on the SMS to close another supposed work week, and we have some assorted shorter topics and surprise covers to check out today, but leading off, here's what you should know for an extended live-streamed concert set from a familiar (if shorter-haired) face!
With his regular weekly acoustic shows at Gliss and elsewhere still on hold until further notice, former Caveman Morrison frontman
Tym Morrison
is adapting to the times by resurrecting
his Twitch page
and beginning to play live-streamed concerts from home, with the first one being recorded on Tuesday!
A Facebook event page
for the Twitch streams implied that he was going to be doing this yesterday as well, but no such video is uploaded, though he also scheduled sets for streams next Tuesday & Thursday as well. Tuesday's stream is entitled "
Live Guitar & Singing Of All Mightyness 7th Show" (even though there weren't six preceding shows), and it is embedded below to watch, but what is on offer? First off, ignore the near-3 hour running time, the "Starting Soon" screen and initial setup takes up the first 48 minutes, but fans will still get 2+ hours of Tym in action! In performance order, Tym covers Imagine Dragons' "Radioactive" ...
...Roxette's "It Must Have Been Love", Bryan Adams' "Everything I Do (I Do It For You)", Night Ranger's "Sister Christian", Jim Croce's "Time In A Bottle", Yes' "Owner Of A Lonely Heart", Cheap Trick's "The Flame", Phil Collins' "One More Night", A-ha's "Take On Me", a familiar sounding instrumental, Amanda Marshall's "Trust Me (This Is Love)", Ed Sheeran's "Thinking Out Loud", The Beatles' "Here Comes The Sun", Coolio's "Gangsta's Paradise", Tom Petty's "Yer So Bad", Richard Marx's "Hold On To The Nights", The Animals' "House Of The Rising Sun", The Travelling Wilburys' "Handle With Care", Fleetwood Mac's "Never Going Back Again", Chicago's "Hard To Say I'm Sorry", Kansas' "Dust In The Wind", Tesla's "Love Song", and Eric Clapton's "Tears In Heaven", before closing with his original ballad "Say That You Care". There's a lot to take in here, but Tym's vocal & guitar talents are on full display!
It's rare to see such an extensive lengthy video of his acoustic solo act, so savour this one, even if it leans more to classic rock than metal, and he performs to his usual standards! That said, the echo on his performance was very noticeable during breaks, and at times, the audible Facebook notification sounds on Tym's computer made me think that I had messages. Time will tell if he does this again on Tuesday as scheduled, but give Tym's 2+ hour live-streamed set from home a look below!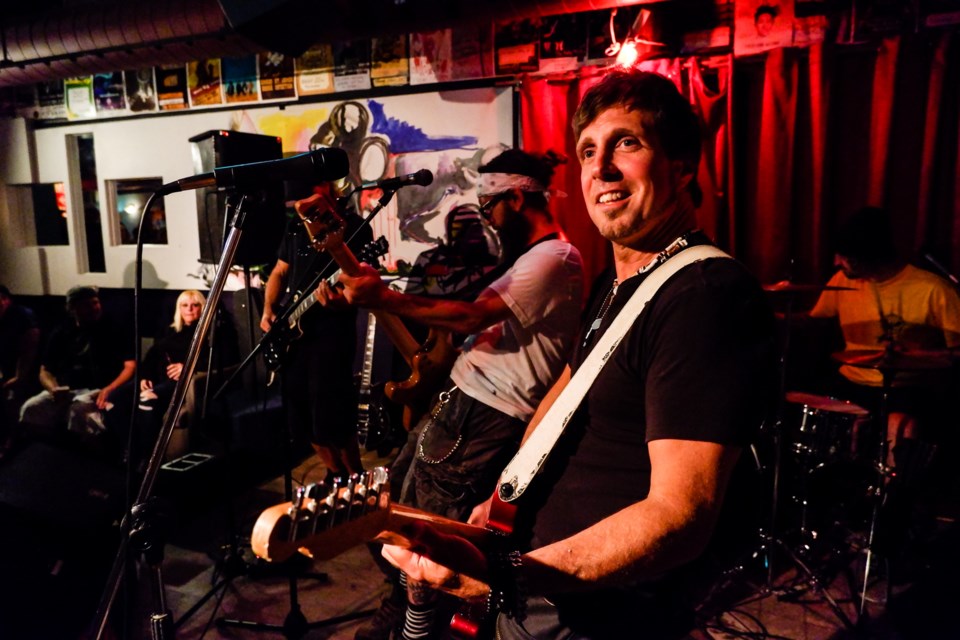 Next up, here's a pair of recent videos posted onto
SooToday's YouTube channel
(with accompanying articles linked
here
&
here
) featuring
Rising Tide
/
Inner City Surfers
frontman
Dustin Jones
and his daughter Jett covering some country classics at
Mission Control Studios
! Friends of Dustin's may recall seeing him post videos on his personal Facebook page where he and Jett sing together during this pandemic, but these two are publically shared, and they include a cover of Kenny Rogers'
"The Gambler"
and, as embedded below, Johnny Cash's "I've Been Everywhere", which fans of Dustin's will recall him performing with both The Surfers and The Tide in the past, such as in
this video
. The new covers are cute and lively, and are definitely worth a watch if you've missed Dustin's bands on stage as of late! Give them a look above & below, and look for Dustin's son Jaycee in a late cameo during "I've Been Everywhere"!
Finally for today, here's three assorted shorter news items from the last while, and as usual for these quicker items, these are in alphabetical order by band, show, or company name
In a bit of foreshadowing for a future installment of our WLSO 90.1 FM retrospective series, I have added an old show of theirs to our Other Sault Michigan Links Section, namely Classic Rock Nights With Gerard, which aired on Lake Superior State University's college radio station during the 2013-2014 school year on Tuesdays at 8:00 PM. Hosted by Gerard Guysky, their Facebook page still features a number of episode previews and even a couple of full playlists that heavily feature hard rock in them, so see more above, and look for part 3 of our WLSO series in the near future!
Sault Ontario punk/metal quintet Jack Spades' song "They Live" will be featured on independent Hamilton record label Lockdown Records' fourth punk rock compilation, which will be released on May 20th on their Bandcamp page! It will be on sale there for $10, and while the most familiar band on this compilation (from past local shows) are Broomfiller, many other name acts can be found on the preceding three compilations. Very solid exposure for the Spades crew, and see above for more details!
The Music City Sault Ste. Marie program is moving into it's next phase of municipal development in music and the arts, as per this SooToday article from earlier this week. Plans now include a music industry assessment survey, interviews with takeholders, and coordination of a task force to develop a future strategy regarding building the city's music and cultural sectors. There's a lot of technical details to take in, but things sound like they're well thought out and planned, so see above to dig into the Music City plans so far!
That's all for today, but stay tuned for more news and notes on the site this weekend! Thanks everyone!